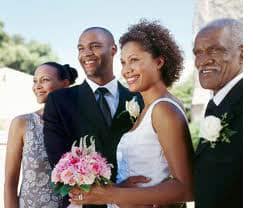 In my 20+ years of being a professional wedding DJ, I've learned a lot.  I've seen the good and the bad.  From casual backyard weddings to six figure celebrations, I've noticed certain similarities which are common in successful weddings.  The most common theme is prior proper planning.  Failing to plan inevitably means planning to fail.  I realized this once I added wedding planning to my resume.  So let's take a look at 10 ways that you can successfully plan your dream wedding!
#10… Be Realistic About Time
Leave yourself more than enough time for everything to take place.  Weddings can often run behind, even if only by a few minutes.  While a few minutes probably won't upset your time-line too much, a 30 minute delay could leave guests restless and your day in a frenzy.  Plan ahead for incidentals so that there is extra time, just in case.
#9… Don't Sweat The Small Stuff
Whether during the planning stages or on your wedding day, pick your battles.  No, you should not make concessions on the major decisions.  However, on minor matters, be flexible!  Only you know the matters of great importance to you.  You should not let anyone decide for you which matters are flexible.
#8… Ask The Right Questions
You have lots of choices to make.  Remember, each potential vendor you consider will be trusted to handle a part of your day.  So be sure to ask the right questions and feel comfortable with each vendor you hire.  Don't be afraid to ask questions prior to  signing a contract.  Any reputable vendor will gladly answer your questions so that you can learn more about their services.
#7… Always Hire Professionals
You should never overlook the importance of hiring professionals.  While it may seem advantageous and cost effective to hire amateurs, this is rarely a decision that pays off by going cheaper.  Certainly, I'm an advocate of saving money in the appropriate areas, however when it comes to vendors, I would not apply this philosophy too readily.  An amateur will not be as familiar with protocol, routine or problem solving as a professional will.  If something were to go wrong, an amateur's solution will often make the matter worse.  Remember… this is your ONE day to plan the celebration of a lifetime!  Trust professionals to handle the most important details!
#6… Don't Work Your Own Wedding!
Once you've done the planning, it is important for you to allow the plans to
develop on the big day.  Remember,  prior proper planning prevents poor results.  Trust that the choices you've made, during the planning stages, are the right ones.  On your wedding day, you must enjoy your time with family and friends.  Managing the details of the day should be left to your wedding planner or the trusted professionals that were hired.  Allow the photographer to direct your photos, the DJ to lead the announcements and celebration, and the caterer to handle the meal service.  Be clear with instructions in advance, perhaps even have a written "game plan" for the day.  But by no means should you attempt to manage the day of details.
#5… Don't OVER-Plan!
This should truly be the happiest day of your life.  The stresses of planning a wedding celebration can often be avoided by taking a step back and deciding what really matters.  Although you should absolutely plan the day you want, some things should be allowed to simply flow.  First decide the matters that are most important to you.  These are the non-negotiables.  Then decide those matters that, while still important, you can delegate to others.  Lastly, identify the matters that are essential, but do not require your immediate, or even direct, attention.  Let others help, remember to pick your battles and be confident in others and the plans you've made!
#4… Consider The Weather
Plan for the unexpected, weather-wise.  Outdoor weddings have long been the dream backdrop for couples.  If this is your preferred choice, be smart, and have a back-up plan in place.  This is not something to be decided in the moment, but rather prior to.  If your ceremony is scheduled to begin at 2:00 pm,  and you see threatening skies at 1:00 pm, it's time to make the call.  Remember, your location's staff needs time to move chairs, flowers and anything else ceremony related while your live music and/or DJ must be set-up in a dry place.  Inclement weather plans should also consider travel time & outdoor photos.  More importantly, consider the weather before, contracting your ceremony/reception location.
#3… Whose Wedding Is It Anyway?
I often encounter couples who run into a battle with other family members or friends during the planning stages.  The Predicament:  How do you please everyone?  The Answer:  You DON'T!  You've found the love of your life in your fiancee'.  You've chosen a great location and your bridal party is set.  You must remember that you cannot please everyone.  Sure you'll get great ideas and advice from friends and family.  While these loved ones almost always mean well, rarely do they have the experience to guide you flawlessly through the planning stages.  Often times,
their ideas do not mesh with your ideas.  You may even find yourself torn between the advice of others.  In the end, you've got to be happy with your wedding day.  In no way, however, should you ignore all advice.  You may receive some very valuable ideas.  Just keep in mind that this is your day and although advice is mostly appreciated, you are not obligated to use any advice you receive.  Bottom Line:  Make It Yours!
#2… Be Frugal
It's easy to design your dream wedding.  Now, how easy is it do it on a budget? Wedding expenses can nickel & dime any couple's budget.  It is important to take a look at the wedding you want, set a budget and stick to it.  Of course, there are certain expenses that are absolute, and you will not want to compromise on those.    Challenge yourself to stick to a realistic budget without going overboard.
#1… Last But Not Least!
I consider this point to be the most important:  Enjoy your day with the ones you love!  This will be a day you remember forever.  I strongly advise you to do the following… STOP & take a moment to look over your guests at the reception.  It sounds simple, but it does require a concentrated effort.  Schedule just five minutes to take a look around and take it all in.  You've invited your guests to share in your day.  Your family & friends are there to celebrate your love and enjoy this day with you.  Be sure to thank your guests and let them know what their presence means to you!
Kurtis S. Cross has been a professional DJ and wedding planner since 1986.  Having written for "Mobile Beat" magazine and Numark Industries, Kurtis has spent more than 25 years in the wedding industry working with thousands of couples, creating great wedding celebrations.  The Kurtis Cross Team has performed at more than 2,000 wedding celebrations.  A trusted DJ entertainment source in the DC, MD & VA areas, Kurtis Cross and his team have performed countless weddings in NY, MA, NH, VT, PA, FL, TX & OH.  The professional choice in wedding DJ entertainment, Kurtis Cross enjoys working with couples to create great wedding day memories.  For more info or a copy of his additional FREE report "How To Save Thousands On Your Dream Wedding" e-mail [email protected]
Free Wedding
Giveaways + Sweepstakes
Enter sweepstakes & giveaways and enter to win a free honeymoon when you join. New winners are announced every week!