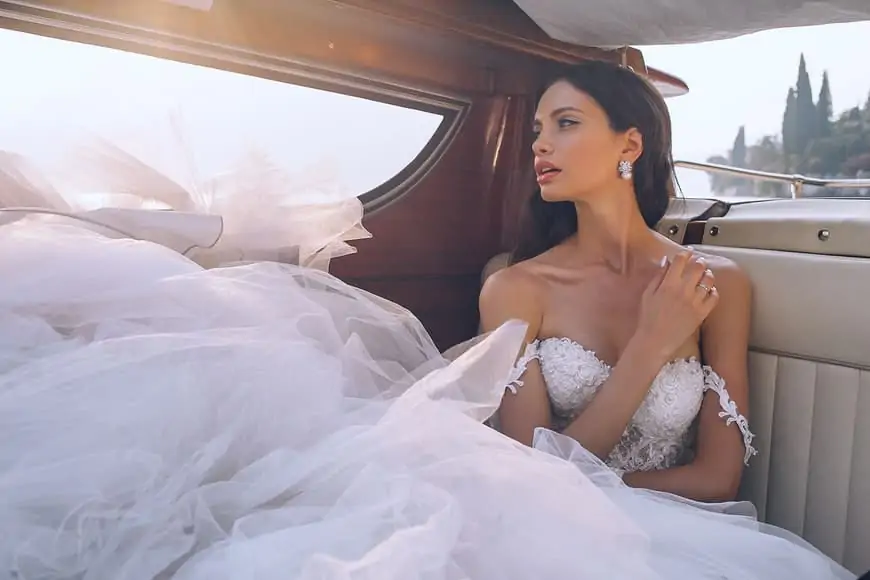 Congratulations!
You said "Yes," and now you're planning your big day. This planning naturally includes going shopping for a wedding dress or making one. It's such an exciting, confusing, and frustrating time figuring out what works best for you and what you need to make your day absolutely perfect.
Wedding dress hunting is no joke, and so many times, brides focus all their attention on picking the most stunning dress, forgetting about all the other tiny details that will make her bridal ensemble breathtaking.
Your bridal accessories are almost as important as your wedding gown, and leaving out any of the must-haves may not give you the complete, wholesome look you want.
So, we've put together a checklist of items that fashion experts suggest you include as you put together your wedding outfit for your big day.
Bridal Accessories Checklist
If you're reading this, you're on the right track. Now, it's left to you to remember to take this checklist along as you plan away.
Jewelry
This is absolutely important because it brings your whole look together, from your makeup to your hair and then your dress. Bridal jewelry is all about subtlety yet glamour. The goal is to look stunning with the choice of jewelry you go for.
Many brides choose silver or gold jewelry, preferably matching their skin tone. But crystals, diamonds, and gemstones are popular choices too. Among the top jewelry choices, we have earrings, necklaces, and bracelets (which many brides often forget.)
Wearing a stunning bracelet on your wrist gives you a delicate and sweet charm that makes your combination of jewelry extra special. In addition, you can shop unique bridal bracelets from a bracelet catalog to give you the enchanting look you wish for.
Whatever style of jewelry you choose, remember to factor in your dress style and hairstyle, especially because some types of dresses and hairdos determine the type of jewelry to go for.
If you're not sure what's best for you, speak with your seamstress or hairstylist for ideas.
Bridal Shoes
Your shoes are equally as important for your wedding ensemble. You can't wear just any type of shoes with your wedding dress. There are many factors to consider before choosing a pair of bridal shoes or sandals to wear, there are many factors to consider.
For one, you have to think about your comfort, especially if you're not changing to a second outfit for your reception party. Many bridal shoes are usually high-heeled with pinched toes. This can get quite uncomfortable when worn for a long time.
So, it's absolutely important to pick a pair that works. Another factor is the type of wedding dress you're going to wear. Some wedding gowns will look great with high-heeled strappy sandals; others work best with cute pumps.
You should also consider the location of your wedding. Beach wedding? Garden wedding? Think again before you go for impractical pairs of shoes you'll regret.
Hair Accessories
Back in the day, a bridal look was never complete without a veil. Today, we have so many other options to use as a hairpiece if you think a veil is too much. Tiaras are cute and finish off the princess look.
A hair garland is also unique and perfect for garden or beach weddings. Headbands, barrettes, hair combs, flowers all make excellent choices if you want something simpler.
The important thing is to choose a hair accessory that suits your wedding gown and wedding theme. If not, it'll end up looking out of place.
Small Purse or Clutch
You're probably wondering why you need a purse during your wedding ceremony. Well, you likely won't need it, not until the reception party. It's ideal for holding any tidbits you may need after the wedding, like your phone, lipstick, breath mints, and more.
Your maid-of-honor can hold on to it for you when you're too occupied, so don't worry, it won't get in the way. Your small purse or clutch should be stylish to fit in with the rest of your outfit. Brides often go for white, ivory, or off-white to match their gowns.
You could also go for a matching color with your shoes if you're wearing some other color than white.
Flower Bouquet
What's a bridal look without a bouquet?
As impossible as it sounds, a few brides have managed to forget their flower bouquets on their wedding day. Forgetting your bouquet on your wedding day can leave you with that feeling that you're missing something.
Bridal bouquets give off a sweet and pretty look that shows you off as the perfect bride, so remember to have a florist put together the best-looking bouquet you will love. Whether natural or artificial flowers, it's up to you.
Steal the Show
Yes, your wedding dress is important, but combining all these accessories will guarantee you steal the show at your wedding. They'll give you the complete bridal look and make you the perfect bride.
Free Wedding
Giveaways + Sweepstakes
Enter sweepstakes & giveaways and enter to win a free honeymoon when you join. New winners are announced every week!