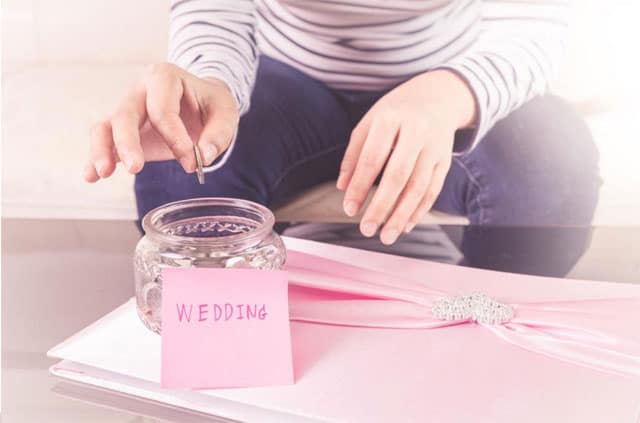 The average cost of a wedding is over $35,000 according to The Knot. But, not every couple will have tens of thousands of dollars to spend on their big day. Fortunately, there are ways that you can reduce expenses so you can have your dream wedding regardless of your budget. Here are some of the many ways that you can save:
Skip the printed materials.
Many couples are choosing to skip printed programs and menus to save money on their big day. Ceremony programs really aren't necessary anymore, and the menu can be written on a large board and placed outside of the reception area. Therefore, taking these out of your wedding plans won't affect your guests.
If you want to save even more on stationery, consider emailing your save the date cards instead of having them printed.

Serve national liquor.
Stocking and staffing a bar can be one of the biggest expenses at your wedding, but many couples aren't willing to cut back in this area because they want their guests to have a good time. Luckily, there's a way to reduce your bar budget without annoying your guests. Serve only beer, wine, and one signature cocktail instead of allowing guests to choose any type of liquor that they'd like. It's estimated that this small change will save you about $10-15 per person.
Light up the reception.
Instead of paying a company to control the lighting at the event, buy or rent strands of LED globe lights that can be hung above the reception tables. These lights are much less expensive than the cost of professional lighting services, and they can instantly create a romantic and intimate setting. Choosing these lights will help you save money and energy since LED bulbs are energy efficient.
Buy in-season flowers.
When choosing flowers for your wedding, don't go based off of the way a flower looks alone. Ask your florist for a list of flowers that will be in season on the day of your wedding, or do your own research at home. Flowers that are in season are exponentially cheaper than others, so these are the blooms that should be incorporated into your big day.
Look for alternatives to wedding cake.
A multi-tiered wedding cake with intricate detailing can cost over a thousand dollars, which is why so many couples are serving alternative desserts. Instead of offering your guests wedding cake, serve cupcakes, donuts, or cake pops. Not only is it less expensive to choose one of these alternatives, they can also double as the party favors since they can be individually wrapped.
Shop sample sales.
Bridal stores will hold sample sales right before they are about to get new inventory. During these sales, all of the sample-sized dresses that are on display in the store will be sold at heavily discounted prices. This is a great opportunity to snag the dress of your dreams at a huge discount, so get in touch with local boutiques to find out when they hold sample sales.
Get married on a Friday or Sunday.
Saturdays are the most popular days for weddings, so they are also the most expensive. Fortunately, it's becoming more common for couples to get married on Friday or Sunday evenings in order to save money. By making this simple switch, you can save thousands of dollars on the venue rental fees.
As you can see, there are many ways to save when it comes to planning your big day. Follow these tips so you can have the wedding of your dreams without breaking the bank!
Free Wedding
Giveaways + Sweepstakes
Enter sweepstakes & giveaways and enter to win a free honeymoon when you join. New winners are announced every week!