Your groomsmen; they are your buddies, your bros, the dudes that have always been there for you.
And what better way to thank them for standing shoulder-to-shoulder with you on one of the most important days of your life than with a kick-ass groomsmen gift?
But kick-ass groomsmen gifts aren't like Criss Angel; they don't just magically appear (that would be creepy).
Sure, you could add gift shopping to the "To Do" list.  Then spend your entire Saturday wandering around the home goods store with your bride-to-be, racking your brain and over-analyzing every piece of uninspiring kitsch on an end cap until you get frustrated and give up.
This leads to last minute panic, and having the limo stop at a drugstore on the way to the ceremony so you can pick something up. (Nothing says "thanks for flying in and dropping $200 on a tux rental", like a scented candle and a remote control car.)
Or…..you can open your computer and simply click here and find a list of tried and true, personalized groomsmen gifts, literally at your fingertips (for you tablet and smartphone users).
Like this Personalized Wood Bottle Caddy with Opener: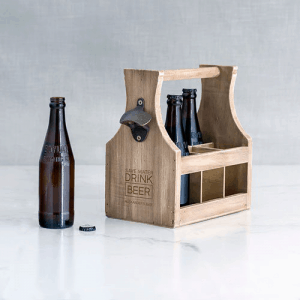 Your best bud is really into suds. But he's still carrying them around in a plastic shopping bag?
Bro, you just paid 2 dollars an ounce for the sumptuous craft beer that was brewed with hops that were harvested by hand from partially fermented hippopotamus dung.
And now you're going to risk breakage and spilling the precious nectar by transporting it in a plastic sack that has a tendency to tear under the weight of a 4-pack of toilet paper? Duuuuude…..
Help him help himself by giving him a gift he can really use. Like this bottle caddy made of real wood.
It's a stylish and sturdy way to make sure his beer boat safely reaches its destination.
And you can personalize it with his name and your wedding date (or his Uber account number, in case he gets over served) and reflect fondly together for years to come.
Engraved Silver Plated Pocket Watch:
"Uhhh, what time are we supposed to at the ceremony?"….."Sorry we're late, my phone died, so I didn't know what time it was"……
Groomsmen are a lot of things….timely and responsible aren't always one of them.
Give them the gift of proper time management (and eliminate any excuses for showing up late to the ceremony) with these cool vintage pocket watches.  Plus they will look like an important old timey banker every time they pull it out!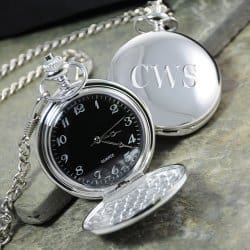 "Oh…thanks dude….socks…."  But wait, these aren't the ten pack of tube socks your mom buys you for your birthday.
These are customizable. You pick the color and the pattern.  And of course they are personalized with each groomsmen's initials.
Putting on an article of clothing with your initials monogrammed into it makes you feel like a king.
And, guaranteed that one groomsmen (at minimum) will forget to pack dress socks (see above re: groomsmen/being responsible)
Personalized Rustic Wall Mount Bottle Opener with Magnetic Cap Catcher:
I have one of these. They are soooo cool.   I thought mine was a one-off….apparently I was wrong.
They are a hit at every party, "Whoaaa man, how'd you get it to stick to the wood?!" (impressing people that have been drinking isn't overly difficult).  And it cuts way down on your tetanus shot bills from stepping on upturned bottle caps the morning after.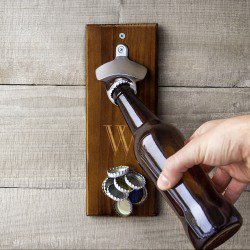 Personalized Glass Horn with Stand:
It's a bad ass Viking horn that you drink out of….what else do you need to know?
Who doesn't want to look like Ragnar Lothbrok when they drink?
Stop reading and start ordering….and make sure you get one for yourself as well….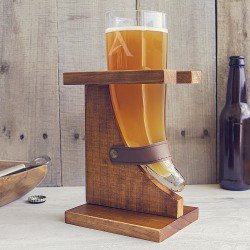 Personalized Wine Barrel Accessory Set
When your new in-laws come over for dinner, what are you going to serve them, Blue UV and Keystone?
Show them you know what you are doing with this personalized Wine Barrel set.
Picking the right red to pair with the meal is up to you though (I can only do so much).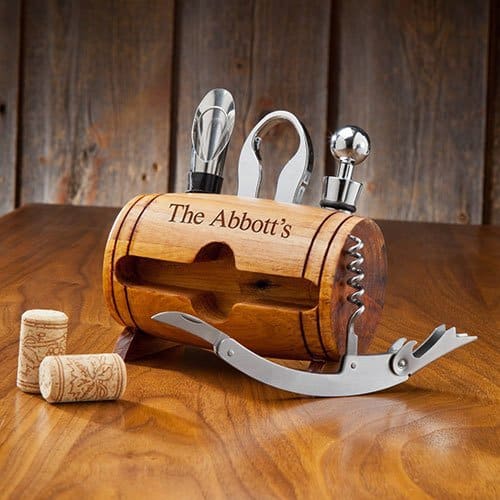 Because….what else are you going to light your celebratory cigars with, a tea candle?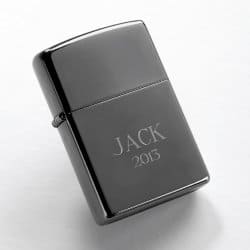 Giving your groomsmen personalized golf towels while you are out golfing?  That's a hole in one.  Serendipity my friend.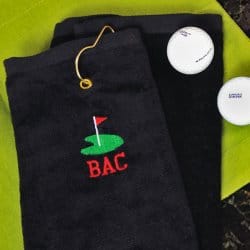 Personalized Moscow Mule Copper Mug
Ever had a Moscow Mule?  If you say "Nyet", then what's wrong with you?
If you say "da", but you've never had one in a copper mug….then what's wrong with you?
A Moscow Mule is like the F3 button on your computer, it will keep you refreshed.
A Moscow Mule in your own personalized copper mug, well that will keep it as cold as a streaker at a hockey game.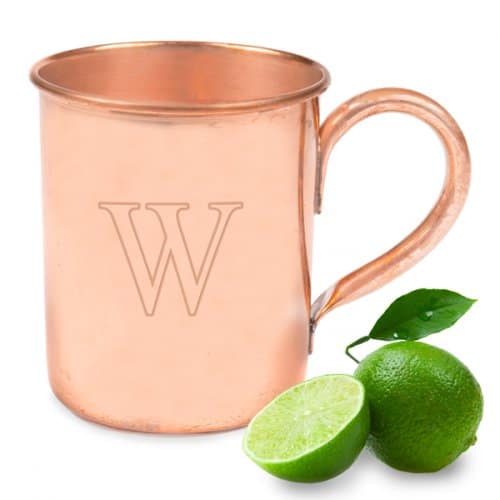 For more groomsmen gift ideas, click here:

Free Wedding
Giveaways + Sweepstakes
Enter sweepstakes & giveaways and enter to win a free honeymoon when you join. New winners are announced every week!