Finally, a truly unique wedding cake topper
"I'm so quirky and unique!"…..says every bride ever…..
If you're still reading, you understand and appreciate the irony of that first sentence.
It's not that brides don't want their wedding to be unique and special….it's just that there are a limited amount of truly unique elements that can be found.
It's a free market….there is no limit on groomsman wearing Converse All-Stars, or serving drinks in Mason Jars….
But there's one thing you have that NOOOO one else can have….
Your face! (There's a reason that TSA scans your face at the airport when going through customs).
So why not incorporate an element into your wedding that is truly unique, YOU!!!
A custom bobblehead from UBOBBLEHEAD.com adds a custom touch to your wedding that is super fun, and will have your guests talking.
You're romance isn't generic, so why settle for a generic cake topper? (Who are the models for those generic cake toppers anyway? perfect hair, not a wrinkle in her dress, and they couldn't even eat a single bite of the very cake they sit atop because of their 3% bodyfat…)
Why not tell the story of YOU?!
UBOBBLEHEAD.com will produce a bobblehead that looks like you and reflects your personality.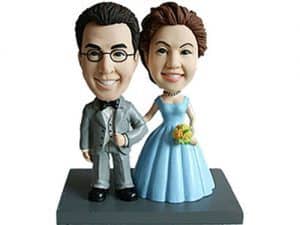 And creating them is almost as easy as it was for your parents to create the REAL you (ewww!)
All you need is a few pictures of yourselves (You've been working on your selfie game for years, now it's time to put it to fruition), and fill out your personal traits (just like the Bitmoji you created of yourself to group message everyone a Happy Caturday….)
It's fun and easy. Your guests will love it! It will be photographed (almost) as much as the real happy couple.
And you'll have a keepsake that will last forever to remind you of your special day.
You want to put your own touch on your wedding. What better way that putting a touch of yourself in your cake topper!
Click here to purchase your own unique custom bobblehead.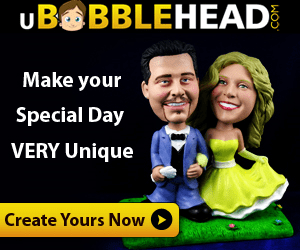 Free Wedding
Giveaways + Sweepstakes
Enter sweepstakes & giveaways and enter to win a free honeymoon when you join. New winners are announced every week!