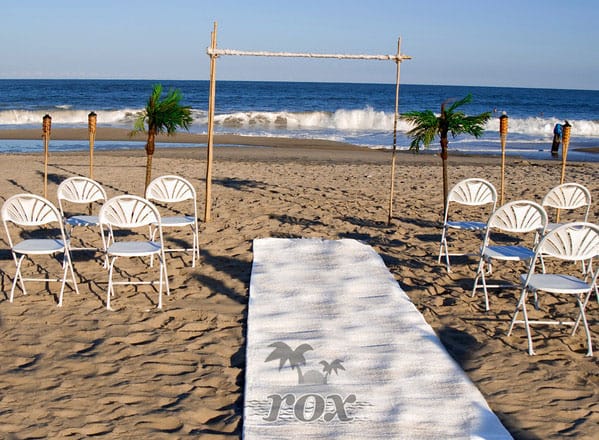 A beach wedding is an ideal way to enjoy a fun, easy & stress free wedding. Most beaches are blessed with stunning natural beauty that result in fantastic wedding pictures. A destination wedding at the beach is a great opportunity for your friends and family to enjoy a mini vacation during your wedding week. A destination wedding may reduce your list guest. Not only will this minimize overhead, most guests who decline will still send gifts! Many couples who tie the knot on the sand conveniently combine the wedding and the honeymoon. This is a wonderful cost saving option that may free up some money to put a down payment on a house or pay off some student loans.
Speaking of saving money – can you guess the average price of a wedding in the metro areas of Baltimore, Philadelphia & Washington DC? In 2010 it was over $32,000. Recent unpredictability in the economy has prompted the modern bride to be as resourceful as possible to keep her dream wedding on budget. The beauty of the beach is that it is an inexpensive venue. Ocean City, MD is a free public beach. The wedding friendly local government has made this family resort one of the most popular destinations on the east coast to say "I do". Beaches in Delaware and Virginia impose small beach permit and parking fees. These fees are minimal compared to what you would pay by the hour in the city for your ceremony venue. The pictures and video from a perfect day at the beach are priceless.
During the summer months the best time for your beach wedding pictures is sunrise or sunset. The skyline is spectacular at those times and there are usually less spectators on the sand. From 10 am until 5 pm the beaches can get pretty crowded. It can also be ridiculously hot in the middle of the day. Even a nice ocean breeze won't keep you dry during a 3 pm August ceremony. Try to wait until the lifeguards vacate the beach. Families and children will usually follow soon after. After 5:30 pm, the beach is pretty sparse – a few surfers, a couple playing Frisbee and an old man with a metal detector. Early morning is the best time for exclusivity. A sunrise beach wedding is as romantic as it gets!
The beach season is traditionally from Memorial Day to Labor Day. Once the kids are back in school, the beach traffic is sparse during the week. Weekends stay very busy in the autumn shoulder months of September and October. There are usually special events during the weekends which increase traffic and occupancy. The weather is ideal in the fall. The past few Octobers have blessed us with temperatures in the low 80s here in Ocean City. Late April and May offer perfect temperatures as well, but there is an increased chance of rain in the spring. If it is scheduled to rain on your day, contact your officiant a few days before to make the necessary changes. Sometimes we move the ceremony a few hours up or back to avoid the storm. If it's a warm, light rain it may not be an issue- most beach ceremonies only last about 10 minutes. In a worst case scenario, you can always have the ceremony under cover where you are staying. I've never had one bride who came to the beach to get married leave without tying the not due to weather. Relax- spot of rain is nothing to lose sleep over.
An off season beach wedding has plenty of perks. Hotel rates drop significantly in the winter. The top venues have more availability. Parking is plentiful and traffic is minimal from New Year's until St. Patrick's Day. If you have a winter beach wedding, schedule it between 12-3 pm to get the most warmth from the sun.
Once you choose your ceremony spot, it's time to think about your decorations. In a perfect world, your friends and family will have the time and resources to help you create a theme and haul the supplies down to the beach with them. Then they'll set everything up perfectly prior to the ceremony and pack everything up and cart it away after your "I dos". The modern bride on the go doesn't always have that luxury. Renting may be the practical part of the equation. Unless you have access to a flatbed truck, I would let the professionals worry about the archway,tables, chairs, runners, palm trees, columns, tiki torches and music.
These can take quite awhile to set-up and break down. Exert your creative influence on the ceremony with decorative ribbons, flowers and shells that match your color scheme (and fit easily in your trunk).
A nice touch is a sand unity ceremony. Similar to a candle lighting ceremony (difficult to perform in the wind), two vials of different colored sand are poured into an empty vial to symbolize your new union. Add additional colored vials for each child you would like to include in the ceremony. If you're feeling adventurous , you can add a butterfly or dove release. There are a lot of variables that can go wrong with a release, but if luck is on your side it will be an amazing spectacle.
Music adds a sophisticated dimension to any ceremony. Most public beaches have regulations that restrict amplification of music. You can usually have a self contained portable unit. We use a white" Ka-Boom Box (about $360)" for our ceremonies. I consider it the Rolls Royce of boomboxes. At the water's edge, a high quality sound system is necessary to compete with the crashing waves.
If you have the cash, an acoustic musician is a nice touch. A string trio, harpist, violin, steel drum or bagpipe can make your ceremony even more memorable.
If you use a DJ, either send him your requests in advance or bring a CD/MP3 with you. This should include the music to be played while your guests are seated, your wedding march and your processional music. Recessional can be a traditional march. It can also be Dave Matthews, Michael Buble, Beyonce or Led Zeppelin- whatever floats your boat. I had one couple walk out to AC/DC Thunderstruck during Bike Week. They had a blast!
Now that you've got your dates and venues set, it's time to tackle the paperwork. You will need to acquire a marriage license from the clerk of the county you are getting married in. County rules vary from state to state, but tend to be pretty similar. The quickest way is to apply in person. You will need to provide proof of identification. This can include a copy of your birth certificate, drivers license or passport. You will also need the contact information and social security number of you and your spouse. If this is not your first marriage you will need to provide either a decree of divorce or a death certificate. Some clerks will allow you to file through the mail (especially if you are out of state). Your license will be temporary and may have restrictions. I have included a complete directory of the Delmarva peninsula clerks and requirements on page (?) to make it as easy as possible for you.
You've started working on your license. Now it's time to find the right officiant for your ceremony. Parents, in laws, religious and cultural differences make it difficult to please everyone. At the end of the day, the only votes that count are you and your future spouse. It should be someone you are both comfortable with. I like to give my clients creative control of the ceremony of their ceremony. I give them a ceremony framework and they fill in the details. I'll e-mail them a copy of their ceremony to look over and make changes. That way you know exactly what I am going to say before it comes out of my mouth (I find that brides tend not to like surprises on their wedding day). Sometimes there is a lot of pressure from family (especially grandparents) for a more "traditional" ceremony. That's when you need your officiant to act as a "referee" and call it right down the middle. A good beach officiant shows up on time, dresses appropriately, projects his voice over the sea and orchestrates the symphony of your wedding ceremony.
Choosing a wedding photographer can be difficult. If you're having a beach wedding, I'd recommend a photographer who lives at the beach. Not only are they familiar with the lighting and the angles, if their car breaks down they can catch a taxi to you wedding. I have heard the horror stories about out of state vendors breaking down on the highways and arriving late for (or missing) their events. If your photographer is an import, make sure they arrive the night before. The closer your team lives to your venue, the more likely they are to show up on time. They also won't need to tack on a travel charge. That being said, compare local vendors for price and quality of work. I would also choose a non smoking photographer- you'd be amazed how many shots a re missed while vendors are on a tobacco break. The evolution of digital cameras has leveled the playing field. You may have a friend or relative willing to shoot your wedding. If you take them up on the offer, have a back up plan. At least hire a professional for the ceremony, the introductions and the cutting of the cake. "Uncle Buck" may do a reasonable job with his Powershot, but 10 years down the road you don't want to have any regrets. Having friends and family "shadow" the photographer may seem like a good idea, but can have disastrous results. I've seen that trend a lot lately and the subjects in the photo get confused which camera to look at. People look in all different directions and detract from the quality of the photos you are paying the professional to take.
Another decision is whether you would like video of your wedding. Video is wonderful. It's a wonderful way to relive the moment on your anniversary. A highlight video of your ce remony and reception is priceless. Video can be expensive. Your best bet is to shop around and find a package that includes photo and video. All in one shops are becoming popular because you can arrange all your shopping with one phone call. It's also easier to track down your merchandise after the wedding when its all through the same company.
Entertainment may be the most important part of your reception. If your guests are bored, they may leave early. If you want your guests to still talk about your reception 5 years down the road, you'll need to keep them entertained. A great band can really get the crowd involved and liven up a party. The drawbacks are that they take up a lot of space, take long breaks and cost a lot of money. A DJ is the most practical solution for the bride on a budget. There are a lot of "clowns" out there. Do your homework before hiring your DJ. What does he look and sound like? A facial tattoo or squeaky voice may not be what you' re searching for. Does he use tobacco? A DJ that smokes takes too many breaks. A DJ that chews tobacco may offend your guests. The ideal wedding DJ will be close to your age. They'll have grown up listening to the same music as you. They'll know what to play to get you and your bridal party up and dancing. Remember- its YOUR party. Speak with them on the phone to make sure you connect. Make sure they'll play the music you want to hear. If you have Spanish speaking guests, you may want a bilingual DJ. A reputable DJ offer you a reception planner to customize your special songs. Your DJ should definitely live close to your venue. If the DJ's van breaks down, they won't be able to put their equipment in a taxi. If you need to bring in a DJ from out of town, have them arrive the night before or make sure you have a back up plan.
As you can see, Ocean City Beach Weddings are Fun, Easy and Stress Free. Beach Weddings are relatively inexpensive and the photos are amazing!
Article & Photo Submitted By:
Rox Weddings & Events
www.roxenterprises.com
Feel free to contact Rox Weddings and Events for help with your OC Beach Wedding! The next Ocean City Bridal show is April 10th 2011 at Lighthouse Sound. Wedding Officiant Sean Rox will be giving away a Free Caribbean Cruise for two. Hope to see you there!
Sean Rox and his wife Cassandra own Rox Weddings & Events. Located in Ocean City, Sean has officiated over 500 beach weddings since 2006. Rox provides top shelf Photography, Videography, DJ, Limousine and Beach Rental Service. Rox also produces the Ocean City Bridal show.
Free Wedding
Giveaways + Sweepstakes
Enter sweepstakes & giveaways and enter to win a free honeymoon when you join. New winners are announced every week!