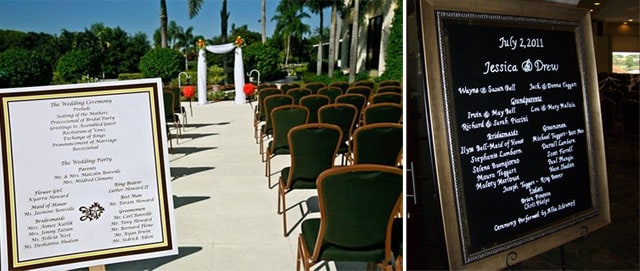 When it comes to weddings, it seems like you can take almost anything, switch it up to a new idea or even bring back an old idea, but put a modern twist on it. Traditional weddings will hand out a program to guests when entering the ceremony to bring awareness to the guests on how the ceremony will flow, the readings or poems that may be read, and who the wedding party consists of. Often times, these are left behind or tucked into a scrapbook somewhere. Some brides have opted to do something a little different lately. Displayed programs are becoming more and more popular in the wedding world, and by doing so, this leaves nothing behind. A framed chalkboard propped on an easel is a great way to show your guests the program or even a professionally printed sign displayed. Tech-savvy brides have also opted to project the program on a screen before the processional begins, while mixing in childhood photos, engagement shots, or even bridal party photos.  Another practical idea for an outside wedding is to attach the program to a hand-held fan or make the fan the program.
If you do prefer the traditional style, consider adding some of your wedding's theme or personality or coordinating it with your invitations.
Article Submitted By:
Jennifer Byrn
Catering Director
Ibis Golf & Country Club
Free Wedding
Giveaways + Sweepstakes
Enter sweepstakes & giveaways and enter to win a free honeymoon when you join. New winners are announced every week!