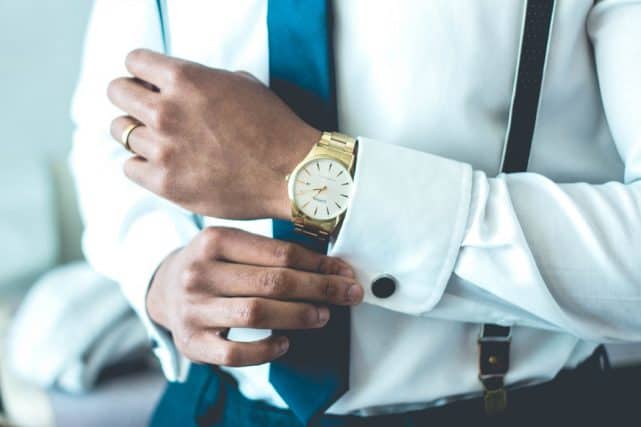 The big day is here. You've been making painstaking preparations for the past few months or maybe even a year, and all that you've worked hard for will culminate in the wedding day. You, along with the bride, are the star of the show, and you are expected to be at your best and your happiest. That means you have to be dressed to the nines, complete with the accessories that will complement your outfit.
There may be many things to consider, but the groom's wardrobe essentials boil down to the following items. Read on for more information.
Customized Wallet
Payment arrangements may be done before or after the wedding, but incidental expenses may come up on the wedding day, so it certainly helps to be prepared. You, being the awesome groom that you are, shouldn't carry around just any kind of wallet, though.
These personalized wallets from Groovy Groomsmen Gifts can store credit cards, money, and other important things. But the best part of that is that they are uniquely designed. No one else owns the same kind of wallet that you have.
Dress Shoes
A bespoke suit or tuxedo cannot do you much justice if you pair it with the wrong kind of footwear. Manners make the man, for sure, but your shoes also speak volumes about you. Slip-on shoes may imply that you're more of the easygoing type, while lace-up dress shoes give the impression that you are a gentleman who means business.
For a timeless yet elegant look that will sweep your bride and the whole wedding party of their feet, get a pair of trusty oxfords. Don't forget to pick the right color and style, of course.
Cufflinks
Cufflinks are usually used when you're wearing french-cuff dress shirts. These long-sleeved shirts are among the most formal pieces of clothing you should own, and the cufflinks serve as replacements for buttons when you're fastening the cuffs.
The use of cufflinks goes as far back as the early 1900s, but one is never too young or too old to wear them. These small things may seem inconspicuous, but they too say a lot about you. The more adventurous grooms may wear cufflinks with unusual shapes, while the ones with more austere tastes may go for classic designs.
Tie
This is your special day, so you should choose the right tie that will make you stand out from the rest of the tuxedo-wearing gentlemen. Neckties come in different styles, all depending on the kind of occasion you're wearing them for.
The classic tie is usually worn at work, but then they can also be worn on weddings. And since you're tying the knot in more than one way, you should know how to knot a necktie. There are different kinds of knots, but the most popular is the Windsor knot.
For a more sophisticated look, you can go for an ascot tie. An ascot is wider than your usual necktie. It is also more formal, and you can use it when you're wearing a suit or a blazer. A tie tack or a stickpin fastens your ascot.
Watch
You've literally got time on your hands when you're wearing a watch, so while you're at it, buy a watch that best displays your personality. The right timepiece will complete your ensemble, but you don't have to go overboard just to look dapper on your wedding day.
Thought to Ponder
More than your outfit, your commitment to spend a lifetime with your partner is the most important thing during the wedding. You can't discount the value of dressing sharply, though. The confidence you gain from a well-tailored suit and some perfectly coordinated accessories will help you breeze through the whole ceremony without any worries or uncertainties.
Photo URL: https://unsplash.com/photos/YHbcum51JB0
Free Wedding
Giveaways + Sweepstakes
Enter sweepstakes & giveaways and enter to win a free honeymoon when you join. New winners are announced every week!