3 Things to Ask Yourself!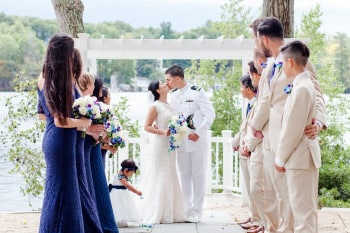 In hopes of making the day as special as possible, you might be considering custom services for some aspects of your wedding. Custom wedding vows are a relatively new concept for weddings, and I feel very honored to currently contribute to people's lives as a custom vow writer. However, is this  service right for you? Here are 3 things to ask yourself:
First thing To Ask:
Does sharing unique promises, custom written from my love story resonate strongly with me?
Check in with yourself about this. If you feel excited and happy inside when you think about exchanging that One of a Kind of Moment for everyone to experience and remember, then you might want to consider a custom option for your wedding vows. If #Notyourbasicbride and #Uniquebride are your battle cries, then you might want to consider a custom option for your wedding vows. At www.uniqueweddingsvows.com, answering 10 easy and fun questions about your love story is all you need to begin the creation of unique, very memorable and special promises for your ceremony. Listen to your heart, what are your top passions, desires and hopes for your wedding day? Maybe you want to have the most amazing food, or a rockin' band or the best possible venue? Maybe you are fortunate enough to have it all! Only you and your soon to be spouse know the answers!
If Unique Vows feel right to you, then the next thing to ask yourself is:
Is this something I want to create myself, or do I want the peace of mind of a professional service?
Are you the type of person that loves creating, planning and making things when it comes to celebrations? Or would you rather just pay someone else so you don't have to worry about it or put time and energy into the creative process? Most likely, there are aspects of your wedding that you will want to have complete control over and other aspects that you will be more than happy to hand over to a trusted friend, planner or other professional. At www.uniqueweddingvows.com, after sharing your love story with me, you are guaranteed to be overjoyed and thrilled with your wedding vows! My custom wedding vow package includes: 350 words of original content created from your love story, just answer 10 fun and simple questions! You choose the tone of the vows: Almost Traditional, Nature Lover, Spiritually Minded, Hopeless Romantic, Poetic, Humorous or Story. Also included is an optional 30-minute phone call (in case there are details you need to discuss) and two revisions after receiving your feedback, making sure you are very happy and excited about your vows!
 Considering Custom Vow's Is A Huge Relief In The Mind, But Can You Afford Them? Lastly, Ask Yourself:
Is there room in my budget for custom vow services?
As you probably know by now, sometimes it can be extremely hard to stay within a budget while planning your wedding. I believe that your money will naturally gravitate towards what is personally most important to you. There are no right or wrong choices (Again, listen to your heart!). At www.uniqueweddingvows.com, I am excited to offer custom wedding vows for you, BECAUSE you deserve to have a unique and memorable experience and BECAUSE this custom option is actually very affordable! HOW? By keeping my expenses low by being a digital-only company (I don't even have business cards!). Why? BECAUSE I want to contribute to YOUR life in a positive way without affecting our physical environment (or your pocket book) in a negative way. You may also want to know, that I am An One Woman Show, meaning when you reserve a custom vow package with me, I will be the one creating, communicating and writing with and for YOU!
It gets better, though. At www.uniqueweddingvows.com, I have created another way to offer truly unique vows to YOU but without the custom price tag! Click here, https://www.uniqueweddingvows.com/services/unique-wedding-vows/ to see sample content of my unique, ready to use vows that you can easily personalize yourself. With 3 different themes to choose from and offered at half the price of custom vows, even a small wedding budget can accommodate this option!
I really hope these questions help you to create a perfect and special day! May it be blessed with pure joy, sincere promises, gratitude, beauty and forever love!
Brigitte McBride
Writer of vows at www.uniqueweddingvows.com  
Photos by: Christine G at ClassicPhotographers.com
Free Wedding
Giveaways + Sweepstakes
Enter sweepstakes & giveaways and enter to win a free honeymoon when you join. New winners are announced every week!