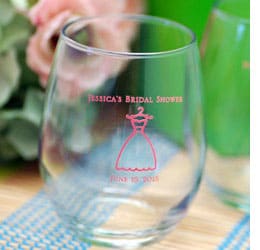 Personalized Stemless Wine Glass
For the contemporary wine connoisseur: personalized stemless wine glasses. They're perfect for a wine-themed engagement party, bridal shower favors, wedding, or bachelor party.
Customize each glass with your name(s), wedding date and/or a special message along with the icon of your choice. Icon colors include black, dark blue, fuchsia, gold, pink, red, silver, sky blue and white. Though stemless, each clear wine glass sits sturdily and holds up to 9 oz. of your favorite vintage. Measures 3.75″H, 2.25″ in diameter.
Click here to view more bridal shower favors.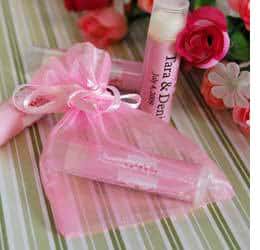 Personalized Lip Balm
Now you may kiss the groom! With these personalized lip balm wedding favors, every kiss is sheer perfection. Also great for bridal showers, engagement parties, and wedding anniversary celebrations.
Our wide selection of exclusive and themed designs will have you and your guests smooching everywhere, like a sunny beach resort in Hawaii, a casino in Las Vegas, or a ski resort in Aspen. Simply choose a design and customize each favor with your name(s) and date or a special message. These lightly scented vanilla lip balms feel smooth and soothing to the touch. All are with or without SPF 15 protection. Each clear plastic tube measures 2.5″ long and comes with a factory-sealed pull-off lid.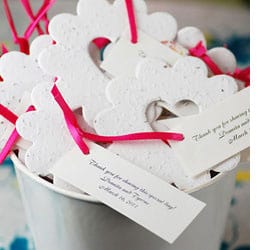 Bucket of Love Plantable Seed Favors
Ready to sow the seeds of love? Bucket of love plantable seed favors will have your spring-themed wedding or bridal shower guests going wild for wildflowers!
Each white bucket is filled to the brim with plantable paper favors shaped like flowers with heart-shaped centers. The paper is embedded with wildflower seeds which, when put in soil and watered well, will grow wherever they go. Choose white, lavender, pink, blue, yellow or green seed paper and personalize each with a ribbon in your favorite color and a custom-printed white tag with up to three lines of text. Available in two sizes and quantities: large (100 favors per bucket) and small (50 favors per bucket).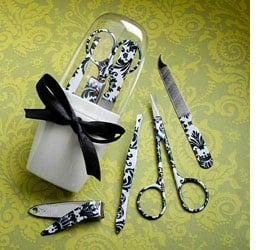 Damask Manicure Set
Every fashionable dame needs an elegant damask manicure set—they're perfect as bridesmaids gifts, bridal shower favors or that special something just for you.
Fit for a mani/pedi on the go or right at home, each set comes with metal tweezers, nail scissors, nail file and nail clipper. Each tool features a black-and-white damask print atop the sturdy metal. Packaged in a silver felt holder tucked within a plastic box with see-through top and white base. Box measures 4.5″L x 2″W.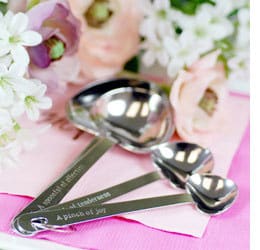 Heart Shaped Measuring Spoons
A charming favor idea for your wedding reception or bridal shower, this set of heart shaped measuring spoons is designed with the happy couple in mind. Four clever and romantic phrases (A heap of love, A spoonful of affection, A dash of tenderness, A pinch of joy) are engraved on the handle of each measuring spoon. The traditional measurements (1/4 teaspoon, 1/2 teaspoon, 1 teaspoon, 1 tablespoon) are engraved on the back side of the handle. Heart shaped spoons are made of stainless steel and thus, will not tarnish over time. This is a lovely keepsake that your guests will be able to use, and think of your special day, for years to come.
Each set of spoons is packaged in a classy black gift box with black velvet lining and clear lid. Gift box is accented with white organza bow and removable gift tag that reads "Love Beyond Measure." Measuring spoons are approximately 5.75″L x 2.25″W and the gift box measures 6.5″L x 2.75″W.
Free Wedding
Giveaways + Sweepstakes
Enter sweepstakes & giveaways and enter to win a free honeymoon when you join. New winners are announced every week!