How Can Waitressing Assist You On The Big Day?
(This post contains references to products from one or more of our advertisers. We may receive compensation when you click on links to those products.)
Waitressing is an underappreciated profession. Though it doesn't require a college degree or specific skill set, it does require a bubbly personality, fast paced work and mental stability. You may be wondering how being a waitress/server can help assist you with your wedding planning journey. Well, it may not seem like much at first, however if you sprinkle in a little pinch of creativity, then the possibilities to an unsolvable equation may just lead to a blindsided solution.
They're certain things you need to do while being a waitress: Calculate prices, work at a speedy pace, communicate with coworkers and customers with a positive attitude, and know the menu. You also need to be able to carry out food and drinks with decent balance. You may not need to know all these skills in order to plan your wedding, you definitely don't need to be able to balance food on your arms while serving to customers. But there are certain things you need to know, like how fast prices can add up.
Being Cautious Of Prices
From the number of guests to the prices on the menu, waitresses first hand know how fast prices can add up when you're just trying to have a good time. Constantly calculating tickets can make a person more aware about the value of money and how expenses can range from reasonable, to ridiculous. Because waitresses have this awareness, they are predisposed to being more cautious when it comes to the expenses of a wedding. They understand that prices can add up very fast, which will lead to better research and wiser choices when it comes down to final decisions. Your wedding is a precious moment, so remember to do your research and know that there is always a better deal, so settle for the best one.
Take Advantage Of Your Rolling Skills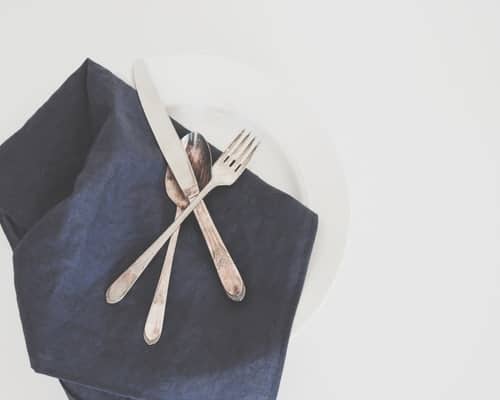 Since we're on the topic of price awareness, let's talk about your rolling skills. Now, don't let your mind wander off topic because by "rolling skills" I mean rolling silverware. Buying pre rolled silver is a waste of money unless you're hiring a catering service that already provides silverware.  Many places will sell pre rolled silver for formal occasions; however, depending on the number of guests that are attending the wedding, it can cost a lot of money to just get silverware alone if that is the route you're going. If you know how to roll silver, then might as well put your skills to the test and roll it yourself! It will be cost efficient and since your rolling it yourself, why not have fun and take the time to put in a personalized touch. Whether you add a delicate ribbon or a charm around each set, guests will be mesmerized and intrigued by the little touches you've added to the big day.
First Hand Connections
The best thing about being a waitress is that you have the ability to grow connections with not only your coworkers, but your customers as well. When you work in a small diner, it gives you the privilege to know a customer on a personal level. You develop friendships and when people hear about your engagement, more than likely their gonna want to bud in and offer up their talents. These talents can range from sewing geniuses to tech savvy, computer experts. Of course you could do it all yourself like hire your own alterations gal or make your own wedding website, but why over stress yourself when others are willing to do it for you? My coworker, Tina, was recently married in December of 2017. When a regular at the restaurant heard about her engagement, she offered to make Tina's dream wedding dress as her gift to the wedding. It not only warmed her heart, but represented the kindness that human nature can display.
Need A Caterer? Ask The Chef
When your planning a wedding, there are so many choices that need to be made: cake, food, music, colors. Many professionals have limited options for you to choose from, especially when it comes to catering. But if you have a special preference for the food itself, why not ask the chef at your diner/restaurant to cater the wedding for you? For one, this would be a great way to advertise how good the food is at work. Not only will this get the word out, but it might just carry traffic from your wedding to your restaurant. Also, though you will have to pay for the food, perhaps the chef will offer up his skills as a wedding present? It never hurts to try! In the end you still have a caterer, but you have to admit that knowing the cook personally will definitely calm over more nerves.
Waitressing is definitely an underappreciated job. But whether it is recognized or not, it is still a fun experience. You get to meet new people, learn their stories and develop skills you  never thought you could ever have. Put those skills to work on your wedding day, and remember to put that bubbly personality into action. No matter what your going to shine, but playing the role can add just the touch you were looking for!
Thanks for reading and remember that the next time you tip your waitress, let her know about Wedding Vibe!  🙂
Free Wedding
Giveaways + Sweepstakes
Enter sweepstakes & giveaways and enter to win a free honeymoon when you join. New winners are announced every week!