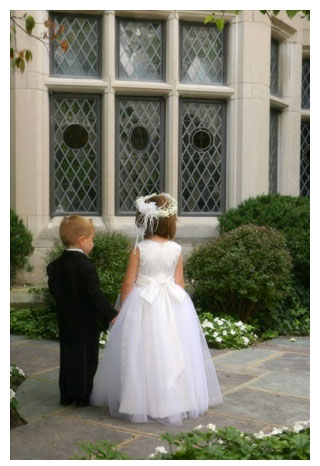 To preserve the true emotions of your wedding day, your photographer should capture an abundance of candids. Your father seeing you in your wedding dress for the first time, the tear your mother wipes away as you say "I Do", the look on your groom's face as you walk through the doors into the church, these are moments that cannot be reposed or recreated. Only an experienced photographer will know where to be and how to capture these special moments. A pro will use a long zoom lens, so as to not intrude on or disrupt the moment.  Your photographer needs to be aware of everything going on at all times, so as to be able to quickly focus on a different situation.
I recently attended a wedding of a dear friend's daughter as a guest with my wife and son, a rare occasion indeed. This friend wanted me to enjoy a wedding, rather than photograph it as I do forty to fifty times every year. The primary photographer had three assistants. After the father daughter dance, the bride wiped a tear from her eye three different times. Yet the three assistants missed it every time, as they were busy looking at the back of their cameras, rather than being aware of everything around them.  Beginners miss special moments, experienced pros do not.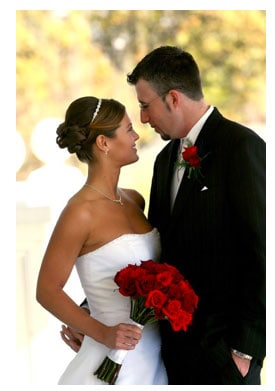 The top image is one of my favorites. The little boy and girl were busy looking at flowers as I was photographing the bride at Hyde Park Community United Methodist Church. As they touched hands, I quickly turned the camera to capture the moment.  One shot, in a split second, and they were done.  Believe me, you can not pose two little children like this.
In the bottom image, I was walking around the corner at Wetherington Country Club and caught Melissa and Brandon having a quiet moment alone. I quickly captured this romantic moment before they were aware I was there.
A friend or beginner can possibly photograph the standard poses, and perhaps a few snapshots. But to capture the true emotions and romantic moments to tell your wedding day story, nothing is better than experience.
Article Submitted by
Ron Diesslin
Cincinnati Digital Photography
www.CincinnatiDigital.com
www.facebook.com/pages/Cincinnati-Digital-Photography/148324179839
513-484-3645 ph/txt
Free Wedding
Giveaways + Sweepstakes
Enter sweepstakes & giveaways and enter to win a free honeymoon when you join. New winners are announced every week!