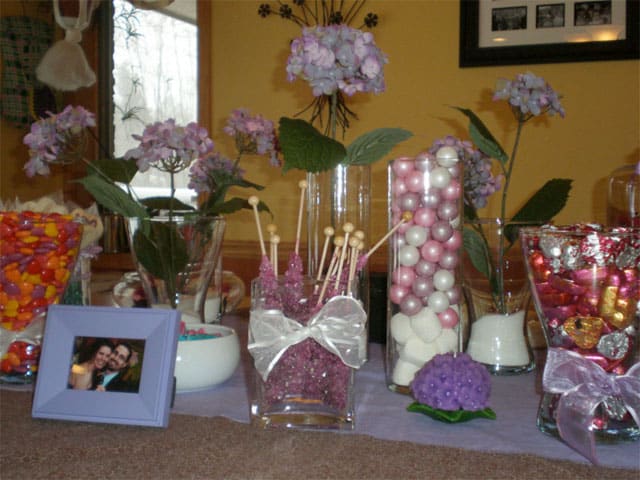 The Do's and Don'ts of Colors for your Candy Buffet!
Candy Buffets look great at receptions, bridal showers, baby showers, and many other social events. In fact Candy Buffet's have hit the mainstream for weddings within the last two years, and are becoming increasingly popular amongst modern day brides.  There is a WOW factor, but if you've ever put together a candy buffet before they take a lot of work, and oftentimes that hard work goes unnoticed.  "It's just candy after all".  Instead of basking in your glory or reveling in your success as "candy buffet maker extraordinaire",  many brides, mom's, and significant others look at the remains of their once glorious candy creation and think about all the time, effort, and just plain hard work it took to put it all together!
That is where we come in.  "We", meaning wedding planners, event coordinators, as well as us Candy Buffet creators whose business it is to make the candy at your reception look tasty, exciting, and colorful!
Some people choose to hire someone to do their buffet and some people choose the DIY route.  I am not here to tell you if you should or shouldn't, just simply offer tips on color coordination that could help you either way you decide to go!
So, here are some Do's and Don'ts about color coordination that will make your candy buffet POP at your event!
1.       Do coordinate your candy buffet colors with your season.
a.       Example: If it is a fall event opt for more earth tones for the buffet, such as brown, orange, maybe a dark green in there.
b.        If it is a spring event you should go with more pastels.
c.       A winter event should have "icy" colors such as light blue, silvers, and crème's.
d.      And last, an event held in the summer should have more tropical colors.
2.        Do select your candy buffet colors based on your event theme.  If you are having a very formal setting, bright vibrant colors might not be suitable.  If you are having a luau, bright and vibrant would be perfect!
3.       Do, if you're having a wedding, plan an all-white theme.  This approach can be easier and less time-consuming than finding your individual colors.
4.       Do pick your colors based on the color theme for the wedding or event.  This can be hard to do, as not all colors look the same as they do in the pictures, however if you have the time and ability to do the research, then this can be the added "sweet!" factor your party needs!
5.       Do not just have chocolate or matte colored candies. It will end up looking flavorless and dull.
6.       Do not, for a very formal affair, have all bright colorful lollipops and crazy wild candies.  The guests are expecting the candy to match the event.  If you have a kids birthday party for example, you could definitely create a colorful and purposely mismatched display and it would be appropriate for the event!  This is not to say that you cannot have "fun" candies at your event, just make sure the color scheme is taken into consideration.
Article Submitted By:
-Dani G.
CandyShopBuffets
www.sweetbuffets.blogspot.com
If after reading this you have more questions, or are confused about how to begin planning a candy buffet, please contact me on my blog for more information!
Free Wedding
Giveaways + Sweepstakes
Enter sweepstakes & giveaways and enter to win a free honeymoon when you join. New winners are announced every week!