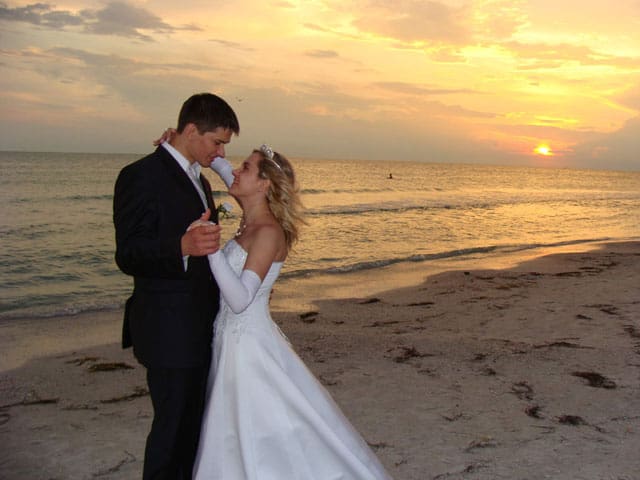 We are called Wedding Officiants, Celebrants, JP's, Notaries, and Ministers.
We Officiate Weddings at Beaches, Parks, Homes, Halls, Hotels, Churches and places you would never even imagine….. for example a few months ago I Officiated a wedding for two stunt pilots at an air show in Sebring.
Most of us also Officiate at Vow-Renewals, Commitment Ceremonies, Baby Blessings, Memorial Services, and any other sort of ceremony that may need an Officiant.
We LOVE what we do. As Wedding Officiants we are involved in the most intimate moment of a couple's life…..
We are dropped into their lives and get to be their best friend for that moment and sometimes the week, month or year that they have been planning……
and often we live on their mantle with them for the rest of their lives…. Now that's LOVE!!
We work with clients face to face, over the phone and via email. A good Wedding Officiant will customize the ceremony to be exactly what their client wants it to be.
We can make it religious, non- religious or a little of both. We can add Readings, Family and Kid Ceremonies, Unity Candles, Sand Ceremonies, Hand Blessings, Broom Jumping, Blessing Stones, Binding Ceremonies, Lasso Ceremonies, Roses, Wine, Glass Breaking…. And more.
Have fun with your ceremony and make it your own.
I suggest booking your Wedding Officiant as soon as you book your venue. We book up quickly, especially if it's a Saturday night.
Article Submitted By:
Nan Klater
Notary/Wedding Officiant
Ceremonies by Nan
Free Wedding
Giveaways + Sweepstakes
Enter sweepstakes & giveaways and enter to win a free honeymoon when you join. New winners are announced every week!