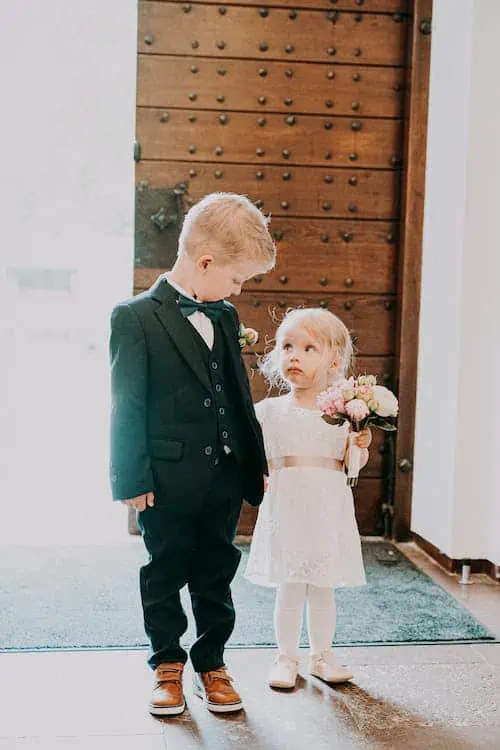 Your wedding day is not something to handle lightly. As a couple, you will have to weigh several scenarios and questions before the big day. One of those decisions will be whom to invite. In line with this will be the decision about whether to have children present or not. Settle these matters before writing and sending out wedding invitations.
It may seem cumbersome to invite children along with adults. However, they also bring joy and unforgettable memories. Making this decision can be difficult and frustrating. Here are some facts to consider before you do.
How To Make The Decision
You will need to consider several factors before deciding whether or not to invite children. For example, your wedding theme or vision may be a considerable determinant. Other factors include:
The venue: Does the place allow children? You may also need to consider whether to have children present if you are having a destination wedding.
Unpredictability: Children can be unpredictable. It can be a good thing that brings great memories. It might also result in chaos.
Budget: Not having kids at your wedding can save money for other experiences. However, please note that kids may not be as expensive as you think. Some caterers offer discounts on children's meals for young guests at the kid's table.
Deciding on this beforehand will help you know whether or not to invite children. Decide early. It will help you determine how to structure your adult-only or family-friendly wedding.
If you both choose to invite or not invite children, you need to consider the pros and cons.
Pros of Inviting Children
Weddings are memorable occasions celebrating a couple's commitment. Kids of close friends and family members tend to brighten the wedding atmosphere. Though they can sometimes be a nuisance, kids from your immediate family can play the role of flower girls or ring bearers. The beautiful photos and chaotic moments will stay with you for a lifetime.
Here are the pros of having children at your wedding:
Having many of your friends and family
Your friends and family will not have to make arrangements for babysitters. Some may not be able to afford to hire babysitters while at your wedding. Therefore, making provisions for kids will ensure you do not miss the memories of any family members or friends. They are more likely to show up to your wedding. However, you can help your guests enjoy themselves more by hiring on-site help.
Fun at the kids' table
Kids add a level of playfulness to your wedding. They can also lighten up the mood. You can design a kid-friendly program that also serves as a coloring book. You can help parents keep their children busy during the wedding ceremony.
At the wedding party, they can have their table or kids' room with games, arts, and crafts they can enjoy. You can also have a children's entertainer or kids DJ to play their tunes. Some parents will also appreciate joining in the fun as they watch their kids.
Having a flower girl or ring bearer
Having kids present will allow you to have a flower girl or ring bearer. They make for beautiful photo opportunities. They will also make the best extras for your wedding video.
Cons of Inviting Children
Guests at your wedding reception may want to drink and make merry. They will find it cumbersome to change their kids' diapers and still watch them. Your guests may have a better experience if their kids are in the safety of their homes. There are other cons to inviting children. These include:
Dragging children to a destination wedding
If you are planning a destination wedding, most guests may find it difficult to drag their kids along. They may want to take advantage of this occasion as a child-free retreat. You may also encounter some issues with the venue. They may restrict the number of guests, leaving you with no room for children at your wedding. Other places may have age restrictions that are not appropriate for young guests.
Budget
Having children at your wedding may hike your budget. You may have to come up with a children's menu, which may cost more. You may also have to hire people to keep the kids entertained and others to help look after them. However, board games and coloring books can lower your budget.
Shifted Attention
When parents take care of their children at your wedding, it may shift their attention. Kids can also be a distraction for other adult guests. Wedding etiquette requires that you let the kids sit at the kids' table or in the kids' room if there is one. Therefore, you should make provision for this during your wedding planning.
Other Ideas
With the above in mind, you can now consider whether you want children at your wedding. Whether you decide on having children or not, here are ideas for dealing with each at your wedding.
Adults-Only Wedding
These are perfect for destination weddings and if you prefer an orderly, stress-free function. You will have a more mature crowd that may allow you to execute your vision flawlessly. As you plan, tell your close relatives and friends beforehand. Note it on the cards or your wedding website. Make it clear if you only opt for a flower girl and ring bearer.
You can also opt for older children only. Note the ages so that if your guests have other kids, they can arrange to get a babysitter.
Family-Friendly Wedding
These are child-friendly, and they also allow the children to enjoy themselves. The main idea is to ensure that you have a kids' area. Here they can enjoy themselves away from the adults. You can also make the kids feel included during family-friendly weddings by sending them a separate invitation.
Family-friendly weddings also allow you to have your children at the wedding. You can enjoy your first dance and make memories with them. Ask your creative director to develop ways to keep the kids busy. These should include younger children as well as older ones. Let them feel they were part of the joyous occasion.
For more wedding dos or don'ts, join the WeddingVibe. We have lots of ideas to make your wedding more memorable. Get in touch with us via our website, and our experienced professionals will assist you.
Free Wedding
Giveaways + Sweepstakes
Enter sweepstakes & giveaways and enter to win a free honeymoon when you join. New winners are announced every week!