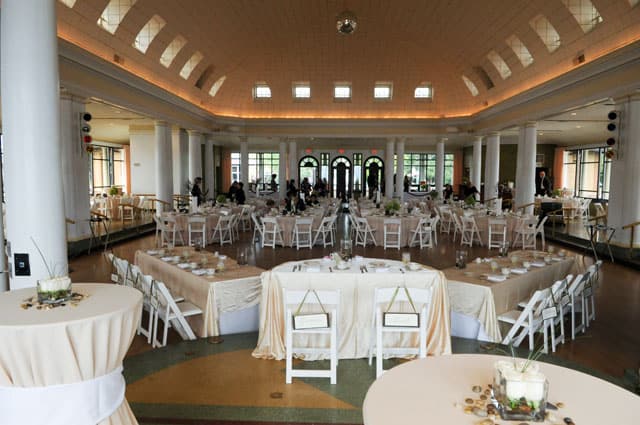 There always seem to be venues in every city that brides gravitate toward.  They are well publicized and everyone knows about them.  The downside is that because they are so popular brides often have to change their wedding date or time in order to book that venue.
But what if you cannot change your date or time or don't want to then what?  There are always interesting places to hold a wedding ceremony and reception.  County parks have beautiful places to rent right in the middle of lots of trees or even a lake or pond.  Sometimes an old, charming library can host a wedding.  I have found several beautiful venues about 10 to 20 minutes outside of town.  In every town there are old restored mansions that can often be rented. For a huge wedding a bus shed, dance hall, rec hall or other large space you might never think of can be transformed with flowers, draped fabric, greenery, hanging lanterns.  They are blank canvases just waiting for your inspiration.
Aside from their availability because they are less popular these venues are usually more accommodating and cost a great deal less than the top venues in your town.
That being said, there are things you need to know about less used venues.  The questions to ask them:
1)     Do you have facilities for my caterer?  (oven, refrigerator, etc.)
2)    Do you enough power for a caterer's travel oven and for my DJ's sound system?
3)    What do you provide in case of rain? (If this is mostly an outdoor venue)
4)   Is there easy access for rental trucks, caterers, etc. to load and unload
5)    Is there parking for guests?
6)    How many hours do I have your venue for?
7)    What are your cleanup rules and expectations?
8)    Do rentals have to be picked up the day of the wedding or can they be picked up the next morning?
9)    What do you provide? (tables, chairs, dance floor, sound system, etc.)?
10) How many can you comfortably accommodate?
11)    What reception configurations work best in your space?
12)  Can I put a dance floor or a stage in your venue?
13)  Are there any restrictions on decorating your venue?
14) Can I use candles or other open flames in your venue?
15)  Do you have air conditioning or heat?
16)  Is there any bug control (for outdoor weddings)?
17)  Do I have to work with your preferred vendor list?
18)  What is your cancellation policy?
19)  Will any of your staff be there during the reception?
20) In case anything goes wrong who can I call?
21) What other weddings have you hosted?
22) Do you have photos from those weddings?
So, don't feel as if you can't find a venue.  Us use your imagination, ask around, drive around and spot some great possibilities to create a very unique wedding.
This article is brought to you by:
BRIDE'S WEDDING PLANNNG ADVENTURE, Aug 5-7, Charleston, SC
Free Wedding
Giveaways + Sweepstakes
Enter sweepstakes & giveaways and enter to win a free honeymoon when you join. New winners are announced every week!