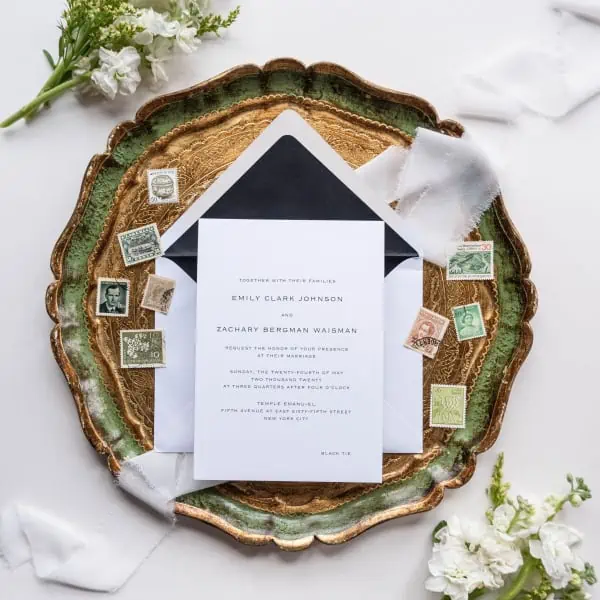 Wedding planning can be overwhelming. Whether you're a bride-to-be or managing the planning for a friend or family member, there are just a lot of decisions to be made. And deciding on wedding invitations is probably one of the more stressful tasks of the planning process.
You want them to be as beautiful as the upcoming wedding, but you also want them to be appropriate for the ceremony. Luckily, there are countless options out there.
The following suggestions can help you make decisions during this stressful time and find the proper invitations for your ceremony.
Decide on Your Invitation Format
Deciding on your wedding invite format can be overwhelming because there are so many options to choose from! Whether it is a vintage, romantic, classic, or contemporary style, the format of your invitation reflects your personality as a couple. Traditional formats such as postcards, flat cards, or folding cards are popular choices for many couples.
While postcards are simple and affordable, flat and folding cards offer a more formal feel. If you want something more unique, try paperless postcards, be it digital or physical. For a true luxe experience, choose layered paper with professional print or modern calligraphy to stand out.
Personalize Your Invitation Wording
Choosing the perfect wedding invitations for your special day can be a difficult decision. If personalizing your invitation wording is important to you, there are a few key points to consider.
Review various invitation types to ensure that the wording fits your occasion. Consider adding a sentimental quotation or a heartfelt poem. Be sure to feature the couple's names prominently on the invitation.
Design features such as colors, fonts, and images should also be taken into account when personalizing your wedding invitation. Your wedding colors should match the invites that you go for.
Consider Customized Options and Add-ons
Consider customized options and addons to truly make it your own. Choose the perfect writing paper and envelopes. Moreover, you can look into customized designs, such as using a specialized printing company to make them with your colors and font choice, or opt for laser-cut or die-cut details as a special touch.
Then, consider customized add-ons such as printed envelopes with your names and wedding date on them or including a wax seal with your initials on it to make the invitations stand out. The little details can make a difference in giving your wedding stationery an extra luxurious feel.
Get the Best Wedding Invitations for Your Special Day
You cannot just ignore the wedding invites. It will show what your guests may expect from your wedding. With this, they will also be able to prepare for your big day.
Choosing the perfect wedding invitations is an important step in wedding planning. With the right colors, typography, and design, the invitations will be the first impression of your guests. Take the time to choose the best invitation for your special day today!
Don't forget to browse the rest of our site for more helpful tips.
Free Wedding
Giveaways + Sweepstakes
Enter sweepstakes & giveaways and enter to win a free honeymoon when you join. New winners are announced every week!