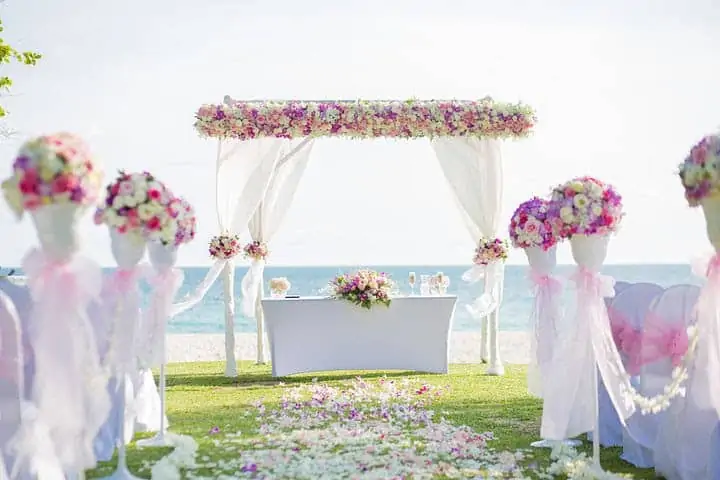 Creating the perfect summer look for your wedding is a challenge – but one that can truly bring the whole day together. In the summer months it is a good idea for you to arrange a wedding that brings out themes of the season and this could be through colour, setting, or theme.
A beach wedding is one that many of us think about when tying the knot – and if you are looking to create the most beach wedding for your guests this year we have some great ideas for you to try.
Use lots of natural materials
When building a beach wedding at your chosen venue it is important to use lots of materials that are natural and pull from the surroundings. For example you can add dried grass and hay to your bouquets for a Sandy colour, use wooden chairs for decor, and consider bringing some seashells in for table decorations. Bringing parts of nature into your wedding reception is so important and it will allow you to feel as if you are one with the location.
Keep your look classic
When planning a wedding based around the sea and natural beach vibes – you want to ensure that your own look is classic and sleek. VVS diamonds can provide stunning delicate jewellery pieces to compliment a silk or satin style dress along with a flowing hairstyle that will look like you have stepped straight from the ocean. Creating a beautiful and natural look to enhance your natural beauty is always the best thing and it will make you feel truly beautiful at your wedding.
Create a warm colour theme
Warm colours are the best way to go if you are creating a coastal style wedding. You might be thinking of blue bridesmaids dresses to compliment the ocean but in fact a dusky pink or rose colour will look even better and it will compliment as well as contrast the surroundings. Consider bringing lots of yellows, mustards, rust, and pink tones into your wedding reception decor such as vases with sunflowers, straw baskets, and vases painted in those warm summer colours. You'll create a perfect Indian summer vibe and this will create stunning photographs.
Do it outside
The aim for any beach wedding is to try and have the ceremony outside either on the beach itself or close by. If the day is sunny and bright make sure to make the most of your surroundings and show off by performing your wedding outside. This will create the perfect relaxed vibe and everyone will be able to enjoy the fresh seaside air as they watch you unite as a couple.
Create a relaxing fun vibe
The last way for you to truly capture a summer beach wedding vibe is to make the wedding fun and informal. Create fun games you can play on the beach after the ceremony, have some disposable cameras out for people to take photos, and simply enjoy spending time with your friends and family celebrating something so special.
Free Wedding
Giveaways + Sweepstakes
Enter sweepstakes & giveaways and enter to win a free honeymoon when you join. New winners are announced every week!