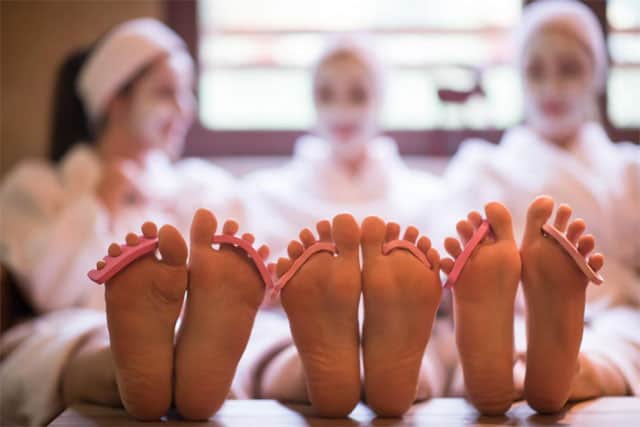 Bridal showers have evolved through the decades, and millennial showers have embraced an 'anything goes' approach.  Today's bridesmaids may even host…a Spa Bridal Shower!
While spa parties are usually reserved for the bachelorette party (or "hen" party, if you're a UK friend!), many brides and their friends are taking the once-conservative bridal shower to the massage table. These showers are all about pampering treatments, relaxation and time with the girls. And don't forget the mimosas!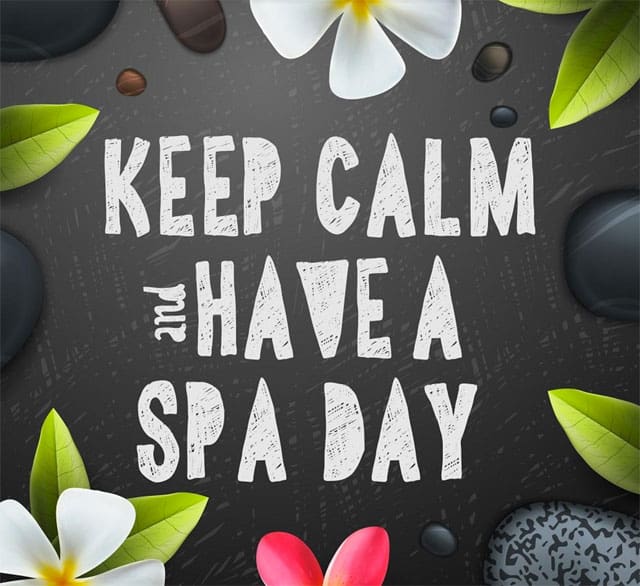 This isn't your grandmother's shower where the guest list included spanned generations…and seemingly every woman in the family secured an invite. While grandma should obviously be at the top of the guest list, all potential guests need to be aware that this shower won't be the typical and traditional event where the ladies wear their Sunday best while drinking punch, eating cake and playing games. When taking the shower to the spa, here are five ways to plan in style…and without breaching any etiquette:
Budget
A spa shower isn't cheap, and hosts must know their budget. Do not expect guests to pay for their treatments; a guest should not be expected to pick up part of the tab for a party. Work with the location to decide how each guest will be pampered…or provide guests with a menu of treatments from which they may choose.
Set the Guest List
Many brides have more than one shower. So friends or family members may still plan a true-to-tradition shower with the cake, punch and games. If the spa shower is a secondary party, limit the guests to a close group of girlfriends…and all the bridesmaids. Moms also should be included. If this is a surprise shower for the bride, speak with her mom or her group of close friends to map out the guest list. If the bride knows about the event, make sure she has a say in the guest list.
Be very clear on the invite about what this shower will entail. Make sure guests know to dress comfortably…and to be ready for pampering!
Room for Refreshments
Plan a spa bridal shower at a location that offers a room for guests to retreat for lunch or refreshments. The spa may even offer in-house catering to provide a luncheon for guest. Be sure to inquire what the spa may provide and also what hosts may bring to the location. When planning the menu, Beau Coup recommends healthier food choices like fruit salad, cheese and crackers and veggie trays. Dessert and sweets bars also provide an indulgent surprise for guests…and spa days are all about indulgence! Champagne may be available to all spa guests; or perhaps the bridal party needs to provide their own for mimosas.
A Gift Table
Unless hosts have strictly stated 'no gifts please" on the invite, guests will arrive bearing presents. Ensure that there is a table where gifts may be placed, and decide if the bride is going to open gifts at the shower, of if she will open them privately with her fiancé. If the bride decides to unwrap gifts at the spa, make sure the time is scheduled into the itinerary and that guest know when to move to another location for lunch and/or presents.
The Spruce also recommends that guests can chip in for a spa gift certificate as a big present to the bride or theme gifts for the spa (creams, oils, luxurious robes, etc.).
Party Favors
Gift guests monogrammed flip flops (check out this easy DIY tutorial!) to wear while at the spa. On their way out, present them with a spa gift bag with scented lotions, nail polish and fun bath bombs.
A bridal shower hosted at the spa gives every guest a pampering treatment while showering the bride with well wishes. Guests can enjoy pedicures, manicures or massages while chatting and reveling in the relaxation. Spa Showers also take away the need for games and other activities to keep guests engaged; most women will prefer a pedicure to Bridal Bingo any day! And at a Spa Shower, all guests will leave relaxed…and blissful!
Free Wedding
Giveaways + Sweepstakes
Enter sweepstakes & giveaways and enter to win a free honeymoon when you join. New winners are announced every week!