How To Create A Beautiful Wedding When You're On A Tight Budget
Your special day should be just that, special. So, even if finances are tight, rest assured that you and your significant other will still be able to make your 'big day' perfect. With painless do-it-yourself projects and simple tips like reducing your guest list, saving thousands on your wedding day is relatively easy. Take a look at these suggestions — and discover that having a beautiful wedding while on a tight budget is easier than you think.
Pick a perfect outdoor location or borrow someone's home for the ceremony.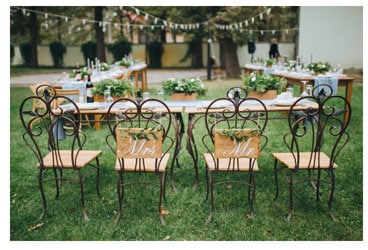 Renting a wedding venue could end up being the most costly portion of your special day. Function halls, buildings, and restaurants for both the ceremony and reception can incur astronomical hourly rates. There are many options when it comes to outdoor ceremonies — public parks, nature reserves, even a friend or family member's backyard. Outdoor areas can provide a picturesque setting and an affordable tent can be rented in the case of a rain emergency. Chances are you have a loved one who would be willing to host you and your friends and families in their home too if you want to stay indoors.
Narrow down the guest list.
So we all want to feel the love when we tie the knot but does this really mean inviting that friend from college that you only communicate with through the occasional Facebook 'like'? Just try to consider that each additional person means an additional cost in terms of food, drink, seating, and others — not to mention all the obligations to talk to each and every person on the big day. Try creating a list of all the potential invites, then try to cross out half of them.
Consider cheaper options for catering.
Between all of the different dietary requirements and the desire to leave all of your guests feeling satisfied, catering can be quite expensive. See what you and your closest friends and families can take care of on your own — many people are happy to contribute a dish or a dozen delicious desserts. If you want nothing to do with the food preparation, a good idea is to seek out a local family-owned restaurant. They are generally willing to help make your wedding special, while staying within your budget.
Seek frugal flower ideas.
While beautiful and elegant, a room full of flowers is expensive and the benefits are short lived. It may be a good idea to still use flowers, but keep it simple. Perhaps a single rose instead of a bouquet for each bridesmaid and a small arrangement for the bride. If you know anyone with a luscious garden, why not see if they will donate some to your special occasion? Also, fake flowers generally receive very little criticism from guests and will save you time as you will be able to prepare the arrangements in advance.
Do the bridesmaids and groomsmen really need gifts?
Instead of buying ten 'bridesmaid' mugs that will just end up shoved in the back of a cupboard, consider alternatives to buying gifts for those in your wedding party. Many friends would be happy to receive a personal thank-you note to show your gratitude. As your closest friends they will understand and respect your wishes to have a wedding that fits into your budget.
Be your own bartender.
Alcohol is a component of most weddings and as such, is one of the major expenses. A full open bar can be costly, so try to stock it yourselves with just wine and beer, or perhaps bottles from a discount liquor store. It is cheaper to buy a keg, which allows you to overestimate and get more to prevent running out during the reception.
Consider used or homemade decorations.
A truly fun activity to bring the wedding party together before the big day could involve some good old arts and crafts. DIY decoration materials can be purchased at craft stores for a reduced cost and decorations from previous weddings can be found at thrift stores and online.
In lieu of a wedding gift, ask for wedding help instead.
On your registry, after your new toaster and frying pan, why not include a list of desired skills and trades as well? You may be surprised to find out that certain friends may have experience DJing or bartending, or may be skilled musicians or photographers. This will save you from having to hire someone — and it will save them from last minute wedding gift shopping.
With just a few changes or reconsiderations, your total wedding bill has the potential to drop quite a bit. Not only will you save money, but you will probably end up preventing a few headaches as well — and your wedding will just be just as beautiful.


Sophie Washington
Sophie Washington is a rising designer in fashion who dreams of becoming a jewelry and bridal fashion designer. She currently writes for orlajames.com and is working on finishing her studies. In her spare time she enjoys sewing, sketching new jewelry pieces, and looking through bridal magazines.
Free Wedding
Giveaways + Sweepstakes
Enter sweepstakes & giveaways and enter to win a free honeymoon when you join. New winners are announced every week!