Your DJ is the most important part of your wedding reception.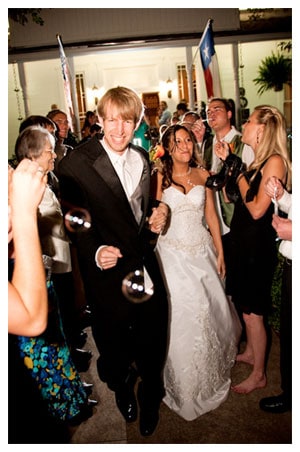 The most important part of your wedding only takes about 6 seconds… and that part is free! That's when you say "I DO"!
The most important part of your reception starts before you enter the reception venue,  and continues until the very end… that's your DJ!
DJs don't just show up and play music for 4 hours. Your DJ will spend many hours prior to your special day; preparing your music, organizing a schedule, coordinating your special songs with you, putting together your introduction list, testing the discs, packing equipment, loading equipment, unloading equipment, setting up the system, and straightening up their area,  all before your reception even starts.
Your cake cutting ceremony may last as long as 5 minutes,  the food you choose could last as long as an hour, your dress, flowers, and table decorations will be beautiful. All of these things will create your ambiance,  but they won't entertain your guests!
Your DJ will start playing background music before your guests arrive. They will have your bridal party introduction music cued up andready to go, and have your introduction list within easy reach so that it is ready to go for your grand entry. Now it's time for your DJ to become the MC… "Ladies and gentleman, if you would please rise and help me welcome… for their first public entry… MR&MRS ____ _____!
From there you will be guided into your 1st dance, (depending on your schedule) and then dinner will be announced. During dinner soft background music will be played and you DJ will probably host the toasts.
After dinner your DJ will MC the other traditional dances… father/daughter, mother/son, and/or any other special dances you have requested… then it's time to get the party to started!
THE ENTERTAINMENT IS YOUR THANK YOU GIFT TO YOUR GUESTS.
Your DJ will have coordinated a song list with you of your special songs, and will mix in songs they know will fit just right for your guests. Your DJ will MC special dances, and also keep an eye on the schedule to include and MC your traditional special events; garter toss,  bouquet toss, catchers' garter ceremony, and cake cutting. Your DJ is basically the host of your reception!
At the end of the night your Dj will play your last dance, thank you and your guests for a great evening, and shut down the system. Thenthey are back to packing, loading, unloading, and unpacking again!
You will probably spend more on flowers than you do on your DJ. You don't need to do a lot of shopping around to find the right DJ. Once you find one that you are confident in, hire them! Don't lose them because you are holding off and trying to get a cheaper one… get the good one!
To sum it all up, a month after your wedding your guests won't remember the cake, the food, the flowers, or your table decorations, but they WILL remember what a great time they had celebrating your wedding and being entertained by the fabulous DJ you chose!
13 TIPS FOR HIRING A DJ
Verify that:
1. Your DJ has a lot of experience hosting your particular type of event.
2. Your DJ's system has enough power for the venue that your event is scheduled in.
3. That your DJ will bring back-up for every crucial component of the system.
4. That your DJ will bring all of the music that you have requested in advance. (and will have a 2nd copy of important wedding songs)
5. That your DJ has a strong voice and is willing to MC your event.
6. That your DJ has a back-up plan in case of sickness or any other emergency.
7. That your DJ will arrive in time to be set up BEFORE your guests arrive.
8. That your DJ does not charge you for set up and tear down time.
9. For events with over 150 guests your DJ will have an assistant or MC. It is not possible to keep the music going non-stop and be able to handle crowd requests and manage timed events (especially wedding receptions) properly with only 1 DJ.
10. That your DJ will provide a contract that includes their cancellation/reschedule policy.
11. That your DJ is easily available by phone to help you coordinate your event planning.
12. That your DJ really loves doing this… if they don't have fun… neither will you and your guests!
13. That your DJ does not have an attitude that indicates that they may be difficult to work with.
Remember…
This is YOUR special event!!!
The DJ is the most important part of your event… and your wedding will be the most important event of your life!!!
Don't get a lousy DJ just to save a few bucks!
Article Submitted By:
A BETTER DJ AND PHOTOGRAPHER
www.abetterdj.us
www.intomatephotography.us
Free Wedding
Giveaways + Sweepstakes
Enter sweepstakes & giveaways and enter to win a free honeymoon when you join. New winners are announced every week!