So, you've got the perfect dress for your wedding day. You've even joined a fitness boot camp to tone your body and look amazing in pictures on the big day. You should be proud of yourself: Choosing your bridal dress is a fantastic achievement in your wedding plans. For a lot of brides, finding the perfect wedding dress can take several months, and it's often a hectic and stressful process. First of all, most brides have been dreaming of the perfect dress, either inspired by their favorite films or the fashion display of celebrities. We all know that when you close your eyes, you imagine yourself either wearing a tight mermaid dress or a Disney princess skirt. These designs are the most popular bridal selections, but they are not right for every woman. That's why it's so difficult to find the perfect dress for you. But don't think your dress duties end now. You also need to think of how to dress the table!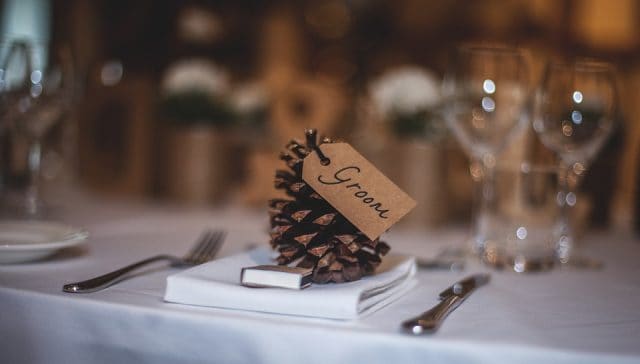 A nature-inspired wedding table
Plan your tables
The worst thing you could do to your guests is to forget – intentionally or not – to give them directions. Guests who can't find the venue might turn up late, or not at all, for instance. And guests who can't find their table may cause delay or mayhem, or simply spoil the mood. You can't let your guests decide where to sit, as this will lead to a lot of problems, such as some people becoming isolated from the rest of the party, tables being too loud, or even people arguing. You need to plan your table carefully, making sure that you put together guests who either know each other or have a lot in common. Provide a clear plan in the program and at the entrance of the room so that everybody knows where they sit.
Get practical yet inventive
You may not be offering a three-star catering option, but your guests still expect the tables to be dressed appropriately. In other words, it doesn't matter how casual you want your wedding party to be: You need to get the details rights. For your special day, you to surprise your guests with custom-made napkins, for instance – as these can take time to design, you might want to buy wedding napkins today. Additionally, if you're offering a choice of dishes – such as a buffet option for example – it's best to find ways of displaying the cutlery for guests to find what they need. Using flowerpots to hold your cutlery gives an amusing throwback feel.
Maintain your theme
Your tables are part of your venue decor. Consequently, if you've chosen a theme, you need to make sure that it's reflected in the way you dress the table. A Greek theme can mean adding statues as a centerpiece, or even using Greek names instead of table numbers. Who wouldn't want to sit at Aphrodite's table? If you just want something simple and a little rustic for your wedding, a hessian table runner can evoke the simple natural style you're after. You can add fresh seasonal flowers in jam jars to give a charming cottage feel to the whole scene too.
Your tables will be the center of the attention during an important part of the wedding party. Most guests eat, socialize and chat at the tables than they dance!
Free Wedding
Giveaways + Sweepstakes
Enter sweepstakes & giveaways and enter to win a free honeymoon when you join. New winners are announced every week!