Marrying the love of your life is truly the greatest gift of all. But why not turn your special day into something more? Are you the type of person that enjoys helping and saving the environment? We'll then you'll enjoy what you're about the read. Making a difference doesn't mean you have to ask your guest to donate money or do anything out of the ordinary. Just read these simple ways to make your wedding eco friendly and it will not only make your wedding unique, but will also make a small difference as well.
Upcycling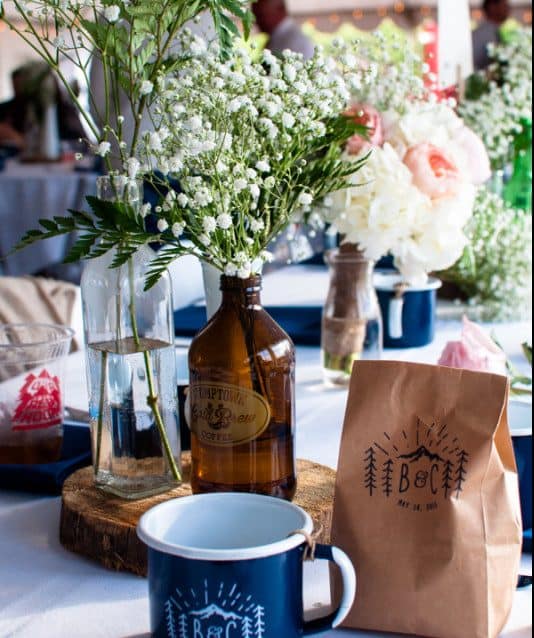 One simple thing a bride can do is have a "green wedding". Having a green wedding doesn't mean you have to decorate everything green and put recycling labels all over. By upcycling wedding decor, it not only makes your wedding unique but also inspires others to reuse their own items at home. Upcycling decor could mean using wine bottles as vases, wheel barrels as coolers, photo frames as guest directories and much more! Some individuals have even used their artistic and creative minds to make newspaper flowers, reused wood pallets as tables and have made homemade candles in a teacup.
Composting & Recycling
At a wedding, trash can pile up too quickly once dinner time comes. Having designated trash cans for specific items may seem a little naive, however, by doing this not only will you be helping the environment but could also give yourself a little discount on your wedding. Labeling specific trash cans for glass, papers and food can do 3 helpful things. 1) The food your guests are willing to throw away can be made into compost, food you can then share with your garden friends! 2) After the wedding, going to your local dumpster and turning in your collected items may not give you much cash back, however, every penny counts and it's better in your pocket than wasted. 3) Asking your guest to recycle items gives them the impression that you're a caring person. So not only will they be more than willing to cooperate, but it will make your wedding more eco friendly as well.
Lose The Rice & Confetti!
Though throwing rice and confetti is a tradition, it doesn't do much but make a mess. Besides rice, paper confetti is an equivalent to throwing paper on the ground and leaving it to the wind to carry the paper away. A safe and clever alternative to the traditional rice and confetti (just give it some thought) would be grass seeds! Throwing grass seeds instead of rice or confetti is not only safe and keeps the grass growing, but is a symbolic representation of the love that remained at that special place, for when the seeds were thrown, a new life with your love had begun.
Plants As Wedding Favors
Another way to keep the love alive is by giving plants as your wedding favors. Some brides offer small trees to their guests, others succulents. Personally, my favorite wedding favor would be wildflower seeds. Every flower, animal, color and object has multiple meanings. However, the wildflower is my favorite. Wildflowers don't get a choice as to where they grow. They follow the wind and end up where they do. They survive through the harshest of weathers, seasons, disasters and times. And yet, they still live on.
Love is never easy, it is a challenge of what could be with dedication and hard work.  In the end those who truly love are the ones who marry. They are the ones who have families and continue loving until old age. They are the ones who survived through the harshest of fights, the temptation of desertion and the beauty of happiness. They are the wildflowers, because they are survivors. And love was the drive that kept them moving forward.  Personally, my favorite wedding favor would be wildflower seeds. However, every bride has a unique personality with it's own style. So if you choose to incorporate plants as your wedding favor, make sure to find the right one for you.
Marrying the love of your life is truly the greatest gift of all. But why not turn your special day into something more? Making your wedding eco friendly not only helps the environment, but adds a unique twist as well. Make sure to embrace your style and remember that this is your wedding. So have fun and be confident with whatever your theme may be!
Thanks for reading & make sure to stay in the Wedding Vibe!
Need help paying for your wedding? Check out instant payday loans.
Photos by Danielle S  &  Michelle E
Free Wedding
Giveaways + Sweepstakes
Enter sweepstakes & giveaways and enter to win a free honeymoon when you join. New winners are announced every week!