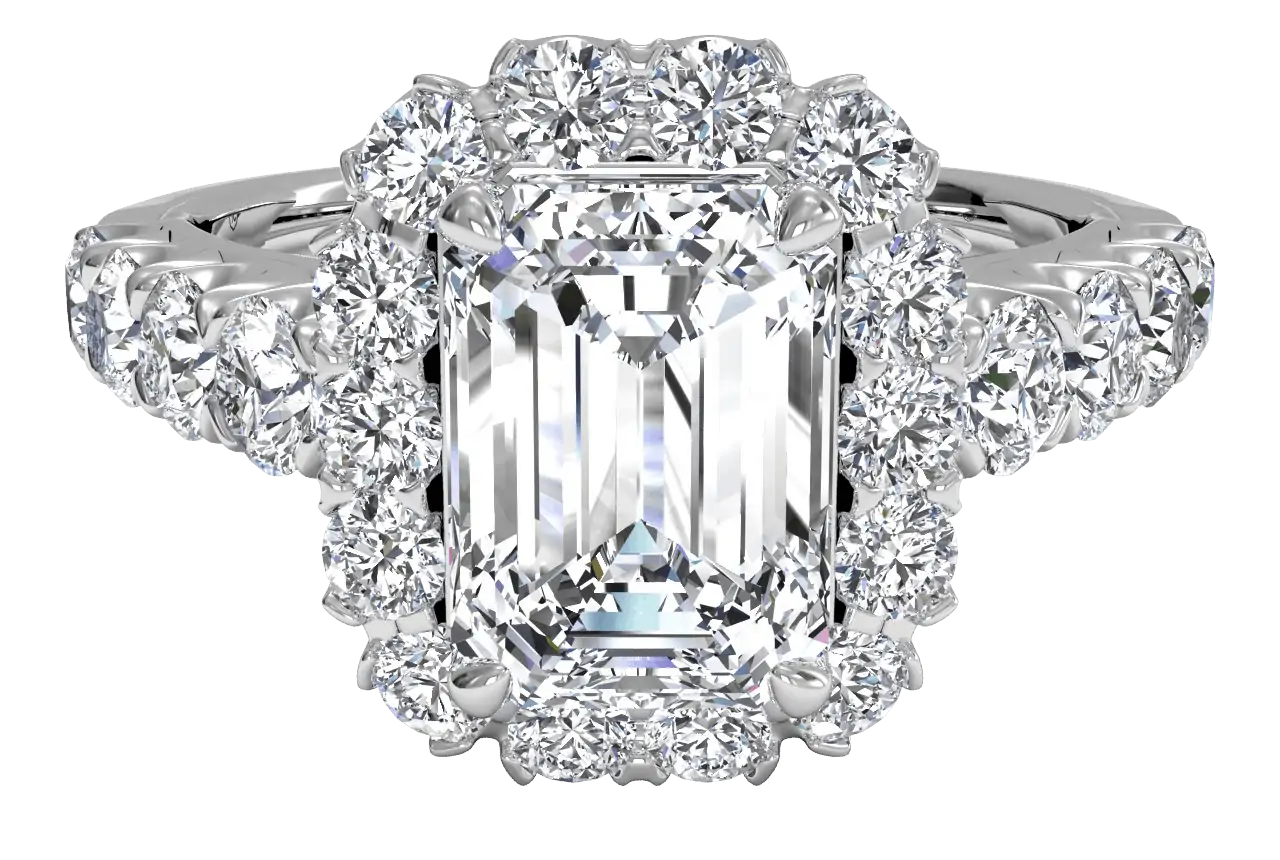 When it comes to engagement rings, emerald cut and oval are two of the most popular shapes. These shapes have a lot in common with each other, but when you're looking for wedding bands that match your emerald or oval engagement ring, they may not offer what you need.  
This blog post will discuss emerald cut engagement rings and how they can be paired with wedding bands to suit your bridal style while still providing the perfect complement for your emerald cut diamond. 
Emerald-Cut Engagement ring 
The emerald-cut diamond is one of the most popular shapes for engagement rings, and it's easy to see why. In addition to being an elegant shape with a modern vibe, emerald cuts have more facets than round diamonds, resulting in its supreme brilliance that can't be matched by any other shape. It also has high dispersion, which means you'll get colors on your wedding band that will match your emerald cut engagement ring perfectly! 
Emerald Pairing 
Emerald cut engagement rings paired with a matching emerald cut wedding band is probably the most popular combination. It's simple, classic, and will work for almost any bride.  
If you want to go beyond this traditional combo, there are other options available that can take your emerald jewelry up a notch! For example, if your engagement ring is an emerald cut diamond but you're looking for something more elegant or vintage style of look, pairing it with a cathedral setting could be perfect. Likewise, if you prefer modern simplicity over ornate details, then opting for an oval-shaped cluster of diamonds in place of a single stone would also do the trick! 
The best part about these types of combos? You'll have extra money left over that can be used on your actual wedding. 
Oval engagement ring 
An Oval Cut Diamond is a fabulous choice. The design of the oval diamond makes it appear larger than other shapes of the same carat weight. For example, a 1 Carat round diamond in a similar setting would look slightly smaller. An oval cut like this one appears more refined; its slender body creates beautiful angles that draw attention to your hand or fingers when you wear it on your hand for special occasions such as weddings or anniversaries! You'll find that because there are no sharp corners on these diamonds, they're less prone to chipping over time, giving them the durability you deserve for your engagement ring. 
Halo engagement ring 
A halo ring setting has a number of small gems surrounding the center stone, often diamonds. The rings make it so instead of seeing just one diamond on an engagement or wedding band, for example, you see many smaller stones all around it, creating more brilliance and spread light in every direction. This makes the central gemstone appear larger and brighter than if there were only one jewel present. If you have a bigger-than-life style, this is the perfect ring for you. 
Gemstone Engagement Rings 
There's a lot to love about colored gemstone engagement rings. First, there are the obvious: color. Explore the world of colorful gems, and you'll find every hue imaginable from deep reds in rubies to blues in sapphires, with green tsavorite garnets for those on an earthy kind of wavelength or kaleidoscopic colors, like spinel, that can break your heart right open when they catch fire under the light just so – literally meaning "sparkling." It doesn't stop at stones, though; it also comes with historic symbolism such as birthstones! 
Pick the right band 
Do note that the engagement ring band's metal will have a huge impact on the overall look. The most popular are white gold and platinum, but there are new metals that can also be used to make a sleek, modern-looking piece without sacrificing colorless diamonds. In fact, these new metals can even highlight their natural beauty. 
What's your personality type 
Many people may have a tough time figuring out their style. The best way is to ask yourself what's your personality like. Your style, in many ways, represents who you actually are. Knowing this will help you pick out a ring even easier. 
Do you like to go big or go home? Then, a flash engagement ring that'll be sure to catch everyone's eyes is your pick. Are you more of a classic person who reminisces in the past? Then, a vintage-style engagement ring would be right up your alley. 
Conclusion 
If you're looking for the perfect engagement ring to suit your personal style, an online jeweler will have plenty of options. Whether you want a traditional emerald-cut diamond or an oval gemstone band, they'll have a selection designed with you in mind.  
One of the most important things when selecting an engagement ring is finding a setting that matches your personality type and budget. But don't worry, if this sounds like too much pressure, contact a jeweler for help! They'll work closely with you to find the right fit at the best price point so that picking out an engagement ring won't feel overwhelming anymore. 
Free Wedding
Giveaways + Sweepstakes
Enter sweepstakes & giveaways and enter to win a free honeymoon when you join. New winners are announced every week!