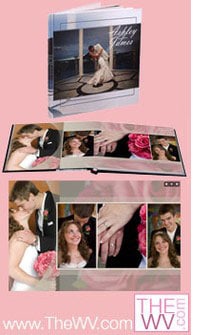 Enter to win a FREE custom designed wedding album! Timeless Life Stories will create the perfect photo album with 50 of your favorite wedding images for memories to last a lifetime. The photo album will be a 12×12 image wrapped hardcover album, custom designed by one of their many talented designers.
Timeless Life Stories has highly skilled and trained designers and professional printers and binders on their team. They use top-of-the line HP Indigo presses and Perfect binders and have the skills to make them produce the best quality output. They want to make certain that you are delighted beyond words! Their process begins with a professional designer (not an auto-flow photo program) choosing each page layout and placing each photograph. Then they send you the completed album design electronically in an easy to view flipbook. You are encouraged to review the album and make comments. They will incorporate your comments and send the updated album to you for final approval. They will not print the album until you are completely satisfied. Once you are, they will create your album and ship it to you. Timeless Life Stories value your special memories, take tremendous pride in their work.

Enter to win this wedding giveaway here!
Free Wedding
Giveaways + Sweepstakes
Enter sweepstakes & giveaways and enter to win a free honeymoon when you join. New winners are announced every week!