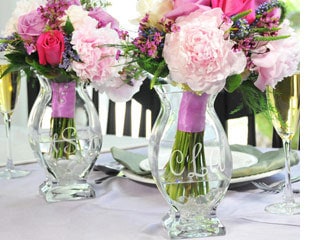 Affinity Wedding Reception Vase
With its dramatically curved silhouette, statuesque presence and unique personalization, this beautiful vase makes a statement without uttering a word. Etched with your monogram, simply add fresh cut flowers, colored glass beads or a floating candle to create an ambiance that's as unique as your love! It's an elegant addition to your table decor and to your home after the wedding.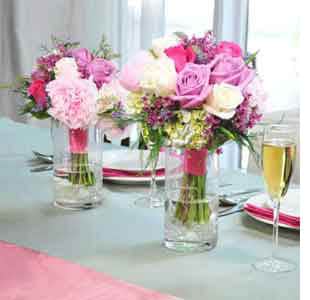 Flower Bouquet Personalized Glass Reception Vase
Consider these beautiful vases your bridesmaid's little helper.  Holding their floral arrangements as they dance the night away at the reception, these elegant vases create instant table decor without having to purchase more flowers.  Doubling as a gift for your bridesmaids, each one can be personalized with two lines of type–a great place for their name and a message of thanks.  They'll cherish it in their home long after your wedding.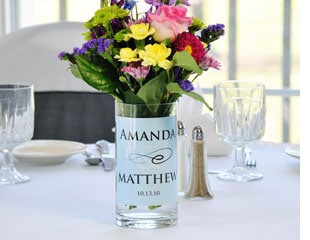 Personalized Table Decoration Vase
One more way to add a personalized pop to your special day, these wedding centerpiece vases are customized with your signature style! Available in a variety of colors and designs, it's easy to beautify your reception with a touch of color from the design and from the flowers you place inside. Crafted from smooth glass, they're perfect for the do-it-yourself bride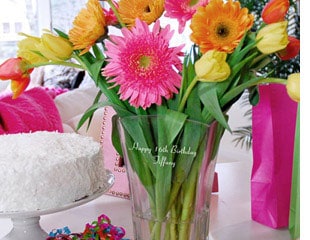 For Special Occasions Personalized Vase
Not only will this personalized vase be a beautiful part of your table décor, it is also a elegant remembrance of your special day.  Inscribed with your first names and wedding date, this lovely vase can be filled with flowers or a floating candle with water to create a stunning centerpiece. Flowers not included.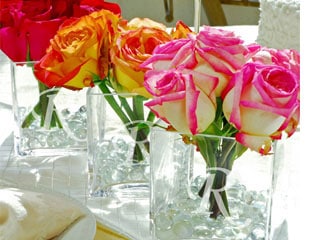 Elegant Etching Personalized Glass Vase
This classic glass vase will be the center of attention!  Personalization with a single initial or up to two lines of type makes this centerpiece vase an elegant addition to your table and your home after the wedding.  Simply add flowers for a stunning presentation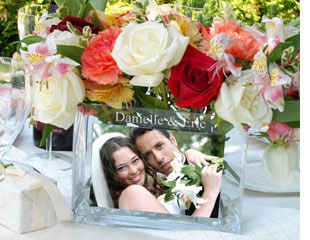 Glass Photo Vase
Highlight both a beautiful photo and a beautiful floral centerpiece with our dual-purpose glass photo vase. The rectangular vase is constructed of thick clear glass with an inset base to add interes. On the broad front of the glass vase is a protective insert for a special photo. Above the precious photo, you can choose a custom engraved line in a sophisticated block print. Our glass photo vase makes an ideal gift for the bride and groom and adds a personalized touch to your table decor.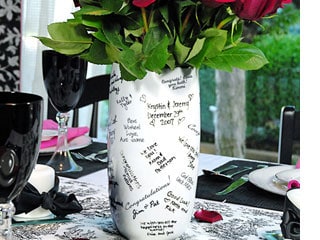 Signature Vase
The latest trend in wedding mementos, these charming Scandinavian vases are an easel on which the wedding couple and guests sign their names.  A truly one-of-a-kind wedding centerpiece, create an individual work of art and a unique keepsake with this ceramic vase that adds everyone's well wishes to your table décor.  A black porcelain marker and special preservation instructions are included with each purchase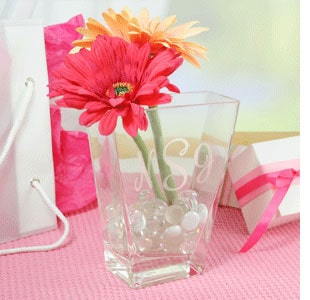 Friendship Vase
Commemorate your friendship on any occasion with this lovely handblown glass vase. Its elegant design and sturdy construction means it will last for years, while the tiny air bubbles offer sincere testimony of its uniqueness. For an extra personal touch, order it monogrammed with your initials at no additional charge. Enter 3 letter monogram at right in first-name, last-name, middle initial format. For example, Jane Q. Public would be entered JPQ. We cannot monogram with symbols but we will gladly monogram your vase with script letters.
Free Wedding
Giveaways + Sweepstakes
Enter sweepstakes & giveaways and enter to win a free honeymoon when you join. New winners are announced every week!