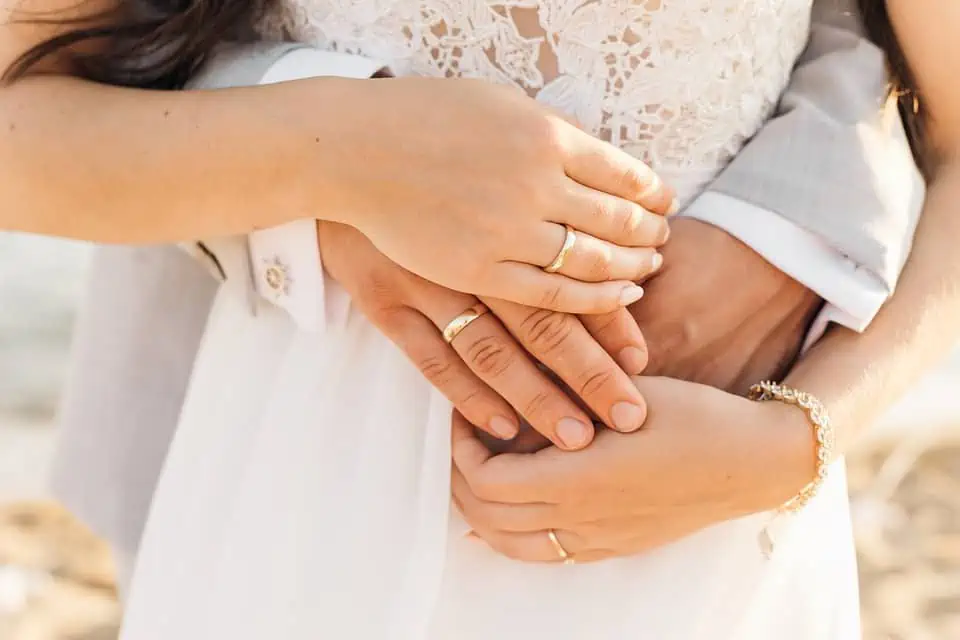 Wedding planning includes discussing your honeymoon destination. Many couples wait a few weeks or months before having their well-deserved honeymoon.
What works for one couple may not work for you. Use these planning guidelines to help you decide whether to leave after your wedding or wait.
The benefits of taking your honeymoon immediately
It's a more romantic experience.
Picture it: You've reached your honeymoon destination at an adults-only, all-inclusive resort with the best beaches around. You're ready to relax and enjoy all the food, drinks, and activities you can manage. If you've just said your vows a day or two before, the romance will be in the air and sparks will be flying between you and your new spouse!
You'll be ready for some relaxation.
Wedding planning can be stressful, and by the time the night is over, you'll need some real R & R. After spending months planning your big day, going to your dream place is the best way to relax.
Destinations like Sandals Royal Caribbean in beautiful Jamaica and other luxury resorts almost always have spa services, butler service, and other amenities that make sure you don't have to do anything on your honeymoon if you don't want to!
Immediately returning to the 9-5 grind can be jarring.
It can be really difficult to go from the glow of your perfect day back to the fluorescent lighting humming over your desk. Having a vacation as a buffer between your wedding day and your return to normalcy gives you time to slowly get back into the swing of things.
You'll feel like you've been whisked away on an adventure.
Especially if your honeymoon package includes excursions or exploring, you'll be riding high, jumping from one incredible experience to another. Taking a honeymoon immediately is perfect for all the adrenaline junkies out there.
It's a great way to start your married life together on a positive note.
Waiting to take your honeymoon after all the excitement surrounding your nuptials can be a real downer. Taking your dream trip right away can strengthen your bond as a married couple and solidify the vows you've just made to one another.
Leave the planning to a professional.
If you're set on taking your honeymoon right away but worry that you won't have time to plan the perfect itinerary, then working with a travel agent can be just as important as having a wedding planner. Travel agents can take care of everything from booking hotels to planning tours and everything in between.
A good travel agent will work within your budget to make sure you don't spend money you don't have. If they're really good, they may even be able to find you deals that help you get more bang for your buck!
The benefits of booking your honeymoon later
Popular honeymoon destinations won't be as busy.
If you get married during peak season, the most popular honeymoon destinations are likely to be pretty booked up. By holding off until the off-season, you can still choose to visit one of the top honeymoon destinations without having to worry about it being overcrowded with tourists or fellow honeymooners.
Save money with flexible travel dates.
If you head out for your honeymoon immediately, you won't have much choice in the available flights and other accommodations. By having the option to choose the best time and day of the week to fly in and out of the destination, you could save hundreds, or even thousands, of dollars.
You can plan around hurricane season and avoid bad weather.
If you're headed to the beach, especially in the Caribbean, hurricane season can wreak havoc on a trip. By planning your honeymoon for a time frame that isn't as subject to bad weather, you can rest easy knowing that nasty weather is much less likely to ruin your experience.
You'll have more time to save up for a dream honeymoon.
The best honeymoon destinations aren't cheap, so if your perfect honeymoon doesn't fall within your budget, it will be well worth saving up for a little while so you can have the best honeymoon experience possible.
Plus, you might be able to have more days allotted to your trip by holding off. You'll likely be taking time off leading up to the wedding, so delaying your trip can help with managing time away from work and other commitments.
You can focus on your wedding planning.
Honeymoon planning can feel just as overwhelming as planning for the big day itself. By opting to head out for your honeymoon a few weeks or months after your wedding, you don't even have to start planning until after you've said "I do."
Take a mini-moon instead of a full-blown honeymoon.
Taking a mini-moon is a great compromise if you just can't decide between leaving right away or waiting it out. You don't have to go jet-setting around the world to have a beautiful experience.
With just a close search, you can find natural beauty practically in your backyard. There's tons of mini-moon travel inspiration out there!
Postponing your honeymoon gives you something to look forward to.
It can be just as thrilling to know you've got a big trip to look forward to as it is to take your honeymoon right away. And there's no reason to think that it will end up feeling more like a regular vacation than a honeymoon.
Many luxury resorts, such as Sandals resorts or other destinations, have a honeymoon package that doesn't require you to have just gotten married in the days prior. The staff will be happy to treat you like you've just gotten done walking down the aisle and will be sure that your trip is a romantic experience far beyond any regular vacation.
Go with what feels right to you.
Honeymoons aren't one size fits all. You must take into account what's a priority to you and your fiance when deciding on the timing of your honeymoon.
At WeddingVibe, we have the best ideas, wedding vendors, and honeymoon deals. We take the worry out of honeymoon planning and preparations. Visit our website today for more information on our services and to enter to win some wedding giveaways and sweepstakes!
Free Wedding
Giveaways + Sweepstakes
Enter sweepstakes & giveaways and enter to win a free honeymoon when you join. New winners are announced every week!