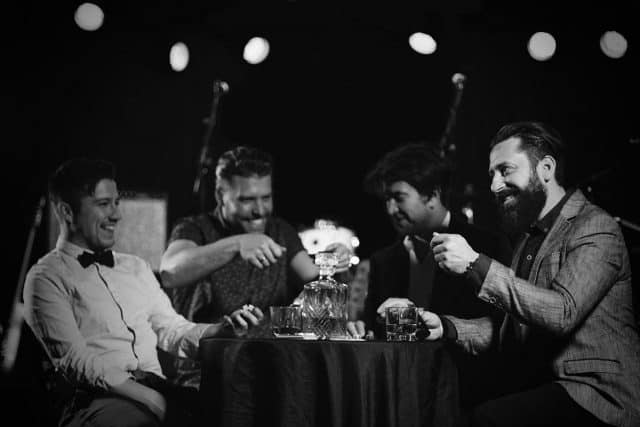 You're preparing to spent the rest of your life with the one person you cherish above all others. You've promised them the moon and the stars, and want nothing less for them. And on this day – the celebration where you declare your undying affection for them before all your family and friends – you want to give them and theirs the best time possible, through the gift of quality live music. So all you've got to do is know how to choose the best wedding band possible. Here are a few things to consider which will help you achieve that – to the max!
See How the Band Presents Themselves Online
Business is 50% presentation, 50% strategy, and 10% made-up statistics. Professional wedding bands know this all too well, and, thanks to the wonders of the world wide web, you can spot them a mile off. Look at the quality of the videos, photos and audio recordings they upload to their page. Do they look like they were shot at the end of a rehearsal on a cheap camera phone, or do they look like they've put a decent amount of time, effort and money into them? A band who's trying to earn your respect usually will deserve it. Bands who want to come across as professional – something you can also discern once you've struck up a dialogue with them, either via email or phone call – can usually be trusted to behave professionally in the run up to and on the day of your wedding. And, with so many wedding bands out their vying for your custom, you can afford to strike bands who don't make the effort from your list of maybes
See If They're Bookable Via an Agency
Wedding bands who really know how to play the wedding and function game properly will usually be signed with an agency. Don't get us wrong – there are some phenomenal acts out their who prefer to stay entirely independent – but agencies can provide you with additional services and reassurances that you'll definitely come to appreciate as things get more hectic the close you get to your big day. Agency bands will have been thoroughly vetted, and will most likely have more experience playing corporate gigs and weddings than even the best pub bands. Also, you can use an agency's website to easily compare rates and services of different bands they have on their roster, so you'd save a lot of time you would've spent trawling through the online wilderness. One thing you might be concerned you won't be saving through this method is money – and while it's true that you're also paying the agency, you're also paying for additional protections and services. If anything goes wrong, like the band not showing up, then you'll at least be covered. And at any rate, agencies are just as competitive as bands, so it's unlikely you'd be paying that much more for your peace of mind.
See What Kind Of Music They Play
After all, this is probably going to be the deciding factor – does this band play songs that you and your guests like to dance to? Bands should in general display an example of their set list for the perusal of prospective customers – and it can tell you a lot about the calibre of musician they're made up of. For example, if their set list features a lot of 'guitar hero' songs by the likes of Guns N' Roses, Deep Purple and Aerosmith, you'd expect their singer to have the pipes and their guitarist to have the fret competency to pull them off – which you should then verify by watching their videos. If they fluff up the intro to 'Sweet Child O' Mine' on your wedding day, people are not going to be happy – because that intro is long. Furthermore, if they're a self-styled jazz band, and you don't see names like George Gershwin, Irving Berlin, Billie Holiday or Louis Armstrong crop up, then what kind of jazz do they think they're playing? Not our kind!
See What Their Track Record's Like
Just look how much we rely on TripAdvisor, Yelp and Amazon reviews these days! It's just as handy to read customer feedback regarding wedding bands – people are quick to share their own experiences, whether they're positive or negative, and they're definitely a good starting point for decision making. Bands are also usually quite proud of their past achievements, whether these include high profile gigs or notable clients. A band who's played onstage at Glastonbury, on BBC Radio 1 or at an Apple corporate event must at least know what they're doing!
See If They Provide Any Additional Services
It's nowadays not enough for a wedding band to simply turn up, plug in and play – nowadays, wedding bands throw in all sorts of extras to try and persuade you that they're the act for you, from in-house DJ sets to loaning their PA system to the best man for his speech. Most pro wedding bands will have clearly listed what extra services they provide on their well-maintained web page, as well as any requirements of their own they may have, from the dietary to the technical (e.g. whether or not they provide their own PA system, lights, piano etc). This is an important thing to take note of – after all, what good would a piano-less pianist be to you?
It's also worth taking note of whether your chosen wedding band does in fact offer the increasingly common in-house DJ service. By this, we mean that the DJ is either a member or at least affiliate of the band, which will save you money (as it'll be part of the package), space (as they'll most likely use the same PA) and organisation (as there'll be one less phone number to save).
Once you've checked each of these off your list and are satisfied you've found yourself a bonafide bunch of party animals, then go ahead and make your booking. Congratulations on your engagement, and may you enjoy many more musical moments together in the future!
Free Wedding
Giveaways + Sweepstakes
Enter sweepstakes & giveaways and enter to win a free honeymoon when you join. New winners are announced every week!