Sanitation is probably the last thing a lot of people think about when organizing a wedding. But I can't think of anything that would be more disastrous for an outside wedding then having no or insufficient restrooms for your guests. An otherwise perfect outside wedding could be ruined if your guests have nowhere to go and freshen up, especially once the wine starts flowing. In this article, we're going some planning tips for your outdoor wedding's bathroom situation.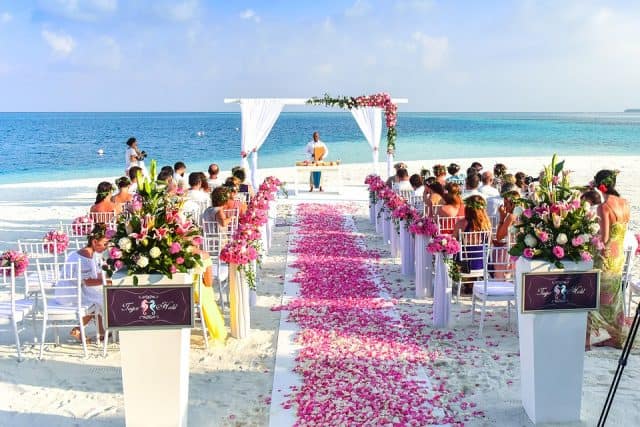 The Logistics
Having enough restrooms is one thing, but you also have to take them into consideration when organizing the layout for the wedding as well. Try to make sure that your restroom stations aren't a main focal point without being too hard to find for guests. Whichever option you choose to take, make sure that the restrooms don't stick out too much and dress them so that they can be a part of the design. For instance, you can cover the sides and front of your trailer or add shrubbery around to conceal it. Add nice lights around them so that they'll be easy to find without being an eyesore. And add a few seating areas around your main trailer as well, for convenience.
Also, make sure that you keep restrooms away from anywhere people will be eating. Try to have them near the main tent and make sure that the way to the main restrooms is clearly marked. You also have to make sure that there is an unobstructed path to them that will not get too muddy in case it rains.
Trailers, Toilets, and Potties
While porta potties are nice and relatively cheap, they won't be enough if you're hosting a huge reception. Porta potties should be there to supplement other options. A restroom trailer will give you everything you have in a regular restroom: ample lighting, multiple sinks, mirrors, flushable toilets, etc. Porta potties can get inconvenient and unpleasant after a while and you need a spot where your guests can freshen up. And don't expect to rely on the facility's few restrooms; while you may have access to them, you don't want people going back and front between the clubhouse and the outside venue or huge bottlenecks will form inside. If you want more of what luxury restroom trailers have to offer, you can check out Satellite luxury bathrooms for more information.
Check the Headcount
You can't afford to leave things to chance when comes the time to decide how many installations you'll need. The headcount will ultimately determine how many and which type of installations you should be looking for. Instead of thinking of installations in general, try to think in terms of total stalls. A good rule of thumb would be to have one stall for every 25 guests. So, if you're having a 175-guest wedding, that would be about seven stalls in total. But since women will usually need more access to the restrooms, try to have to a 7:10 ratio when it comes to male-female stall counts.
Conclusion
Sanitation is one of the most important logistical aspects of any outside wedding; don't neglect it. Make sure that your guest needs are well-taken care of, so you won't have to deal with complaints and issues with the venue later.
Free Wedding
Giveaways + Sweepstakes
Enter sweepstakes & giveaways and enter to win a free honeymoon when you join. New winners are announced every week!