Whatever the season your wedding falls into; you can become a dreamy bride, that oozes laidback charm and vintage vibes on your special day. Many feel that they have to spend a fortune on their wedding; and while you'll probably have to invest some time and effort, you don't have to break the bank while you do it. You can create a chic and beautiful ceremony and reception on a budget; you just have to know some hacks to do so. The following are some helpful hints and tips to guide a savvy, creative bride towards a wedding day to remember.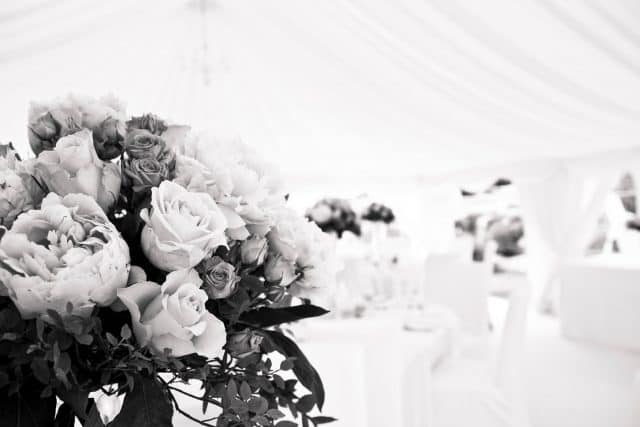 Image source: https://www.pexels.com/photo/beautiful-flowers-black-and-white-blur-bouquet-273941/
Crafty Ideas To Make Everything Beautiful
Creative and unique wedding vibes can begin the second you've got your choice of vintage, bespoke, or halo engagement rings popped firmly on your finger. It's time to enhance that sparkler further by creating a crafty, homemade touch to your wedding day. Therefore it's time to forget about overpriced roses and ribbons (the rings and dress will cost enough), and get your craft equipment out to start the creative process. Paper flowers are a beautiful alternative to real blooms and will cost a fraction of what you'd pay a professional florist. Take a look online for some ideas on how to make gorgeous paper-flower decorations and adorn your big day with handcrafted delights.
Handmade items will also make beautiful mementoes from the day, so put the effort in for something you'll treasure forever. Use nature and your environment to make pretty table decorations; dried leaves that you've found in your garden, shells, and pebbles from the beach, and recycled glass vessels will all help to create lovely place names and centrepieces. Start gathering things together as you find them, wash them off, and use old string and twine to make one-of-a-kind trinkets that your guests will remember. Homemade bunting, paper streamers, and upcycled bric-a-brac will all contribute towards the ultimate boho ambience, and the only thing they'll cost you is your time.
Tasty Food Inspiration That Will Delight
Sit-down, formal dinners can be stuffy, and extremely expensive; so it's time to think differently when it comes to catering your big day. Swap the extravagant, traditional wedding cake for cupcakes or a cheese wedding cake; people are much more likely to tuck in, and it can count as one of the courses or the evening food for those still on the dancefloor. Buffets are another alternative to a traditional wedding breakfast; you can play a big part in the creation of the food, or get your loved ones involved in cooking something delicious for guests to enjoy so that you can save the large sum of money it would cost to hire in catering.
Independent food trucks and pop-ups will make a fun addition to any boho bride's big day; they'll be cheaper than eating in a venue, and your guests will be able to sample your favourite street food fresh from the van. Remember that your guests are there because they love you and want to witness the happiest moment of your life. As long as they're well fed and surrounded by your beautiful personalized decorations, they'll leave with lovely memories and huge smiles; and that's what weddings are all about.
Free Wedding
Giveaways + Sweepstakes
Enter sweepstakes & giveaways and enter to win a free honeymoon when you join. New winners are announced every week!