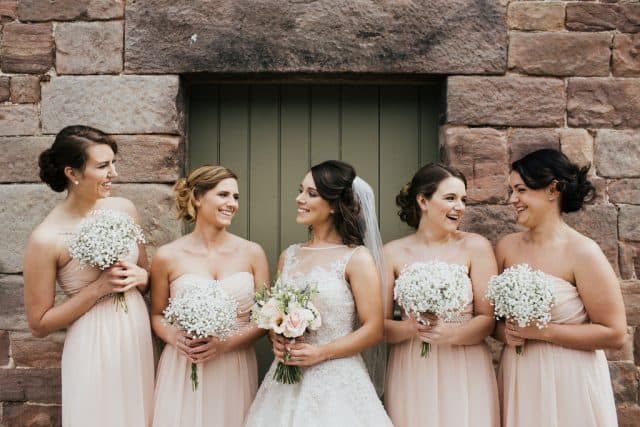 Image Credit: Flickr
Your wedding will probably be the biggest event you have to organize in your entire life. Even if you have a planner giving you a hand, there are still so many decisions that need to be made: flowers, food, clothes, venue… the list really does go on forever.
But luckily for you, you have a small group of your most faithful girlfriends to help you out. Your bridesmaids are indispensable both in the run up to your wedding and on the day. They can be there for you when you most need them and join in making this day the most beautiful day of your life. It's not just about the love between you and your fiance, it's about friendship too.
Choosing Your Dresses
Your wedding dress, like the wedding itself, is going to be a large expense so picking out the right one is a job for many. Together with your bridesmaids, you can make a full day of bridal fittings with prosecco and snacks too (this isn't just shopping after all!). As you try on different styles and figure out what you want, you girls will be there to give their honest opinions and help you decide which one is for you. You'll know it's right when everyone gets a bit teary-eyed.
Of course, you will need to fit for bridesmaid dresses too. While traditional weddings tend to include lots of identical bridesmaid dresses, more modern fashion acknowledges that since women tend to have very different body shapes, it's better to go for different dresses. You can tie the theme together though by using the same coloured fabrics or simply modifying each dress to make sure it suits it's wearer.
The Bachelorette Party
The bachelorette party has gone through a wide range of transitions over the years but it seems that own we are in 2018, the priority isn't to follow a fashion at all but be true to your own ideas. The main point of the bachelorette or hen do is to spend some time with your bridesmaids just having fun. For some brides this will mean a night out on the town, for others it might be a classy meal all dressed up and drinking prosecco.
On the Day
Your wedding day is going to be wonderful and crazy all at the same time and as you are at the centre of attention, you will need a lot of help with the behind the scenes action. This is where your bridesmaids come in. Getting ready together will help you to stay calm and put your dress on properly and having a friend who can touch up your make-up is truly invaluable.
At the after party, your bridesmaids will really come into their own though. They can help show your friends and family to the right seats for the wedding breakfast, help you with your dress as you try to navigate the ladies' later on and figure out a system for getting all your gifts back in one piece.
Free Wedding
Giveaways + Sweepstakes
Enter sweepstakes & giveaways and enter to win a free honeymoon when you join. New winners are announced every week!