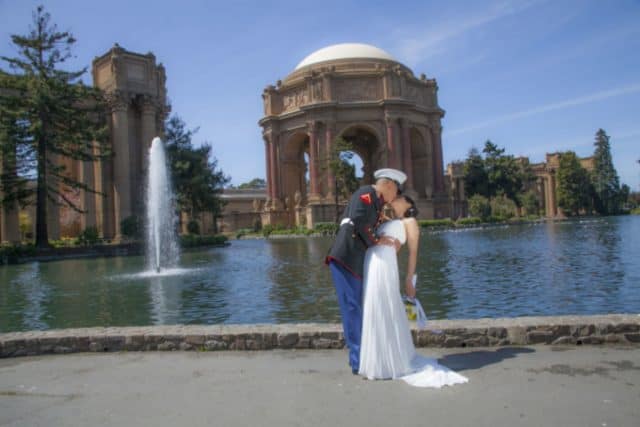 Photo by Vanessa K
One of the best distractions for when your fiance is serving in the military is planning a wedding! It may be a little upsetting since he's away during this magical process; however, there are some things that you can do on your own that are not only time consuming, but "love consuming" as well. Depending on what branch and division your fiance has joined, communication about the wedding may be struggle, but don't worry because here are a few tips that will not only make your day, but will also remind you of the love you two share.
DIY Projects
Centerpieces, artistic decor, banners and more can not only fill up your time, but can also bring together family and friends to help along the journey. Most brides want to create so many things on their own; yet they fail to realize that DIY projects are time consuming. Before they know it, the wedding is right around the corner and they rush to get projects done, resulting in stress and feelings of anxiety. For you, however, time consuming projects are a positive because rather than your wedding coming right around the corner, it will be your soon to be husband. 🙂 Another plus to DIY projects is that it is an interesting topic to bring up to your fiance while he's away. I know personally that whenever I start a project and tell my significant other about the plans, it's make me feel warm inside knowing he's proud and excited to see the results.
Scrapbook
A cute thing to do while your fiance is away is make a scrapbook. Looking back at you and your fiances past dates, journeys and adventures will bring memories of happiness and early love, a realization of the love you have towards him. Putting together a scrapbook would be a great addition to the wedding so guests can have a glimpse at the love you two project, past and present. Also, testing your creativity with ribbons, stickers and colorful paper will not only show off your personality, but will shine some light to your day and be fun!
Wedding Dress
Look at your wedding dress as more than just an outfit. This dress is going to be more than what you marry your love in. Think of your fiance and the first time you two met. The love you feel for him is the love you should have towards this dress. I know that him being away is hard, but here's another tip of advice: You are his drive. You are the one that keeps him motivated, gives him strength. You are the one that makes him happy even on the darkest of days. You keep his head up, keep his feet going, and keep him warm when the nights are cold. Because the love you have for him is an eternal heater, keeping him warm and embracive to the days that come. Because with each passing day, he is another day closer to having a wife. Think of your dress as a "welcome home" gift. When he comes home, you will both be different, but your love will stronger. So when you wear your dress, ask yourself, "Does this dress represent my love for him?" The dress may be beautiful, but nothing will outshine the love you two share.
Get Organized
One of the easiest things you can do is be your own secretary. If you and your fiance are planning to do everything together, then why not get organized for when he arrives. Have a plan for what needs to be done, what you need his opinion on, and where attention needs to be directed. By doing this you'll avoid stress and be nothing but joyful for when he arrives back home.
Having a loved one in the military doesn't have to feel like a sluggish journey. Let this adventure be filled with love and thrill, because no matter how rocky the road may be, the destination itself will always be a result of beauty. Thanks for reading, and hopefully by being in the "WeddingVibe" your day has gotten brighter!
Free Wedding
Giveaways + Sweepstakes
Enter sweepstakes & giveaways and enter to win a free honeymoon when you join. New winners are announced every week!