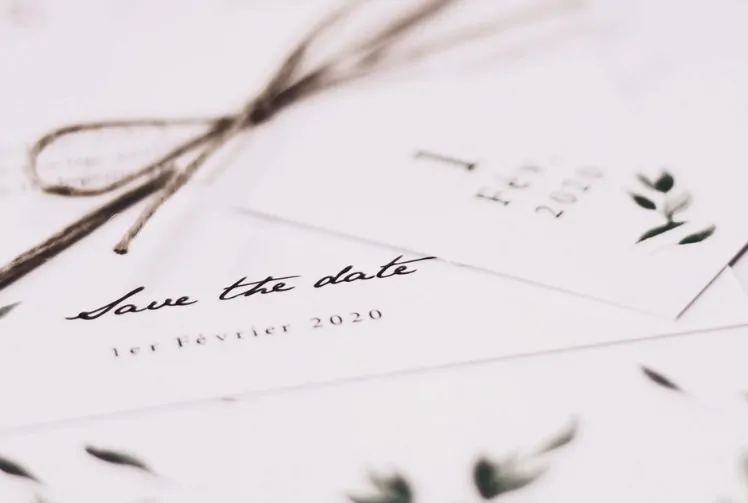 Your wedding should include thorough preparation, including your guests' invitations. Relying on the couples' experience with wedding invitations printing and creation, we have sorted out great tips that will help you to correctly draw up a wedding invitation, make an unforgettable first impression on your guests and observe all the rules of etiquette.
If you want to follow the wedding concept and important organizational rules, first, you should focus on an important stylistic element of the whole celebration. It's worth thinking through its design, after that you can finally decide on the concept and style of the wedding invitations. Since the invitation indicates the most important details for guests, you should also decide on the number of guests, the venue of the ceremony, a banquet and the color palette of your wedding, and only then engage in the development of invitation cards. Let's check other tips!
The Main Components of a Wedding Invitation
In the wedding invitation, regardless of the style and scope of the celebration, the following items must be present:
Name of invitees (if you invite a couple, you must specify both names),
Names of the bride and groom (you will not believe, but this is often forgotten),
Date and exact time of the celebration (the date is a very delicate moment. If possible, do not choose public holidays. So you will minimize inconvenience to invitees, as well as possible refusals),
Place of the ceremony,
Place and time of the banquet or buffet,
Date to which you want to receive an answer about whether the guest will come to your wedding,
Logotype of your wedding, if you have any.
Additional Information
After you make research and go through all the invitation ideas which are possible to find online, see wedding invitation templates, it is worth investing additional budget to extra cards that will contain the following information:
Dress code information – a wedding palette and colors would be appropriate to mention, so guests can choose their clothes according to the wedding style. Information about the dress code may contain illustrations with outfits or just a color palette. Describe the style fully (cocktail, black tie, etc.),
Information and transfer and driving directions,
Information on whether you can take your soul mate or children with you,
Contact information (phone numbers of the bride and groom, organizer or coordinator, wedding site),
Wish gifts and other special info that you think should be added to the wedding invitation,
Special wishes (for example, ask guests for participating at a certain wedding scenario, etc.).
Save the Date Card
Few people know about such a card, but it is an important element of the wedding invitations. Such cards are drawn up and sent out much earlier than the wedding invitation before all organizational issues are approved and agreed upon. With this card, you only notify guests of the date of the wedding celebration and show respect to the guests.
After all, knowing the date in advance, it will be easier for them to adjust the schedule, and they will definitely be able to be with you on such an important day. After that, you can find the time to develop unique invitations and individually sign them for each guest.
Check Spelling & Guest Names
It will be very disappointing if the text of even the most beautiful invitations contains spelling and punctuation errors, and the names and surnames of the guests are spelled incorrectly. So use the Grammar checker apps or ask experts to reread the invitation text. You can also ask your friends to help you check the text and read it out loud to see if it sounds normal.
Invitations Should Be Harmonious
Invitations should be stylish and fit into the concept of your celebration. The guest, who received the invitation, must immediately understand whether a luxurious celebration in an expensive restaurant or a friendly party in nature is waiting for them. Do not heap up invitations with design and turn them into New Year's cards from bookstalls.
Pay attention to the materials from which the invitation will be made, work through the details and compose a sincere text. This is much more important than bright patterns and sparkles. Also, minimalism is a new trend that couples are trying to follow. Try to add only important information not creating a new novel.
Summing Up
If you want to see only close and beloved people, make personal and unique invitations for them so they can keep invitations as a great memory. Go to the list of invitees and think carefully if it is worth notifying guests in advance about the recommended clothes style, it is ideal to send a message in 2-3 months before the ceremony. Show respect to the guests, and do not delay the delivery of invitations to the very last moment. It is also worth warning guests about the opportunity to come with their other half or to bring their children with them when writing a wedding invitation.
Author's Bio for Sandra Larson:
Sandra Larson is a writer and designer who creates wedding invitations in her spare time. She also thinks when creating invitations, it is important to coordinate with the wedding organizer and decide all together on the important details. It is crucial to make sure that all guests receive their invitations on time. Today, couples also have lots of options, they can write and create an exotic text and design and even do letters in 3D design.
Free Wedding
Giveaways + Sweepstakes
Enter sweepstakes & giveaways and enter to win a free honeymoon when you join. New winners are announced every week!