As more weddings are becoming less traditional, the possibilities are endless when it comes to what kind of magic and wonder will happen on our big day. One of the newest trends is including our four-legged best friend in the part of the service, the ceremony, reception and especially during some fantastic photo opportunities.
Before the bride walks down the aisle, often a cute little flower girl or an adorable young ring bearer will precede this precious moment. Those in attendance will have all eyes on this adorable duo before the appearance of the beautiful woman wearing their unforgettable wedding attire.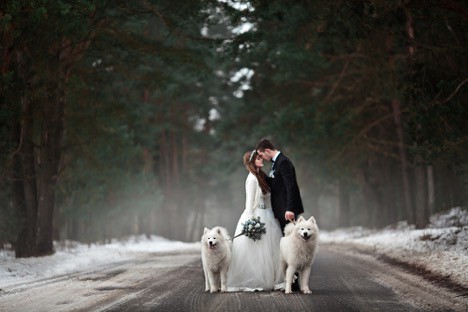 Once this duo was exclusive to young persons found within the family, friends and other show-stopping tots, but this reign is now being replaced with canines instead of cousins. The unpredictability and adorable factor found with toddlers are equally as stunning as some of the shenanigans that dogs may exhibit.
Training & Breeding
When you think about coaxing a child down the aisle during a wedding ceremony, regardless of rehearsals and practices, things can still go awry. But that's simply part of the fun! Once the cameras, smartphones (and even drones) start rolling, These moments caught on film are not only unforgettable, but also can be cherished for a lifetime.
When it comes to kids versus canines, think of it this way, while you can train a dog, there are certain breeds of these animals that are real "hams" when it comes to how they interact with people during social situations. For example, the adorable French Bulldog is a real showstopper when it comes to their personality and outgoing traits.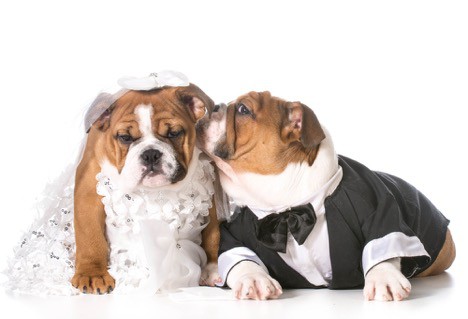 When it comes to their very nature, these critters have been known to "Have a reputation for being mischievous and clownish, stealing attention whenever and wherever possible. This little dog adores people and craves constant attention and companionship," according to reputable pet sources. But this could describe almost any dog regardless of their breed.
Beyond Pet Photo Ops
Adorable pictures of these four-legged family members will grace our photo albums when allowed to be a part of this important event. But there's plenty of other opportunities for their participation as a part of our wedding plans. Before the big day, some couples choose to use shots of their pooch inside their invitations or "paws" for the day wedding announcements.
Last-Minute Tips For Including Tail Waggers
Having an animal involved in your wedding is another part of the planning process, so consider some of these important tips:
Don't forget to ensure your venue is pet-friendly before booking.
Check with the wedding party, family members, friends and other guests to make sure there are no issues with pet allergies or other possible animal-related problems.
Plan a trip to the groomer shortly in advance of the big day so they'll look their very best.
Don't include an animal that has behavioural problems like jumping on people, being unpredictable around children, etc. Last minute training won't be effective in the long run.
Make someone responsible for your pet since you'll be too busy with everything else and won't have time to look after them properly during the entire event.
As a general rule, those who love pets have friends and family members who are also animal lovers. It only stands to reason that this type of shared friendship and comradery is included in this life-long commitment.
Free Wedding
Giveaways + Sweepstakes
Enter sweepstakes & giveaways and enter to win a free honeymoon when you join. New winners are announced every week!