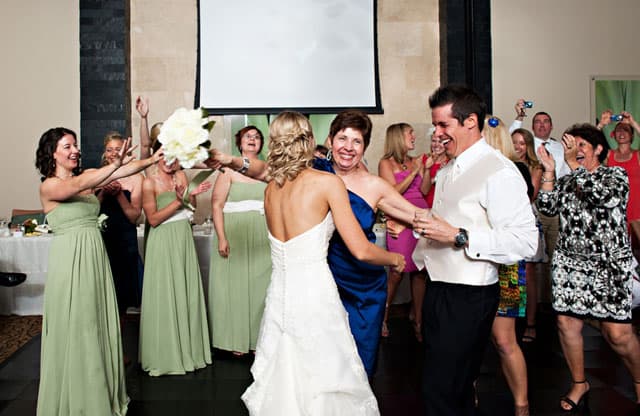 If you're planning a wedding reception right now, you're facing an enormous amount of choices. One significant decision is finding the right entertainment for your event. The range is limitless, from a single harp player, to a six-piece live band, to a disc jockey. The type of entertainment you select, however, will set the tone for the entire reception. When considering these alternatives you've probably asked yourself if a disc jockey might be the best option.
A Master of Ceremonies
To make the best choice, you must first know what a D.J. can provide. You can expect the disc jockey to act as master of ceremonies, directing the cake cutting, toast, bouquet toss and all the other traditional reception activities. Beyond just making announcements, a D.J. should act as a coordinator for these special events, shouldering the responsibility to assure all goes smoothly and timely. A professional, organized D.J. should ask beforehand for a list of events you wish to do, and in what order, so he can review it in the days before the reception.
You can expect an experienced D.J. to offer the participation dances which are popular at receptions such as the dollar dance, locomotion, birdie/chicken dance and hokey pokey. If you require ethnic or other types of specialty music, he should attempt to provide it. In addition, if you or your family wish to bring some of your own music he should readily agree to include it.
In most cases, live entertainers are willing to make announcements when prompted, but they may not coordinate and take charge in the same way as a good disc jockey. The bride and groom, (or someone) still winds up with the primary duty of keeping the function flowing in an organized manner.
Without someone in this "leadership" position, a beautiful reception can quickly deteriorate into utter chaos, since you have a number of things to accomplish in a set amount of time. Remember, the photographer, caterer, even your new mother-in-law all have their own agenda in mind. If there is any question about the order of events, the disc jockey has a copy of your list.
Variety of Music
If you're selective about your music types and styles, a disc jockey can supply a wide variety. That means if your grandfather loves Glenn Miller, your favorite Aunt Cathy wants to hear a polka and your new husband adores rock and roll, you can have it all. During the course of the evening there is something for everyone and no segment of your guest list will feel alienated.
A conscientious disc jockey will ask you to provide a list of specific songs and/or artists two to three weeks before the reception, so that he can assemble the music library. If you'd rather not prepare a list you always have the option of letting the D.J. choose the music. They are trained to read the likes and dislike of the audience.
Live entertainment can be somewhat limited in it's ability to play a variety. Although they may be excellent musicians, it's difficult for any band to specialize in music from five different decades. The first dance is an important part of most receptions and a live band may not be prepared to play the song of your choice. Find out before your hire them. With a D.J. you are much more likely to get the specific song you desire.
Karaoke
Within the past fifteen years, an entirely new option has been added to reception entertainment, Karaoke. Often lumped together with Disc Jockeys, they are in fact quite different. The K.J. or Karaoke Jockey brings a different type of equipment which utilizes special laser discs. Guests select songs they want to sing from a master song list and they watch a video screen for the lyrics. When a guest, or small group of guests is singing, the remainder of the audience will watch, rather than dance. If no one wants to sing at that particular time, the K.J. sings instead. As an alternative, you could hire both a D.J. and K.J. Switching back and forth between the two allows for both singing and dancing.
Professionalism
Unfortunately, some overly-aggressive disc jockey's have given the professional ones a bad name, ignoring requests and "hogging the show." Brett Anderson, owner of The Dance Machine in Bloomington, Indiana, has been a D.J. for thirteen years and has done hundreds of weddings. "A reputable D.J. should be willing to do exactly what the bride and groom want. After all, they are paying the bill. If they ask him to be laid-back, he should comply. The same holds true for music selection. If, for example, the client says no dirty lyrics, the disc jockey should respect their wishes. Sometimes there is a fine line between being out-going and being obnoxious."
One way to avoid such problems is to check the local references of any entertainers. Also, if you have hired a D.J. service, rather than an individual operator, ask to speak directly to the person who will be at your reception, prior to the event. If you have a personality conflict or any problem what-so-ever, don't hesitate to ask for a someone else.
Anderson continues, "It's important to feel comfortable with your choice. You should expect your D.J. to work closely with you during the months preceding the big day. We often give music suggestions for the father-daughter, mother-son dance, or other advice on how to organize a typical reception. A disc jockey with years of experience really becomes an informal wedding consultant and that's how it should be. Our experience can work for the benefit of the client."
A professional entertainer, including a D.J. should be willing and eager to sign a contract as a safety feature for you both. Don't rely on a verbal agreement only, because D.J.'s and live entertainers have been known to back out at the last moment, if a higher paying party comes along. In addition, expect to pay a deposit to hold your date.
Beware of a disc jockey who emphasizes his equipment, rather than his experience. The newest, fanciest gadgets are fine, but will not necessarily make the most appropriate and proficient disc jockey. An agreeable personality and experience play the biggest role, along with fair pricing and willingness to work with each client.
Questions to Ask Yourself
To help you decide, here are some pertinent questions to ask yourself:

Does my guest list include diverse age groups and types of people?

How much can I spend on reception entertainment?

Do I want to have a great deal of input into the music selection, or not  be bothered?

Are my guests conservative and not likely to dance?

Would my guests prefer a mix of singing and dancing?

Is there adequate space for a D.J. and dance floor in the room I've  selected?

Cost
Finally, cost is another major factor to take into consideration. Generally, a D.J. will cost less than half that of a four or five piece band. Depending on the region, a quality disc jockey will run between $500.00 – $1200.00, while a good band may be over $1500.00.
Article Submitted By:
Kathryn Lemmon
The Dance Machine
Free Wedding
Giveaways + Sweepstakes
Enter sweepstakes & giveaways and enter to win a free honeymoon when you join. New winners are announced every week!