Make It Memorable With Wedding Thank You Cards
Thank You … two quick words, but strong enough to keep the relation going, two words which bring smiles, words which lets one forget all the vices, words which one often loves to hear …
To add to the smile-bringing factor of a thank-you, there are now Thank You cards. And these come for various occasions, like for simply being thankful for a task made easy, or accepting a gift, or some help, or accepting an invitation.
Thank You should not only be in words, but it also should directly come from your heart, it should be said with a heart of gratitude. If not, be it over the phone calls, messages, or cards, thank you seem to lose gravity. Thank You said without sincerity, a smile on face, and gratitude in heart will sound hollow.
Often distance hampers the effect of a heart-felt thank you. And that is when Thank You cards come in handy.
Strengthening the Bonds: Thank You!
Not many would agree to it, but the truth is that a true thanks still strengthens social relationships, helps fight emotional battle during stressful times. Something as simple as thank you wedding cards to people who attended you or your relative's weddings works wonder. When relationships are going through tough times, it's sorry and thanks that do their magic to prevent them from dying. It might be difficult to say 'sorry' but it's easy and essential to say a thank you. Despite it being easy, people hardly get time or even the right words to express thanks, and then comes a need of the card which says all that is required to convey their heartiest feelings. Thank you cards are the best way to express one's gratitude and thankfulness. If one can't return the favor then saying thanks fulfills the need. Thanks … a small word that makes huge space for you in heart.
Say it through Cards: Thanks stored for Years!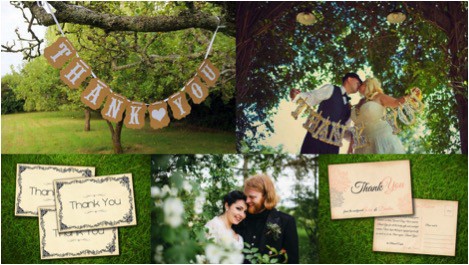 Here, a must to mention, thank you wedding cards, something well in trend in the western culture, has also entered Indian culture. There have been several changes in Indian weddings today if compared to what it was earlier; thank you weddings cards are a welcome change. Realizing that some of the guests might come tantalizing their personal plans and work, a thank you card to them makes them feel not only good, but also proud and much appreciated.
Thank you cards do wonders when one lacks right words to express feelings. Thank you cards are the best to go for when you want people to know how grateful you are to them. One might also wonder why not to call the invitees to thank them! But then, a card, with a personalized text, and a few photographs in it … won't that make it a much memorable gesture, something that probably even the receiver would like to preserve for long.
These days, there are professional designers for beautiful thank you wedding cards. These designers plan on cards along with the preparation of the wedding invitation cards. They'd either like to be involved with the wedding families and some occasions, or might simply ask you to hand them over a few memorable pictures of the wedding. For a personal touch, the designers design cards with the receiver's pictures with the bride and groom, which is a special effort.
Cost Effective Thank You
With the digitization of everything in today's world, designs for these cards are also available on the Internet. Want more?, like online wedding invitation cards, thank you wedding cards too can be made online and shared with every guest, displaying your personal gesture for each.
Article Written By: Mr. Atul Gupta is the co-founder of 123WeddingCards.
Free Wedding
Giveaways + Sweepstakes
Enter sweepstakes & giveaways and enter to win a free honeymoon when you join. New winners are announced every week!