If you're a fan of Sandals Resorts, by now you've heard the big news; The Sandals Ochi Beach Resort was unveiled to us last week and it has quickly become the hottest and sexiest new resort in Ocho Rios, Jamaica! Besides undergoing a whole slew of renovations to what used to be Sandals Grand Riviera Resort and Spa, the new Sandals Ochi boasts a lot of sparkly additions that have left us positively sure this is hottest spot for trendy destination wedding couples and honeymooners.
We are experts on this resort and have sent over 120 couples here in just this past year! Our clients absolutely love it! Click here to get a quick all-inclusive honeymoon quote! Don't hesitate, utilize our free honeymoon planning service! Have one of our specialists help you plan the honeymoon or destination wedding of your dreams!
So here's what the new Sandals Ochi means for Destination Weddings and Honeymoon couples!
New Honeymoon Entertainment and Activities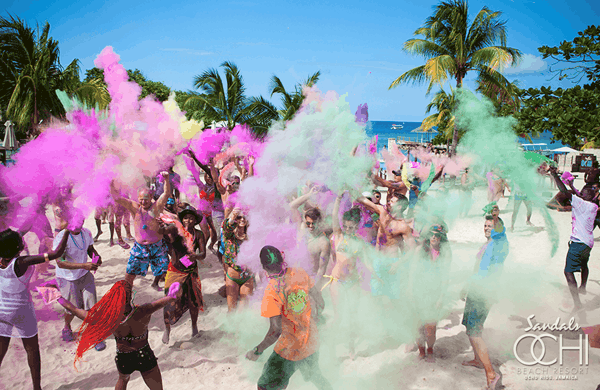 If you're a couple who loves excitement when you want it and privacy when you need it, then Sandals Ochi is going to be your dream resort. Sandals Ochi offers, hands-down, the most exclusive and thrilling night life of any of the Sandals Resorts.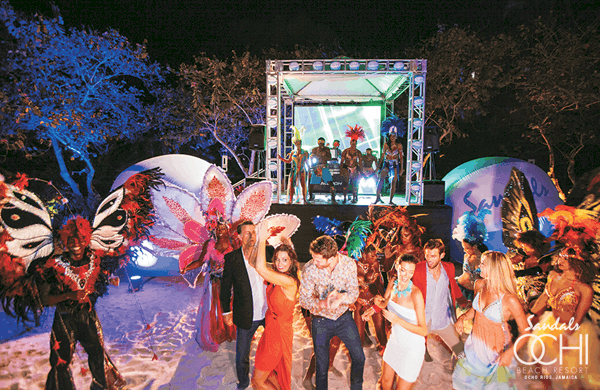 You can party the day and night away at the Ochi Beach Club – a stylish beach party by day and the hottest outdoor lounge in the Caribbean at night. Add to the list of new activities the Caribbean's largest rock climbing wall, cirque-like pop-up entertainment and exciting beach-side activities, including daily themes such as  Sexy Sundays, complete with Bloody Mary's, and a Mix + Blend Power Hour featuring the resort's famed mixologists; Beach Jouvert featuring a cavalcade of color that fills the air with hues of the Caribbean.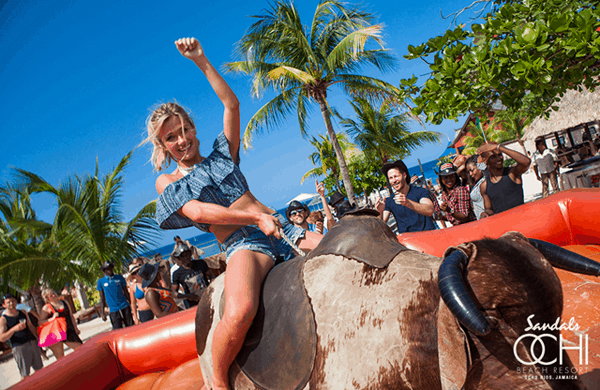 Experience the Caribbean at the  Carnivale Beach Party with live DJ's and performers; Ho' Down with a line dance class and mechanical bull ride; retro Throwback Thursdays with guests' favorite games from the past; Ultra Sizzle Pool Party where guests can enjoy a bonfire, guest DJs and fireworks; and Reggae Bonanza for guests to experience authentic Jamaican culture.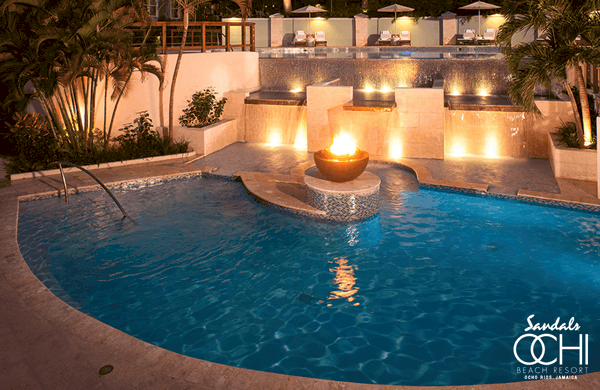 If you're into a more quiet night experience, you can head down to the Popcorn and Palms cinema to enjoy a film and endless popcorn and drinks under the stars or take a walk around the lit pools to nestle around one of the many fire-pits sprinkled around. It's ultra romantic (We know from experience!).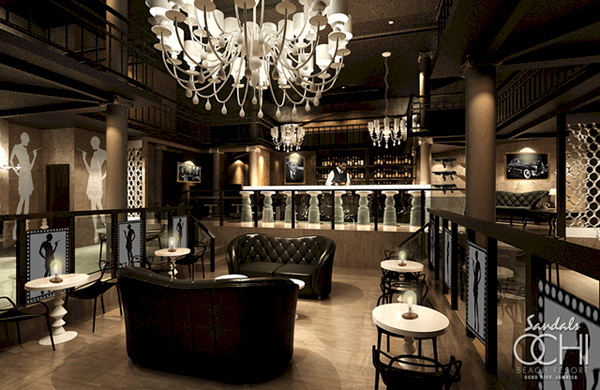 For the sophisticated, enjoy the exclusive new speak-easy, The Rabbit Hole. We're not joking, this resort has an actual 1920's inspired speak easy, complete with a hidden location (we're not gonna tell you where), password protected entry, and a live jazz singer in a vintage-inspired lounge.
The Wedding Chariot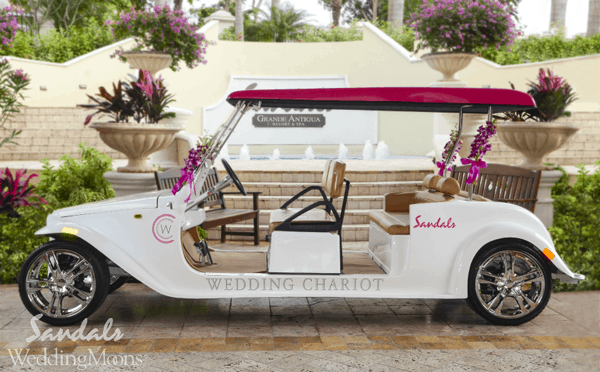 If you've never been, the Sandals Ochi Beach Resort is a huge resort spread out over 100 pristine acres, nestled among a hillside and a beach side. There is no way we would make a bride all dolled-up and ready to wed, walk to her wedding location. No ma'am! We're going to escort you in style in our new, specially customized Wedding Chariot now available at Sandals Ochi!
Brides (and grooms) can take advantage of this complimentary new sweet ride by having their personal resort wedding planner reserve the Wedding Chariot according to their wedding day transportation needs. Whether you're getting ready for your big day at the RedLane Spa or having a pre-wedding toast with your bridesmaids in your suite, we'll personally escort you to your location. All eyes on the bride when you roll through!
New Weddingmoon Cake Fillings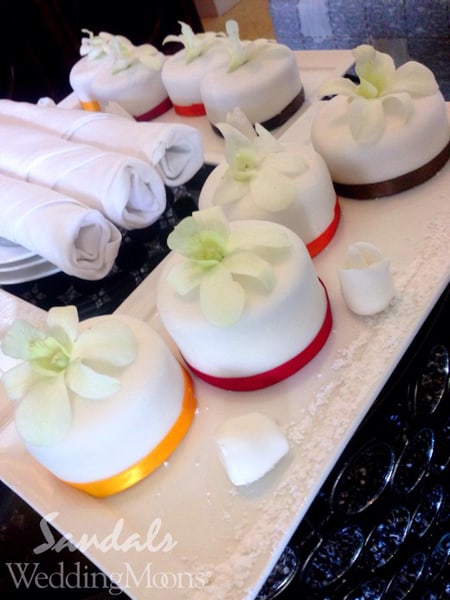 Last year, the WeddingMoons bakery revealed they were adding one of the most popular, new wedding cake flavors, Red Velvet. This highly sought after flavor joined the Vanialla, Rich Chocolate, and Caribbean Fruit cake flavors. Now the bakery is dropping new and tasty, Caribbean-inspired cake fillings on us!
From now on, couples can include signature Strawberry Daiquiri , Coconut and Pina Colada fillings to whatever cake flavor they desire. Can you imagine how delicious a Red Velvet wedding cake with Pina colada filling tastes? We know it sounds sinful but hey, treat yo' self!
New Signature Cocktail Additions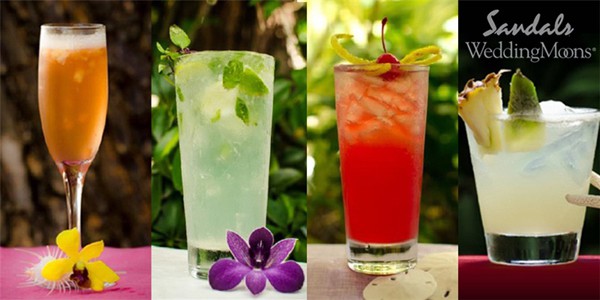 In 2013 WeddingMoons rolled out their first signature cocktails that any couple could have served at their wedding bar. Those cocktails just got some new additions to the family. Welcome for the first time anywhere Southern Punch, Zesty Mint, Summer Dream, and Yellow Mist. This is just a sneak peek, we'll be sharing their tasty recipes soon. If you can't wait, plan your wedding at Sandals Ochi and taste them for yourself!
Newly Manicured Wedding Locations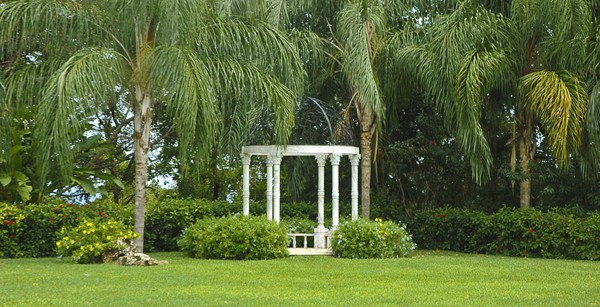 The most popular destination wedding location in the region, Sandals Ochi Beach Resort now offers brides and grooms-to-be even more beautiful settings and improvements for their destination weddings.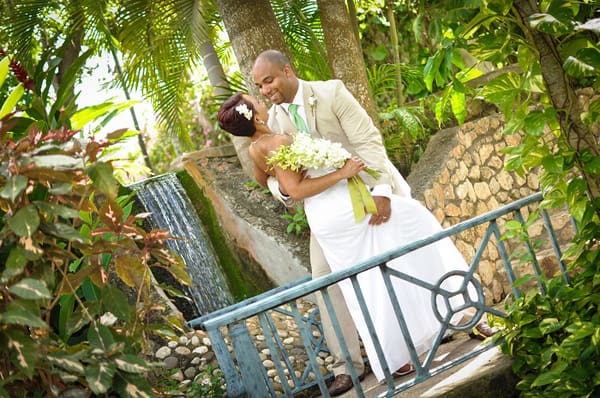 Whether you choose to get married on the beach during sunset at the chic Ochi Beach club, or in or alongside one of the newly manicured lush gardens, there is something for every bride and groom at Sandals Ochi.
Seriously, we can go on and on about all the things you can do at Sandals Ochi but we rather you just see it for yourself!
**Utilize our free honeymoon planning service!! To get a quote for Sandals Ochi Beach Club- Click Here!**
**There is also an amazing honeymoon deal at Ochi Beach Resort right now. Click Here for this Deal info!**
**For more information about Sandals Destination Weddings – Click Here!**
Blog contributed by: Sandals WeddingMoons
Free Wedding
Giveaways + Sweepstakes
Enter sweepstakes & giveaways and enter to win a free honeymoon when you join. New winners are announced every week!