We love this Real Destination Wedding From Sandals Grande Antigua! Thanks Sandals and WeddingMoons for letting us showcase this beautiful wedding! Click here and inquire about a Sandals or Beaches Destination Wedding or Honeymoon. We offer a FREE planning service!
Matthew and Holly
Spend one second with Holly and Matthew and the one thing that resonates is how incredibly sweet and kind they are with each other- a trait that poured into every single element of their bespoke destination wedding. After an anniversary trip to Sandals Grande Antigua, Matthew surprised Holly during a beach photography session by dropping to one knee, confessing just how much she meant to him and asking her to be his wife while their photographer captured the entire moment. The couple returned to the very spot where Holly said "Yes!" and decided to begin the official first chapter of their new lives together.
Keep scrolling after viewing their destination wedding video to see more sweet images from their romantic wedding loaded with personal details and read their sweet love story that made them our winners.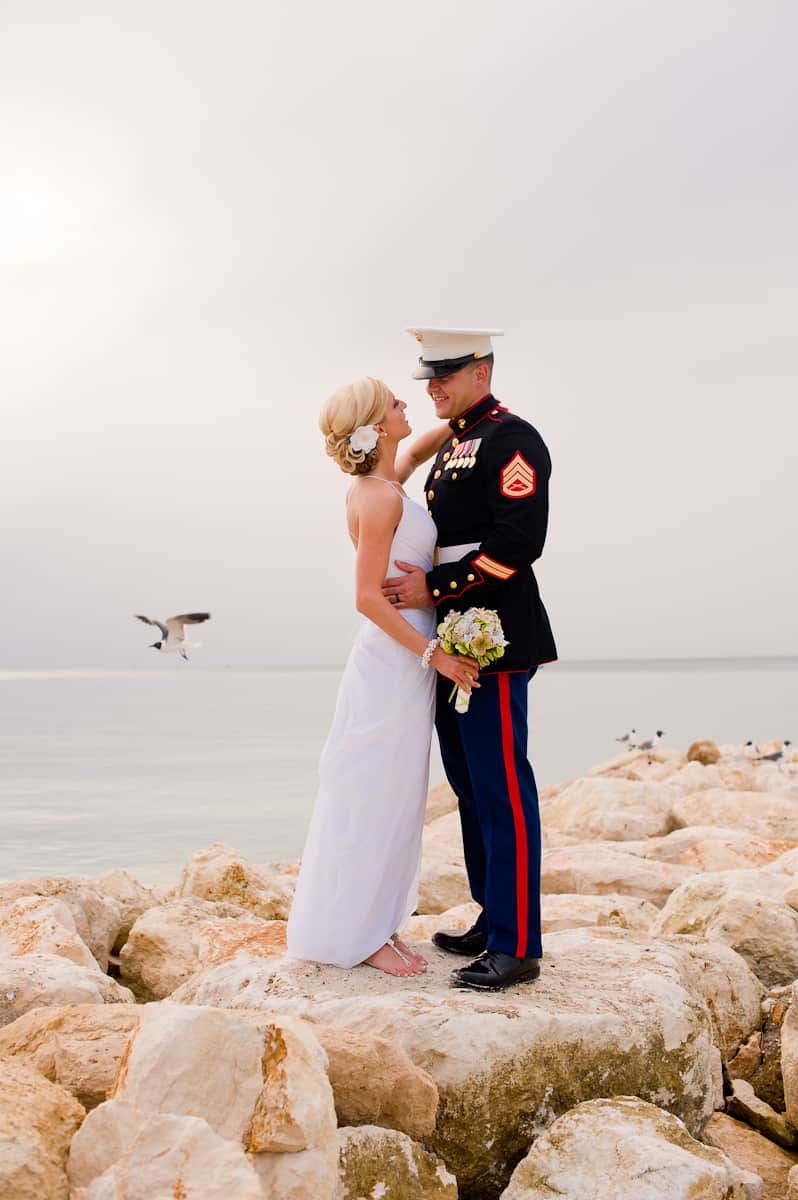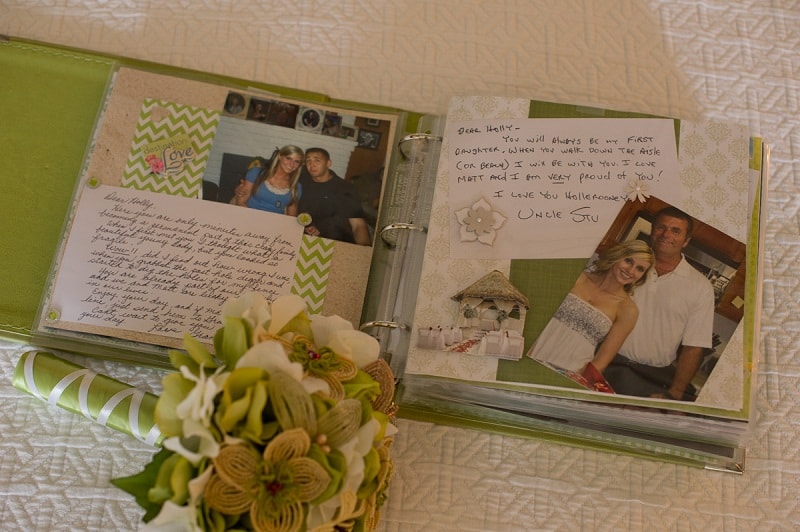 Holly was a completely hands-on bride, with a lot of her small, personal wedding details made by herself and members of her family. Her incredibly personal wedding bouquet incorporated all of her something old, something new, something borrowed and something blue-;
"The something old was a photo charm I had made of Matt and my first kiss from our first official date, over 6 years ago. The something new was the white and crystal French beaded flowers and the white and green laced holder I crafted for the bouquet to sit in. The something borrowed was the cream and green French beaded flowers from a wedding my maid of honor had been in, which were made by the mother of that bride. The something blue was a small piece of a blue silk blanket from my childhood. My mom cut, kissed, and wrapped the piece into the bouquet for her to be with me on that day." *
Before the bridal party arrived in Antigua, Holly's maid-of-honor secretly composed a scrapbook made entirely of love letters and well wishes for the couple from their friends and family and presented it to Holly the morning of her wedding. Seriously, this may be the sweetest wedding ever!
While the bride and maid-of-honor had their hair and make-up done, they both wore silk robes made exclusively for them by the bride's uncle. Along with their respective initials, both robes had embroidered on them the dates of their individual weddings as well as the badge numbers of their husbands who are both police officers. Holly also added a small hand-cuff charm to her garter to show her appreciation and support of her soon-to-be husband's commitment to duty.
Holly found her perfect open-backed and flowy destination wedding gown before she was sure she would even have a destination wedding. Her Caprina gown by WToo-Watters was the very first she tried on and just like soon-to-be husband, she immediately knew it was the one. Holly based her entire bridal look off of the crystal and pearl hip embellishments found on her dress. A tasteful chignon of curls at the base of her neck completed her timeless look.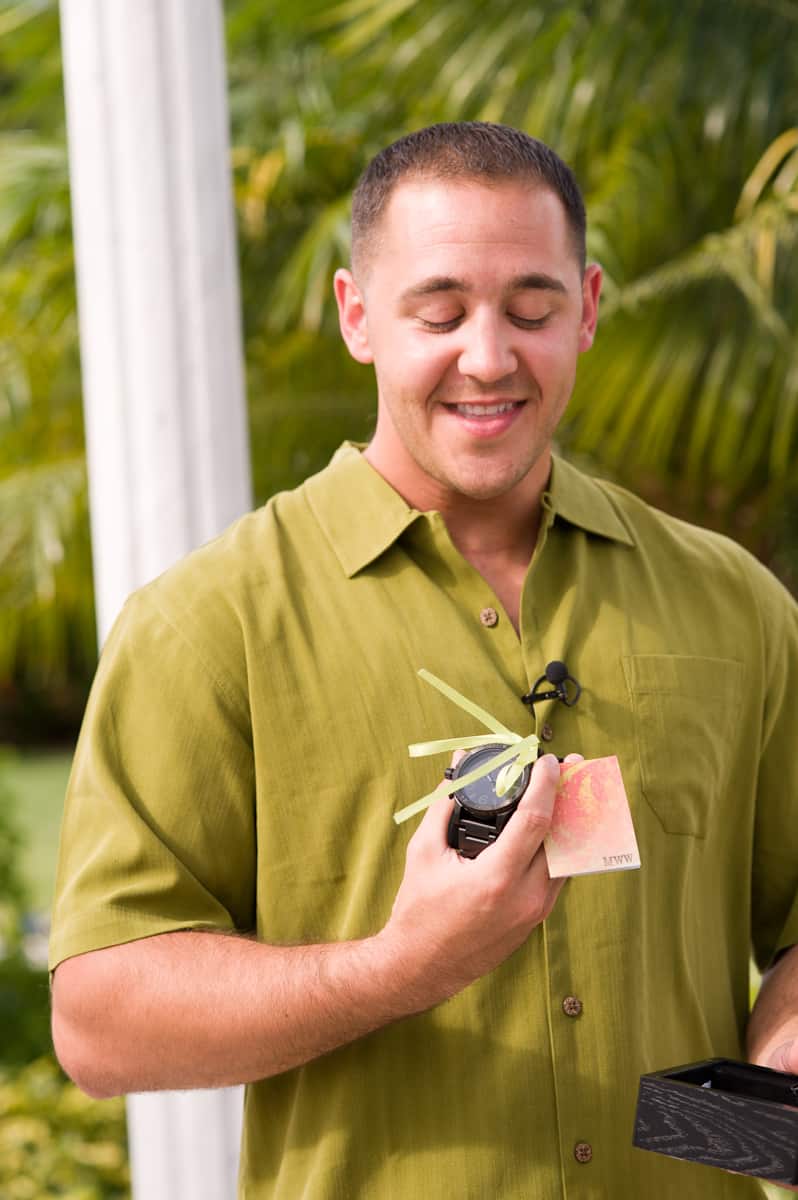 While Matt stood waiting to marry his dream girl, Holly had her brother deliver to him a special wedding gift, a black-matte watch to match his wedding band- in an engraved, wooden box with a special note that read, "Sometimes, if you give someone just a moment of your time, they will end up giving you the rest of their life … See you at 4." -xoxo Holly. We told you these two were the sweetest couple ever!
"Shortly after we booked our WeddingMoon, we discovered a small lump in Matt's throat which later turned out to be two separate forms of thyroid cancer. After his thyroid was removed, he underwent radiation treatment while we planned our wedding. With only four months to go until our wedding we could not have been more relieved that we chose to have a Sandals WeddingMoon.We were so reassured that we had made the right decision to have an intimate destination wedding, because every step of planning with our wedding planner was both easy and fun. This was a very emotional and stressful time in our lives, and that wasn't how we wanted to remember our wedding. The Sandals wedding planning made it ideal and we have nothing but happy memories every step of the way."
Get ready to cry! Before their wedding reception, Matt changed into his Marine Corps Dress Blue Alphas uniform and surprised Holly with a jewelry box engraved with, "Holly Hope Wells. To my amazing wife, to a true love story that never ends. I love you, beautiful. 07-14-2014″. Inside was a beautiful, heart-shaped necklace with a floating diamond center that a beaming Matt,  places around Holly's neck right before their first dance.
If Matt hadn't joined the Marine Corps and served with my brother we would have never met. It was during their active duty tour in 2009 that our love grew and intensified as we eagerly awaited our reunion. His service has had a huge impact on our relationship, and it has made him the man I fall more in love with each day – Holly.
"We don't have words gracious enough to properly thank the many people with Sandals who took part in our perfect WeddingMoon stay! From the moment we selected it as our venue to the moment we left on the plane, we could not have imagined a better experience. We can't wait to visit again, soon!" – Love, Matt & Holly
Blog Contribution: Sandals WeddingMoons
Date: July 2014
Location: Ocean-front gazebo, Sandals Grande Antigua Resort and Spa
Number of Guests: 4
Theme: Chic and Natural with personal customizations
Hair and Makeup: Red Lane Spa
Photography: Joseph & Janet Jones, Sandals Wedding Photography Partner
*Sandals WeddingMoons® offers an extensive selection of bouquets and boutonnieres for the convenience of our destination brides and grooms. This lovely DIY bouquet featured, as they are extremely sentimental to the bride and her family. Holly's DIY bouquet was an accompaniment to the fresh floral purchases for the other members of the bridal party, groom and centerpieces.
Free Wedding
Giveaways + Sweepstakes
Enter sweepstakes & giveaways and enter to win a free honeymoon when you join. New winners are announced every week!