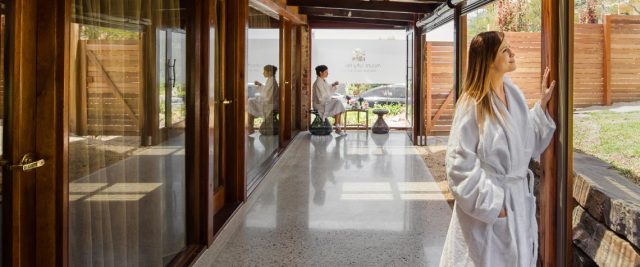 Weddings are wonderful, but the event and the preparations leading up to it are exhausting and stressful. Your honeymoon is an important time to recover from the wedding, enjoy time together and set the stage for this new phase in your lives.
With this in mind, we invite you to Mount Lofty House for the honeymoon that you are dreaming of – and desperately need! Mount Lofty House is a great place for a honeymoon, because while you are there, you can:
1. Relax and Recuperate
Planning a wedding involves guest lists, flowers, catering and more. Each of these aspects of the wedding has complicating factors, but once you are on your honeymoon, all of this is behind you. You can rest and regain your strength.
Mount Lofty House sprawls across acres of land in the scenic Piccadilly Valley of Southern Australia. The hotel's unique blend of a stately old manor house with modern luxuries and the beauties of nature surrounding it make Mount Lofty House a wonderful place to relax and recuperate.
2. Re-establish your Relationship
Wedding stress takes its toll and causes us to become irritable, withdrawn and less affectionate. These unwanted, but inevitable changes in our outlook and behavior put a strain on personal relationships. Your honeymoon is a time to reconnect with each other and strengthen your relationship.
Spending time together doing something you enjoy is an important part of building relationships. Here in the middle of the Adelaide Hills, we guarantee that you will find an abundance of fun things to do together, whether it be browsing our library, relaxing in the pool, touring a vineyard or hiking in Cleland Wildlife Park.
3. Think and Talk
Developing good communication is vital if you want a strong marriage. Your relationship will broaden and deepen as you take time to express yourselves and understand each other better. A honeymoon is a great time to escape normal routines and talk about everything you have been through together and your plans for the future.
Many important conversations take place over a meal or drinks. While you are staying with us at Mount Lofty House, you will be able to take advantage of Hardy's Verandah Restaurant and also the Arthur Waterhouse Lounge. Hardy's Verandah Restaurant offers unforgettable fine dining, while the Arthur Waterhouse Lounge provides casual dining and drinks served in a relaxing atmosphere.
4. Make Memories
Good memories give us joy for a lifetime and when difficult times come, they often motivate us to continue pressing toward our goals. A honeymoon is a time to make such memories.
In 1952, Arthur and Martha Hardy built Mount Lofty House and filled it with memories of their own life and love. Since then, Mount Lofty House has provided the stage for many couples to make treasured memories in the luxurious manor itself, as well as in the breathtaking hills around it. When will you be coming to rest, renew your relationship and make memories?
Along with being the #1 Wedding & Honeymoon Destination in Southern Australia, Mount Lofty House offers venues for both weddings and receptions. We have excellent catering services and an experienced wedding team waiting to meet your needs and help you fulfill your dreams.
Free Wedding
Giveaways + Sweepstakes
Enter sweepstakes & giveaways and enter to win a free honeymoon when you join. New winners are announced every week!