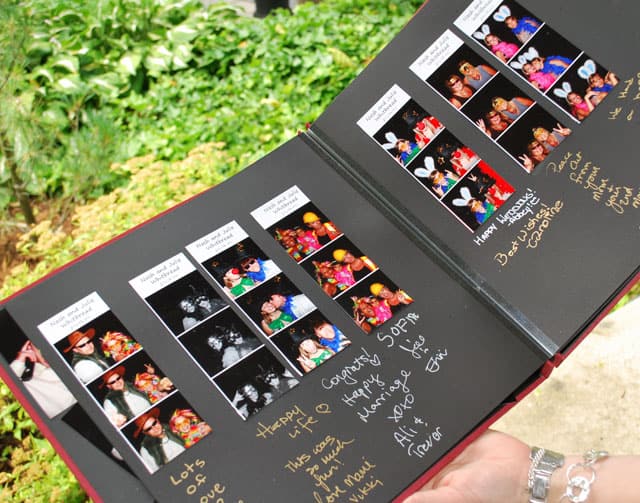 The revival of the photobooth has come at a perfect time for wedding planners. The days of disposable cameras on guest tables are long gone and the love for 'candid' pictures of your friends and family is growing. Deanna Lavin of Mugz Photobooth says "I still can't believe the fun that people have with the booth. At most weddings, we have a line up at the booth as soon as the speeches are over and people already have a 'game plan' for their pictures. It's so much fun".
"Weddings are becoming more and more about the bride and groom, and reflective of their personalities. Candid photos of your friends and Grandma Mildred in a hot pink boa in the Mugz Photo booth are such priceless keepsakes, we understand why the concept is so hot and we love it! Business is great." Lavin says.
At Mugz, the Bride and Groom take home an album with all of the pictures inserted, signed by their friends and family along with digital copy of the entire night, but that's not all. The pictures are placed online to a secure album and each gest goes home with a photo strip of them, with the date and name of the new couple. It's a great little keepsake for the fridge.
Lots of couples put their own flare on the costumes with items that mean something to them, suit the theme of the wedding, or compliment their wedding colors. Props and costume elements can sometimes lighten the mood and encourage otherwise 'shutter shy' folks to get in for a few snaps. Message boards can be a fun way to say 'I love you' to your hosts. Old fashioned, pieces of chalk boards with different colors of chalk can be messy, but when captured, look exceptionally tasteful.
Whatever the theme, and however the booth is set up, the results will be one of your best keepsakes of your wedding night. Wedding photography usually stops when the reception starts and the good times begin. Odd combinations of old friends, relatives in funny hats, priceless fun.
Article Submitted By:
Mugz Photobooth
About Mugz Photobooth:
Based in Ontario, Canada, Mugz is a full service attended booth. Purposed for Weddings, Party's, Gala's, etc. the 10×10 booth sets up quickly, looks classy, and takes great high resolution photo strips. For more information, visit www.mugzbooth.com or like us on facebook at www.facebook.com/mugzbooth .
Deanna Lavin, Mugz Photobooth
Free Wedding
Giveaways + Sweepstakes
Enter sweepstakes & giveaways and enter to win a free honeymoon when you join. New winners are announced every week!