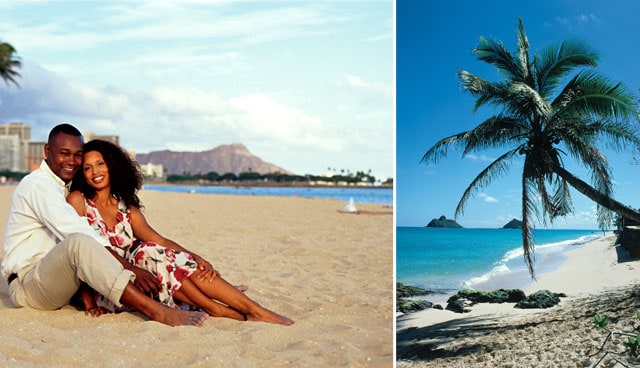 Hawaii is one of the most romantic places in the United States, and one of the top honeymoon locations in the world!
Customize your honeymoon package by including a "romance package" in your travel plans. This varies depending on hotel and costs. A few examples would be a dinner for two under the stars, tandem massage in an ocean front cabana, and more!
The Hawaiian Islands offers an array of ocean activities to complete your holiday. The most popular water sports would be: a dinner cruise, snorkel trip, whale watching (December-April), and scuba diving.
Hawaii has some of the best beaches in the world. Here is a short list of the most popular beaches here in Hawaii: Waikiki (Oahu), Wailea & Kaanapali Beach (Maui), Poipu (Kauai), Manele Bay (Lanai), Punaluu & Kauna' oa Bay (the big island of Hawaii).
Hawaii is a great value for your travel dollar! Book early and save. It is suggested you book your honeymoon 6-12 months in advance if possible.
As a Hawaii Destination Specialist and a resident of Maui I hear all the time "Hawaii is so expensive!"
This may be true when comparing the islands of Hawaii to smaller towns in the United States. But when you compare Hawaii to other world class resort areas we are actually a great bargain!
Fun things to do for FREE in Hawaii:
Learn all about the Arizona Memorial at Pearl Harbor on the island of Oahu.
Stop by the Koloa rum factory on the island of Kauai and have a free sample of rum (must be 21+).
See an active volcano on the big island and watch the lava flow into the ocean!
Take a day trip to Hana and see all the beautiful waterfalls that Maui has to offer.
Watch the water gush out of the blow hole on Kauai's south side of the island
Hike a dormant volcano at the Waimea Canyon on Kauai
Check out the monster waves at Haleiwa on the north shore of Oahu!
Swim at Hulopoe Bay on Lanai in front of the Four Seasons Manele Bay and see the spinner dolphins
See the sunrise on Maui atop Haleakala Crater at 10,000 feet.
Here is list of fun things to see and do in Hawaii for $100 or less!
Hike down and back up the Kalaupapa Trail (3.2 miles each way) on the island of Molokai
Visit our only official state residence of royalty in the U.S at Iolani Palace's on Oahu.
Attend a luau. This is a great show, with drinks and dinner and available on all islands.
Sail on a romantic dinner cruise at sunset!
Whale watch and check out the Humpback whales that call Hawaii their home from December-April.
Take a surfing or hula lesson and impress your friends when you get home!
Win a free honeymoon to Maui Hawaii with TheWV.com right now!
Article Submitted by
Marie Glodt
Hawaiian Destination Specialist at Travel to Maui
www.traveltomaui.net
Photo credit to the Hawaii visitor bureau
Free Wedding
Giveaways + Sweepstakes
Enter sweepstakes & giveaways and enter to win a free honeymoon when you join. New winners are announced every week!