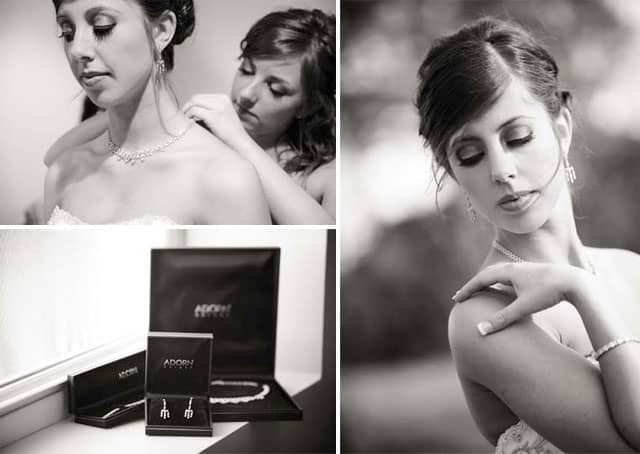 Why rent jewelry:
Renting has always been a part of the planning for brides – renting the reception hall, renting the tables, renting the chairs… If a bride isn't renting an aspect of her wedding, she's paying for a service that will make her wedding day the special, elegant occasion she's dreamed of.
At Adorn, we believe that renting diamond jewelry is an extension of that – brides can achieve their dream wedding, right down to the last, but most important, detail – the bride. Most brides want to look elegant and sophisticated on their wedding day; it's the single most important day of their lives, and they want to look their best. Our jewelry helps them to do that, but on a level that fits in within their budget. For example, one of our diamond necklaces and earrings cost us $15,000 and $6,000 respectively. It's cost prohibitive for many brides to be able to purchase the pieces on their own. But, we're able to rent them to brides for $150 and $120. The brides get all the glamour of diamonds, without the high price tag.
On recycling in general:
I think that the evolution of recycling has evolved to the point that most people no longer associate recycling with simply refuse or unwanted items they would like to dispose.
It's more of a way of thinking even though it started with the green movement and what's best for the environment. Having that shift in the cultural mindset has allowed us to start Adorn. People are much more open to the concept of renting in general for items that they would have never considered before.
On new trends
One of the more positive signs we've seen that Adorn has been able to fill a niche, is the fact that more and more of our customers are renting our diamond jewelry for occasions unrelated to the wedding industry. It's not just for brides and their wedding parties anymore – we've had several clients who were attending corporate events and corporate sponsored charitable events that wanted to add a little more glamour and pizzazz to their look as well.
Win a free rental of the Lockwood Diamond Earrings, retail Value $11,250.00!
For more info please go to www.Adorn.com
Free Wedding
Giveaways + Sweepstakes
Enter sweepstakes & giveaways and enter to win a free honeymoon when you join. New winners are announced every week!