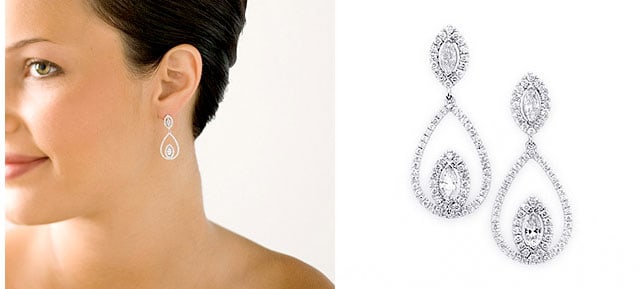 As the world watched, Kate Middleton became Her Royal Highness, the Duchess of Cambridge early this morning. To our pleasant surprise, the jewelry she chose to accessorize her wedding dress bore a striking resemblance to Adorn Brides' Abbott earrings. In honor of William & Kate, Adorn Brides has renamed the Abbott earrings the Middleton earrings.
A unique diamond drop earring in white gold, the Middleton earrings feature micro pave diamond details throughout with a marquis-shaped diamond affixed at the bottom of a larger dangling teardrop loop which give the marquis a floating appearance. Costing over $7,000, our Middleton earrings are available to rent from Adorn Brides at a reasonable price of $160.
Although the earrings worn by Kate Middleton do include a dangling acorn which is symbolic of the Royal family crest, our Middleton earrings instead feature a diamond marquis and the both sets appear identical in size and shape.
Founded in 2006, Adorn Brides is the leader in diamond jewelry rental for brides. Renting fine jewelry for weddings and special occasions at a fraction of the retail cost, Adorn Brides has an extensive collection of diamond earrings, necklaces, and bracelets from which clientele make a selection.
To view our collection of diamond jewelry or learn about the jewelry renting process, visit www.adorn.com
Don't forget you can also win a free rental of Adorn Earrings by going to www.TheWV.com
Article Submitted By:
www.adorn.com
Free Wedding
Giveaways + Sweepstakes
Enter sweepstakes & giveaways and enter to win a free honeymoon when you join. New winners are announced every week!