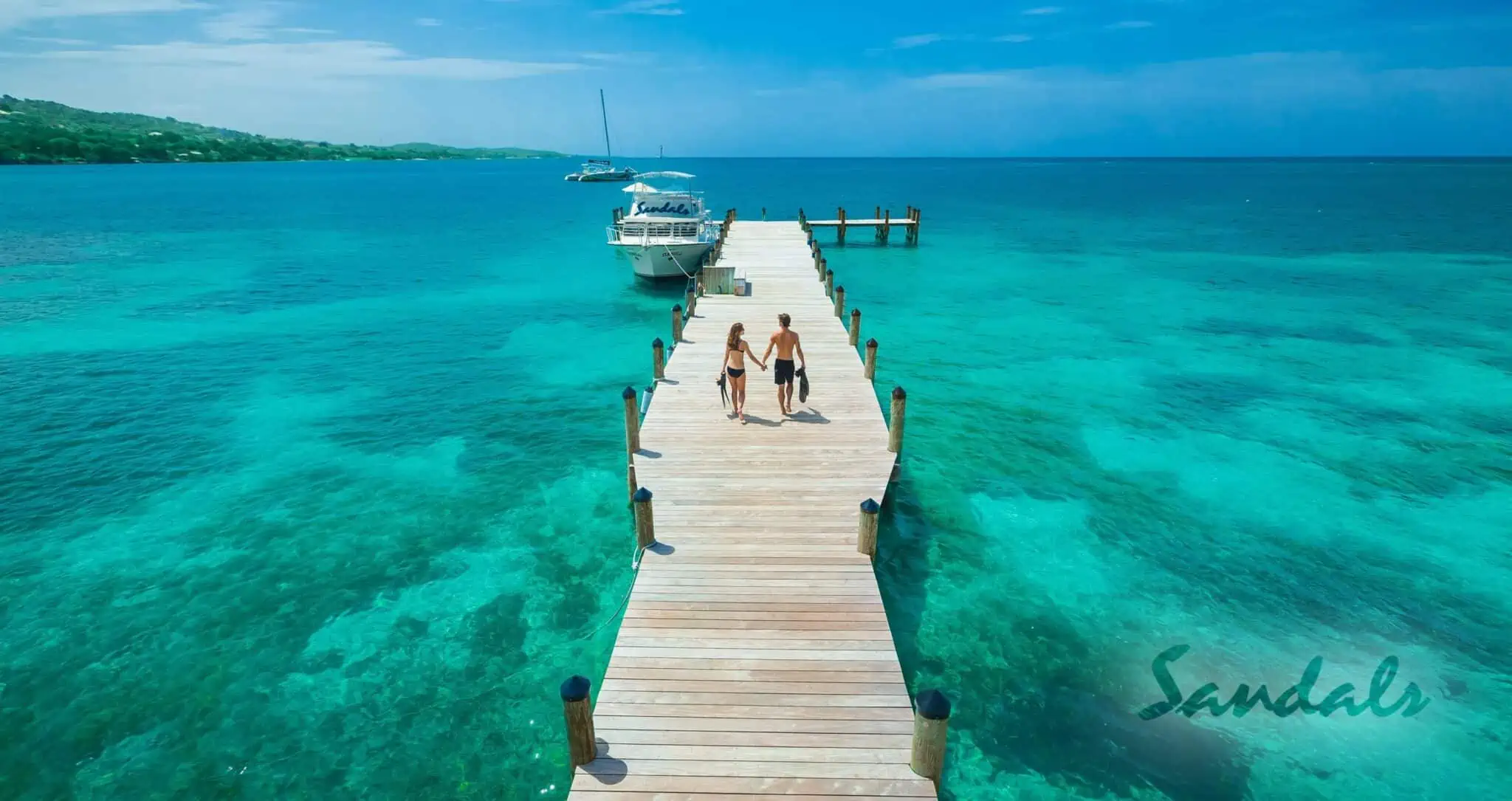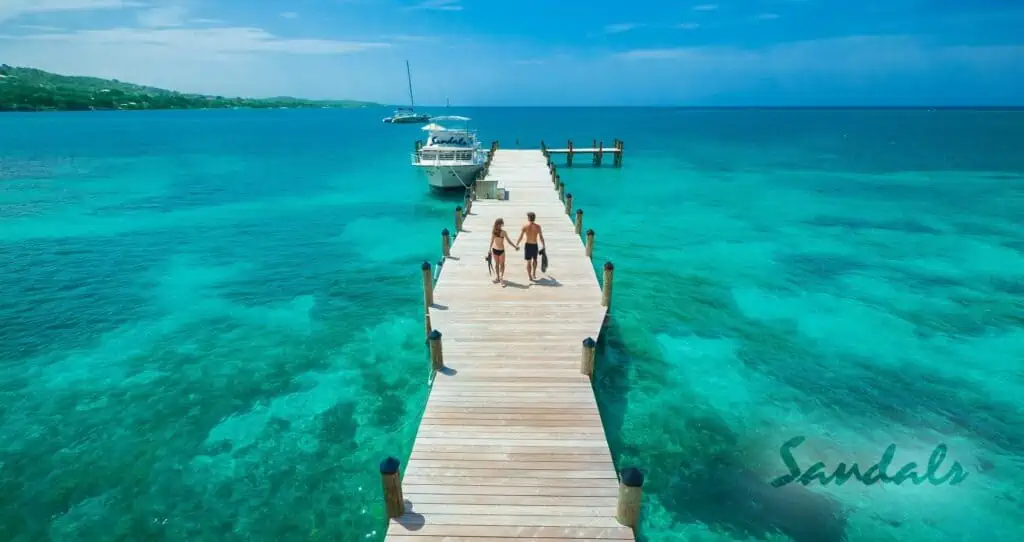 An enchanting oasis surrounded by crystal-clear waters and powdery soft sands—this is a picture of your dream honeymoon that Sandals Resorts can bring to life. Thanks to our partnership with Sandals, couples will get the chance to experience an all-inclusive, luxurious honeymoon package.
Dive into our ultimate guide and read on to find out how you could be sipping your favorite cocktail on a sun-kissed beach at zero cost. Trust us, this post might just make all your honeymoon dreams come true!
Selecting a Sandals Resort for Your Honeymoon
Planning your honeymoon is an exciting part of the wedding journey, and choosing the perfect destination sets the tone for a romantic and memorable experience. Sandals Resorts, renowned for their luxurious all-inclusive offerings in breathtaking Caribbean locations, make an excellent choice for couples seeking a dream honeymoon. When selecting a Sandals resort, consider factors such as location, amenities, and special features that align with your preferences and desires.
Each Sandals resort has its unique charm and appeal, offering a distinct experience to suit different tastes. Begin your selection process by identifying what matters most to you and your partner. Are you looking for a secluded retreat with pristine beaches and lush gardens? Or perhaps you prefer a vibrant atmosphere with lively entertainment options? Discussing your vision together will help guide you in making the right choice.
For instance, if you're seeking a tranquil escape where relaxation takes center stage, Sandals South Coast in Jamaica might be an excellent option. Set along Jamaica's pristine southern coast, this resort boasts stunning over-the-water bungalows and a laid-back atmosphere perfect for intimate moments.
Planning for Romantic Activities at Sandals
Sandals Resorts is renowned for providing an array of activities and experiences designed to ignite romance and create cherished memories for couples. Whether you're looking for adventure or relaxation, there are plenty of options to suit every couple's preferences. Here's an overview of some of the activities and excursions you can plan for your romantic getaway at Sandals.
For water enthusiasts, Sandals Resorts offers a wide range of aquatic adventures. Imagine snorkeling together in crystal-clear Caribbean waters, exploring vibrant coral reefs teeming with marine life. You can also take advantage of PADI® diving experiences, which allow you to delve deeper into the wonders beneath the surface.
If you prefer to stay in the water, various water sports such as canoeing, kayaking, paddle boarding, and sailing are available for you to enjoy at your leisure. Additionally, Sandals Montego Bay allows you to indulge in waterskiing, adding an adrenaline-pumping element to your honeymoon experience.
Just like a sailboat gliding gracefully through calm waters, Sandals Resorts offers serenity and tranquility. Taking part in activities like beach volleyball or enjoying a game of table tennis can provide moments of laughter and friendly competition amidst the beautiful surroundings.
To unwind and recharge, couples can take advantage of the fitness centers available at each resort. From high-energy group fitness classes to state-of-the-art cardio and weight training equipment, you can maintain your wellness routine while on vacation.
And let's not forget about indulging in some pampering together. Each resort features an exclusive spa where you can enjoy Caribbean-inspired treatments that will leave you feeling relaxed and rejuvenated. Immerse yourselves in a couples' massage or a romantic sunset yoga session, allowing you to connect on a deeper level.
With an overview of the activities and amenities offered by Sandals Resorts, you can now start planning your perfect and unforgettable honeymoon. So, book your stay at one of the enchanting resorts with the help of our team at WeddingVibe and get ready to embark on a romantic journey with your partner.
Overview of Sandals Resort's Activities and Excursions
When it comes to planning a memorable honeymoon, Sandals Resorts stands out as an exceptional choice. Not only do they offer exquisite accommodations and world-class dining options, but they also provide a wide range of activities and excursions to ensure you have a truly unforgettable experience.
From the moment you step foot on the resort, you'll be greeted with an array of options for entertainment and adventure. Whether you prefer relaxing by the pool or engaging in thrilling water sports, Sandals has something for everyone. Imagine spending your days swimming in crystal-clear waters, sailing across picturesque coastlines, or snorkeling around vibrant coral reefs. These are just a few examples of the many water-based activities available at Sandals.
But the fun doesn't stop there. For those seeking a more daring experience, Sandals offers PADI®-certified scuba diving in the spectacular waters surrounding the resort. Explore stunning underwater landscapes and encounter fascinating marine life while under the guidance of experienced instructors.
If you're looking to stay on land, Sandals provides unlimited access to a variety of land sports and recreational activities. Challenge your partner to a game of beach volleyball, try your hand at shuffleboard or lawn chess, or engage in friendly competition with table tennis or basketball. For those who prefer a more laid-back approach, there are also opportunities for leisurely walks along the beautiful beach or to enjoy board games and pool tables.
And let's not forget about entertainment! Sandals is known for its lively parties and celebrations. Picture yourself dancing under the stars at a beach party, showcasing your talents during talent nights, embracing themed nights, or simply enjoying live band performances that set the mood for romance throughout your honeymoon.
Understanding Sandals Room and Suite Options
When it comes to planning your honeymoon at Sandals, choosing the right room or suite is essential to creating a romantic and memorable experience. Sandals Resorts offers a variety of options that cater to different preferences and budgets. From luxurious rooms to extravagant suites, each category ensures a comfortable stay with all-inclusive amenities.
Sandals Resort distinguishes its accommodations into distinct categories: Luxury, Club Level, Butler Elite, and Love Nest Suites. The luxury rooms are the entry-level option, providing all-inclusive amenities at an affordable price point. These rooms offer everything needed for a comfortable stay while still maintaining the high-quality standards Sandals is known for.
For those seeking a more luxurious experience, the Club Level rooms are an excellent choice. These rooms include additional perks such as private check-in, exclusive Club Sandals Lounge access, and all-day snacks. Additionally, Club Level guests can enjoy room service for added convenience and indulgence.
If you truly desire the highest level of luxury and personalized service, the Butler Elite suites are designed just for you. These suites provide a dedicated butler who can assist with various services, including serving meals, arranging activities, and ensuring your every need is met. With the Butler Elite category, you can elevate your honeymoon experience to unmatched levels of pampering and extravagance.
For couples seeking a private and romantic setting, Love Nest Suites are an ideal choice. These suites offer elegant accommodations with unique designs and luxurious amenities. Whether it's a Rondoval Suite with its circular layout providing an intimate setting or an Over-the-Water Bungalow offering direct access to crystal-clear turquoise waters, Love Nest Suites ensure an enchanting honeymoon experience.
It's worth noting that all room categories at Sandals include unlimited gourmet dining options, unlimited drinks at various bars, exciting entertainment experiences, water sports activities, access to the resort's gym, scuba diving trips, and more. Additionally, certain room categories offer specific perks. For example, luxury rooms include free minibar access with replenishment upon request.
Choosing the right room or suite depends on your preferences, desired level of luxury, and budget. It is recommended to explore the different room options available at your desired Sandals Resort location to determine which one best suits your honeymoon vision.
Enhancing Your Honeymoon with Sandals Extras
At Sandals Resorts, they understand the importance of creating a truly unforgettable honeymoon experience for couples. That's why they offer a range of optional add-ons and gift experiences designed to increase your stay and create cherished memories.
If you're looking for a romantic dining experience, Sandals provides the option of a private candlelight dinner for two. The definition of romance is enjoying a specially curated menu that your chef has created while savoring candlelight in a secluded area of the beach or a private gazebo.
For those seeking relaxation and rejuvenation, indulge in Caribbean-inspired spa treatments. Let skilled therapists pamper you with massages, facials, and body scrubs using natural ingredients that will leave you feeling refreshed and rejuvenated. From couples massages to individual treatments tailored to your preferences, the spa experiences at Sandals are designed to enhance harmony and well-being.
To explore the beauty and culture of the local surroundings during your honeymoon, consider booking one of the local island tours offered by Sandals. Whether it's exploring historical sites, embarking on an adventure-filled excursion, or simply discovering hidden gems on the island, these tours provide a chance to create lasting memories together while immersing yourself in the destination.
Whether you want to create moments of intimacy, relaxation, adventure, or cultural immersion during your honeymoon, Sandals offers a range of extras tailored to your preferences and desires.
Join WeddingVibe today!
As you set out on your journey to plan the perfect Sandals honeymoon, we invite you to join WeddingVibe and unlock a world of possibilities. We are here to be your trusted partner in making your wedding dreams come true. Our commitment is to create an unforgettable experience for your special day.
By becoming a member of WeddingVibe, you'll gain access to a wide range of amazing wedding deals and giveaways that will bring even more excitement to your wedding planning journey. With all the resources at your disposal, you have everything you need to create a truly unforgettable celebration of love. From your dream getaway to a stunning wedding location, this is the perfect moment to create lasting memories that will be cherished forever.
Join WeddingVibe today and let's collaborate to create the wedding of your dreams—an incredibly memorable experience.
Free Wedding
Giveaways + Sweepstakes
Enter sweepstakes & giveaways and enter to win a free honeymoon when you join. New winners are announced every week!