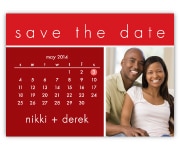 Save the Date cards have become essential to use while planning your wedding.  People have so many things going on in their lives:  birthdays, vacations, anniversaries, graduations, etc., that the more lead time you can give them of knowing when your wedding is the more time they have to keep that date clear of other engagements. You have put so much time into planning your wedding with every little intricate detail, so it's important to make sure the people you invite can be there.
Save the Dates can be sent out as soon as you announce your engagement but are typically sent out about 8-10 months in advance.  This way you have a better idea of who will be on your invite list.  You wouldn't want to send out a Save the Date and then decide you can't invite them!
If you are planning a destination wedding, send your Save the Date cards at least 8-10 months in advance. Follow the card with a detailed mailing informing guests of all pertinent information, which will be crucial to their travel.
If your wedding is around a holiday time its best to send them 12 months in advance if not earlier.
When sending them out you want to include the date of your wedding, location, and if available your wedding website and your hotel information.  You don't want to give them too much information and spoil the surprise of all the plans you are making!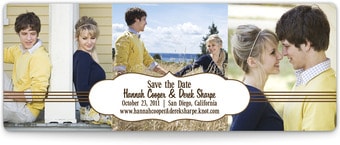 Enter to win 150 free Save the Dates here!
Wording on the Save the Dates is usually simple.  If you would like something formal you can say:  "Please save the date of Saturday, July twenty-seventh for the wedding of Miss Lynnette Lloyd and Mr. Jeffrey Ross in Rochester, New York".  Also include "Invitation to follow" at the bottom.  This assures your guests that they will be getting a formal invite with all necessary information on it.  Or, you can go for something less formal and fun like:  Kelly Griffin and Eric Huss are tying the knot.  Save the Date so you can join us.  Saturday, July 16, 2012  Rochester, NY   Invitation to follow.
Save the Date announcements come in a variety of options.  Postcards, magnets, scratch-offs, and calendars are some of the more popular designs, or get creative and create your own to go along with the theme of your wedding. Blank white mailing envelopes are usually included in the price no matter which type you choose.
When sending them out all you want is for your guests to save the date.  They do not respond to your notice (this comes later, when you send out the invitations).
Things to keep in mind:
Do not send your registry information with your Save the Dates.
You do not need to send Save the Date Cards to everyone you are inviting but every guest that receives a Save the Date Card must also receive an invitation.
One way to save money is to include these in with your Holiday Cards.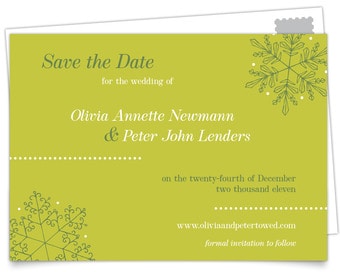 Enter to win 150 free Save the Dates here!
Article courtesy of Barb Jagodinzki with Invitations Plus.
Free Wedding
Giveaways + Sweepstakes
Enter sweepstakes & giveaways and enter to win a free honeymoon when you join. New winners are announced every week!