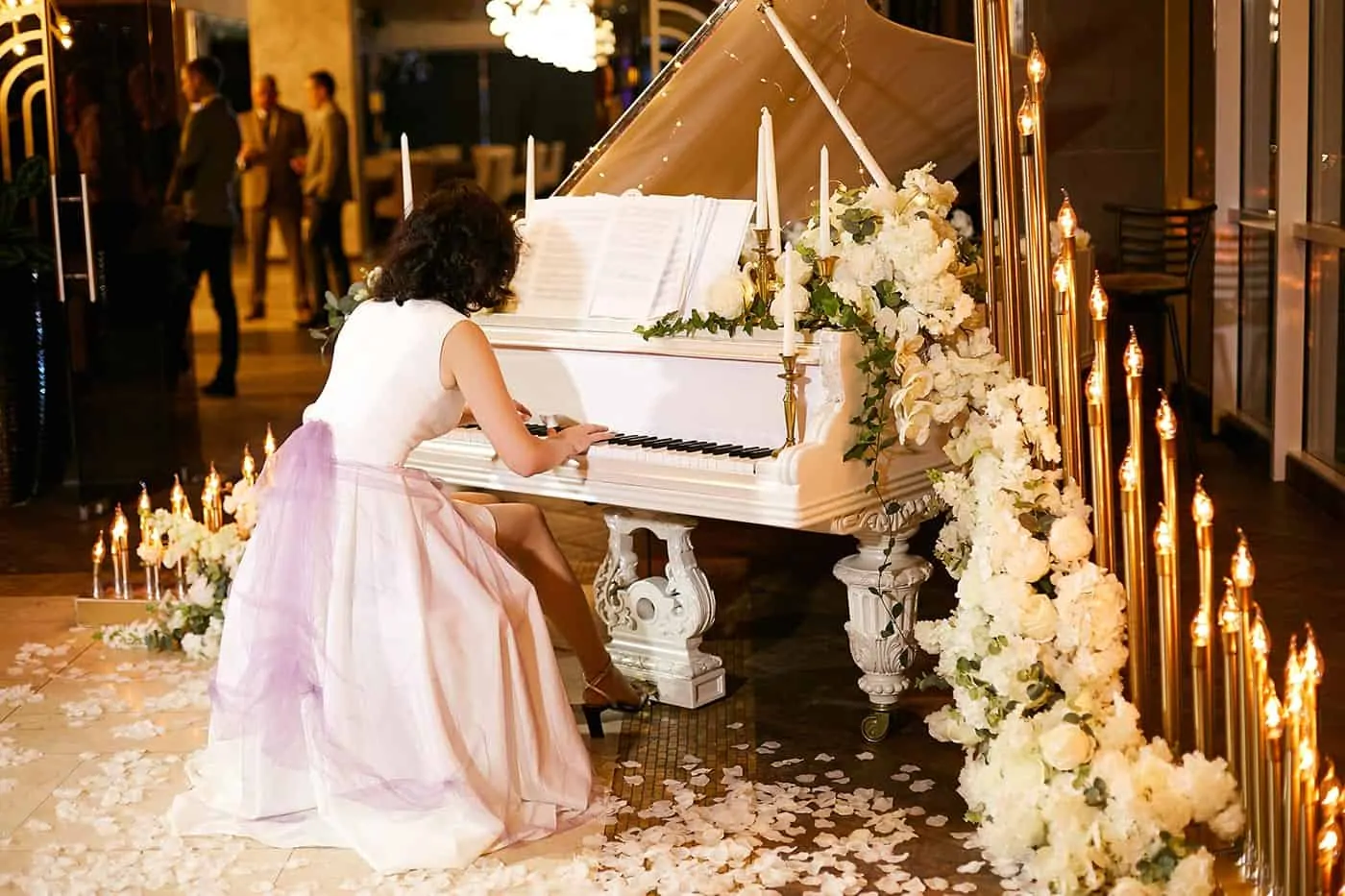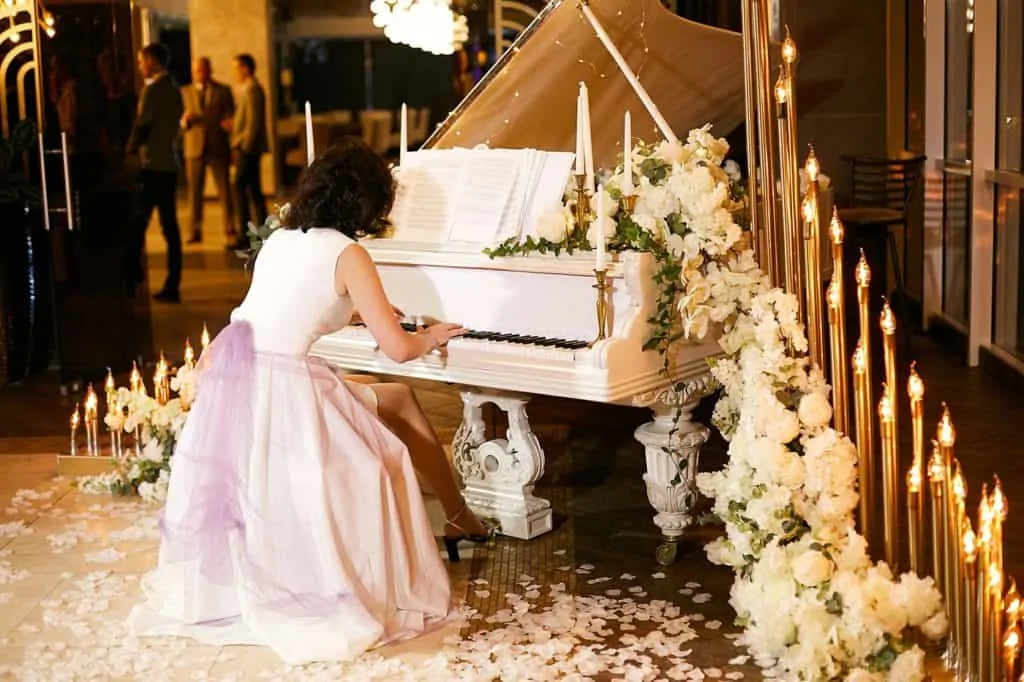 Tasteful Wedding Music to Complement Your Wedding Breakfast
The part of your big day that everyone's been looking forward to the most (apart from welling up when you both say 'I do', of course!) is tucking into a tasty meal and having a good catch up with the friends and family they're sharing a table with. After the initial excitement of watching two of their favourite people declare their undying love for each other, your guests are bound to have worked up quite the appetite – so when you're choosing your music for this part of the day, it's best to bear in mind that most faces will be buried in plates.
That being said, if you can find the right music to complement your guests' long-awaited meals, it can contribute significantly to both their enjoyment of the food and the continuation of their celebratory moods. You've just got to judge it carefully – it's never a good idea to thrust anything too in-your-face at a hungry guest armed with a knife and fork!
All joking aside, let's look at some of the truly sublime forms of wedding breakfast music which will provide as much pleasure to your guests' ears as the catering does to their mouths and bellies:
Wedding Pianist
The piano is a wonderfully diverse instrument, as anyone aware of the origin of its name could tell you: 'piano' is the shortened form of 'pianoforte', which in Italian literally means 'soft-loud'. If you hire a wedding pianist who's equally diverse, they can play the 'piano' songs whilst everyone chows down, then bring out the 'forte' songs later when everyone's up for a dance – and the beauty is, you need only hire one musician!
Even within the wedding pianist category, you'll find a fantastic range. Classical pianists tend to stick to instrumental pieces – but there's a marked difference between Beethoven's subdued and contemplative Moonlit Sonata and Debussy's jauntily upbeat Cakewalk. Jazz pianists also tend more towards instrumental versions of standards, but even if they don't sing the melodies themselves (which some of them do), the singalong-able quality of songs like 'What a Wonderful World' and 'Feeling Good' is strong enough to get your guests joining in with their mouths full. Contemporary and pop pianists, or other wedding pianists who also delve into this genre, have an even stronger focus on catchy melodies and hooks, but true professionals will have the wherewithal to not rile the crowd up too much with 'Mr Brightside' or 'Livin' On a Prayer' before they've finished dessert.
Wedding Harpist
Sent from heaven itself, it'll only take a few minutes in the company of an expert harp player for you to believe that the instrument is God's gift to wedding breakfasts. Whether the plaintively plucked notes come in cascades or are few and far between, they'll make you feel things you've never felt before – but the effect isn't so overwhelming as to distract you from your starter.
The harp lends itself beautifully to classical compositions and hymns – all the standard wedding music you could possibly hope for, from Mendelssohn's 'Wedding March' to Pachelbel's 'Canon in D'. However, today's versatile wedding harpists will treat you to some gentle versions of familiar pop and rock hits by the likes of Ed Sheeran, Florence and the Machine (who actually featured a harpist in their early days) and even Metallica!
Solo Guitarist
Don't worry, we're not suggesting you hire a Jimi Hendrix impersonator to shatter the skins of your crème brûlée with peals of ear-splitting feedback – we're thinking more along the lines of a classical, jazz or Spanish guitarist to quietly strum away in the corner. A single guitar can achieve a surprising amount in the right hands, and can be at once technical and tasteful, as opposed to the typical 'guitar god' constantly vying for attention and praise.
An acoustic guitarist is in no way limited to strumming along to the same played-out Ed Sheeran songs – classical and Spanish guitarists can bust out Bach's 'Bourée in E minor', Mason William's 'Classical Gas' and John Williams' 'Catina Theme' from Star Wars at a moment's notice. And for all those mainstream radio fans enjoying your wedding breakfast with you, plenty of solo guitarists turn their capable hands to creative re-workings of hit songs by such pop giants as Michael Jackson, Britney Spears, Beyoncé – all without the aid of additional musicians (though some of the more technologically-minded among them may use a loop pedal).
Singing Waiters
OK, we know we've implied it's best to basically leave your guests to it – but this is too good an opportunity to miss! Thankfully, we're still living in an age where we don't expect every single waiter who approaches our table to burst into song – but some of them sure do. Just imagine the laughs of surprise when your waiters are bringing out the main courses one minute, then singing at the top of their lungs the next!
Singing waiters are steadily growing in popularity, as well as in variety. You can now tie in your singing waiters with your wedding theme: jazz and swing Rat Pack-style singing waiters for your vintage wedding; opera and classical singing waiters for your traditional white wedding; and, pop and rock singing waiters for your contemporary wedding.
We hope this list helps prevent you from biting off more than you can chew when you pick your wedding music – bon appétit.
Free Wedding
Giveaways + Sweepstakes
Enter sweepstakes & giveaways and enter to win a free honeymoon when you join. New winners are announced every week!