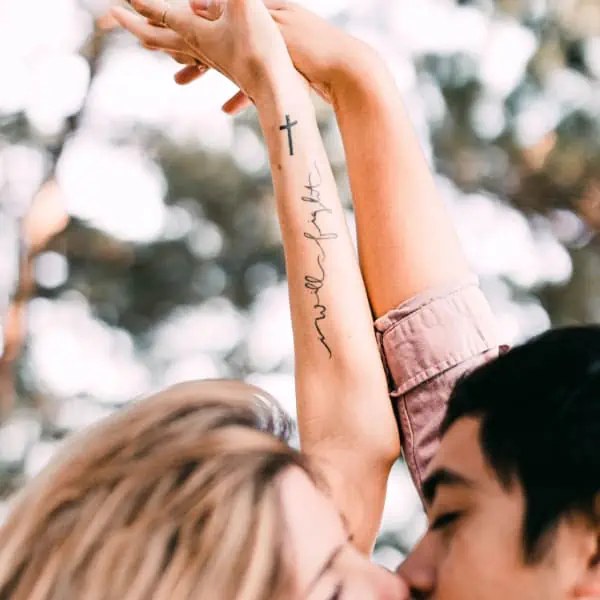 Your wedding is a significant life event. That's why it's natural for you to represent it with something special. There are many unique and creative tattoo ideas for couples who want to remember their "I do" moment forever.
Tattoos are an intimate and meaningful way to symbolize your love. To guide you, we'll go through some of the most popular ideas for couples – that way, and you can find the perfect tattoo idea to commemorate your wedding.
Why You Should Choose to Get Tattoos to Remember Your Special Moment
Some of the considerably meaningful and special moments in life are those that we choose to commemorate with a tangible reminder.
While photos, mementos, and other items are great to remember your wedding day. Having a permanent tattoo can create a connection that is powerful. For you who want to take your remembrance of the special day up a notch, consider turning to the art form of tattoos.
Tattoos are a unique way to remember yourself and the partner of your love. For you that are considering taking the plunge into having a forever tattoo, there are plenty of ideas that you can explore. You can also become a tattoo artist and create the perfect design to commemorate your special day.
Popular Tattoo Ideas For Couples
As a couple, getting matching tattoos is an incredibly meaningful way to express your love and commitment on your wedding day. Whether you're planning to go classic with a simple, matching script or think outside the box with something unique, there are endless possibilities for unforgettable tattoo ideas for couples.
Below are some of the popular designs for couples to commemorate their special day:
Infinity Symbol
There's no better way to etch your love into a symbol than with the infinity symbol. It's elegant, timeless, and represents the everlasting nature of your relationship. With your initials alongside the character, you're saying that your love will stand firm despite the ups and downs of life.
Every time you look down at the infinity symbol with your initials, you're reminded of the forever and beyond that your love encompasses. It's a beautiful way to express your commitment to your beloved and to keep the passion alive.
Wedding Date
You're sitting on the couch with your spouse, reminiscing about the day you two tied the knot. As you try to recall the exact date, you both glance down at your matching tattoos – each with the date of your wedding engraved forever.
A wedding date tattoo is not only a way to express your everlasting love. But it's also a simple yet meaningful way to reminisce one of the most important days of your life.
Meaningful Words
Instead of getting a traditional design, you can opt for meaningful words that hold a deep significance to both of you. It could be your wedding vows, a quote from a favourite movie, or even an inside joke that only the two of you comprehend.
It's a creative way to show your love and a remembrance of your relationship. So if you're looking for a unique tattoo idea for you and your loved one, consider getting some meaningful words inked.
Simple Wedding Bands
The wedding band – a symbol of love and unity that's been around for centuries. But what if you're looking for a more subtle approach? Enter the simple wedding band tattoo. It's a minimalist choice that exudes sophistication and style.
And it's pretty cool to have a permanent reminder of your partner's love wrapped around your finger. Not to mention, you won't have to worry about losing it or taking it off when doing daily tasks like showering or swimming.
Roman Numerals
Have you ever heard that Roman numerals bring good fortune? They say that incorporating them into your wedding festivities can get even more prosperity. It's a unique and timeless design that will keep rememberings of your special day alive forever.
Plus, it's a creative way to mark your love story, and who doesn't love a good love story? So celebrate your union with some Roman numerals, and wear your wedding date on your sleeve – quite literally.
Final Thoughts
No matter which designs you select for your everlasting tattoo, it should be something that truly reflects who you are as a couple. Whether it's a traditional symbol or something more creative and abstract, make sure your tattoos embody the special bond you share.
And don't forget – these tattoos will stay on your skin forever, so make sure you both reach one you'll love to look at for the rest of your life. It's a commitment, but one that can be incredibly rewarding and special when done the right way.
So start planning your symbols or phrases today, and get ready to make memories last forever. Best of luck on your journey!
Free Wedding
Giveaways + Sweepstakes
Enter sweepstakes & giveaways and enter to win a free honeymoon when you join. New winners are announced every week!