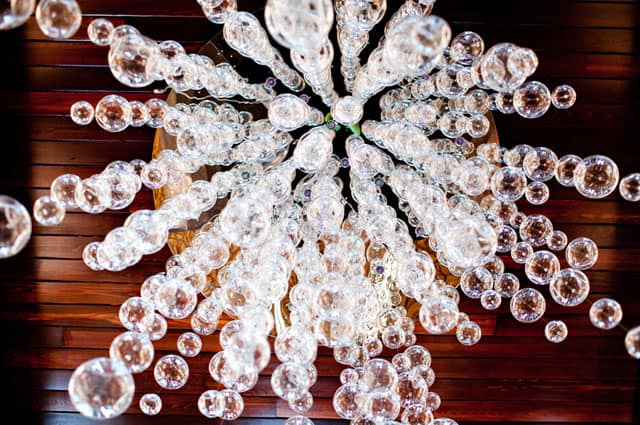 For some reason the rehearsal dinner seems to send everyone into frenzy.  Who should attend?  Where should it be held?  Who pays for it?  What goes on during it?
Traditionally, the parents of the groom pay for the rehearsal dinner.  It's a way for them to be involved in some of the planning since everything else is planned by the bride, her wedding planner and her family.  Its their time to make their imprint on the wedding.  I have seen cases where the groom's family is deceased or is not able to be there or could not meet the expense of a rehearsal dinner and in that case either the couple or the bride's family paid for it.
It used to be that the rehearsal dinner invitees were:  the bride and groom, the wedding party, the immediate family and the minister.  However, with so many destination weddings now the couple may also invite the out of town guests, both family and close friends.  Rehearsal dinners have grown from about 12-25 people to sometimes over 70 people.  This makes it a bigger expense.
The reason for the rehearsal dinner is so that the families can spend time together and get to know one another before the wedding and that those in the wedding party get to meet and mingle with one another.  That makes it more comfortable for everyone on the wedding day and builds a sense of family.  This is especially true when the bride's and groom's parents and friends are from different parts of the country.
Where should a rehearsal dinner take place?  And, what should be the tone of it?
They used to be held at good restaurants or the dining room of a hotel but now couples often want the rehearsal dinner to be a more relaxed where everyone can socialize easily and move around more than would be possible in a restaurant.  I have seen rehearsal dinners at a baseball game (hot dogs, cokes and popcorn, and lots of laughter and fun), a barbeque, an oyster roast, or a picnic on a boat.   Whatever your imagination can conceive is what's possible.
During the dinner, the groom's father or parents welcomes everyone as the hosts of this event.  They usually express their happiness about the wedding, etc.  Then the maid of honor and the best man say something about their relationship with the bride or groom and experiences they have shared.  The others in the wedding party then each say something.  There is usually a lot of ribbing and kidding that goes on which helps everyone to relax and have fun as they get to know one another. Its also a time when the bride and groom to be don't have to do anything but sit and enjoy the whole thing which is a welcome relief after all of the running around and planning.
So, make your rehearsal dinner a time of fun as you see all of the people you care about get to meet and form friendships with one another and feel more involved and comfortable on your wedding day.
This article is brought to you by:
BRIDE'S WEDDING PLANNNG ADVENTURE, Aug 5-7, Charleston, SC
Bridesweddingplanningadventure.com
Photo Submitted By:
Emindee Images
Free Wedding
Giveaways + Sweepstakes
Enter sweepstakes & giveaways and enter to win a free honeymoon when you join. New winners are announced every week!