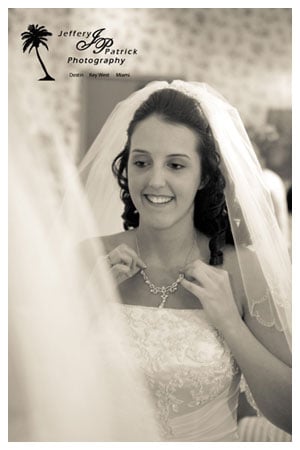 The day of your wedding is your glamour shot day, so you want to be sure you do everything you can to look your best.  All eyes will be on you after all.  With a brief list from top wedding photographers, you can be sure your make-up and wedding day images will both be flawless.
Do not go to a tanning booth or use tanning lotion before the wedding.
Have your make-up and hair done professionally. Make up professionals choose airbrush makeup for flawless coverage for high-definition TV, because it is lightweight and waterproof.
If you are a bride that chooses to do her own make-up that day, there is a new line of mineral makeup created for photography.  The special feature here is this makeup will not white you out under flash, which typical titanium dioxide mineral makeup can do.  This makeup is called Advanced Mineral Makeup by makeup artist Annie May.
Remember less is more if it is a day wedding.  You can always go dramatic with the eyes, but use waterproof mascara so if you cry it will not run.
Do not forget the concealer.  If necessary mix yours with a little bit of moisturizer so it goes on smooth.  If you have any blemishes, spot treat them and cover with concealer, then powder.
Always do a makeup and hair trial run.
Be sure all your eye makeup is waterproof.
Do not forget to keep your lips moisturized with lipstick.  Use a blended lip liner for more defined lips.
Do not forget all eyes will be on the groom also.  Apply powder to minimize redness or ruddiness.  It is important that the groom have Chap Stick handy to keep dry lips moisturized.
Despite its popularity, do not use glitter for your wedding day!  It plays havoc in your photographs.
Do not forget to apply makeup and powder to your neck and décolletage area.  Remember you want to look flawless from head to toe for those close up glamour shots!
Article Submitted By:
Deborah Patrick
destinweddingofficiant.com
Photo Submitted By:
jpatrickphoto.com
Free Wedding
Giveaways + Sweepstakes
Enter sweepstakes & giveaways and enter to win a free honeymoon when you join. New winners are announced every week!