Tips to finding the best wedding photographer (and other vendors for your wedding or event)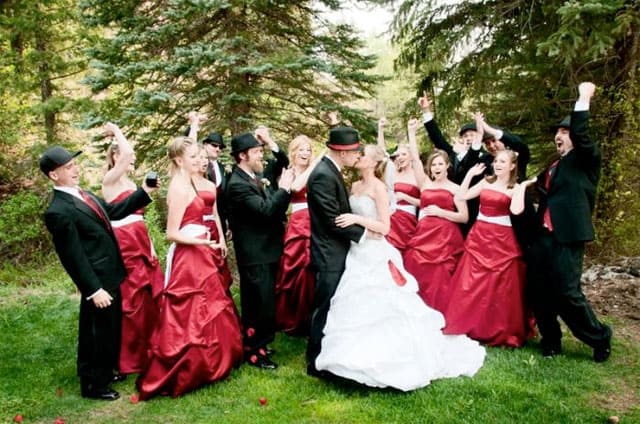 *   Meet with the photographer or vendor to get a feel for their personality and to see first hand the style of work they do.  You should also be able to view some album samples which look much better in person.  If this is not possible, have a phone conversation with them.  Do your homework by checking testimonials on their websites – you can even ask for those past client's phone numbers and/or email addresses.  Most will be happy to let you know how the vendor worked with them.
*  Ask if they use a contract.  If they don't, move on – the contract protects you and them – a verbal agreement won't hold up in court if something goes wrong.  Also ask if they have liability insurance – you want a YES on this one.  This will protect you if there is an accident on your wedding day.  It also shows the vendor is a responsible professional.
*  Please don't chose your photographer based only on price.  Photography is not a commodity like buying a car or a pair of jeans.  (Although, I would pay a higher price for a quality pair of jeans because I know they will last longer and fit better).  So, in a sense you should check the quality and the fit of your photographer.  If you have a family member or friend do your wedding photography, ask around to other brides who have done this and see what they say.  I've heard from brides who totally regret this decision because there is no Do-Over for your wedding.  I helped a bride recover a "few" of her wedding photos from a friend, who, although well meaning, did a terrible job.  She came out with around 10 so-so images that could only be printed at a 4×6 size.
*  Does the photographer or vendor offer a guarantee?  My business offers a 100% guarantee that you will LOVE your images.  If you don't, I will refund the entire amount you have paid.  If a vendor is confident with their work, this shouldn't be an issue.
*  The old saying that "You get what you pay for" is so very true.  It isn't possible for anyone to offer the highest quality, the best service, and the cheapest price at the same time.  They wouldn't be able to stay in business.  If you want the best quality and the best service from your vendor, make sure price is not your number one consideration.  Find a way to pay a little more – especially for photography because the images and albums are all you will have left of your wedding, and those memories are priceless!
Since my specialty is the photography, here are a few other things to consider.
Taking pictures is not just a matter of pushing the shutter button – you might get lucky sometimes, but having consistently good images takes much more.   Professional Photographers are trained in proper posing, exposure, and lighting to get the best images all of the time.

Your photographer should have at least two cameras and two off-camera pieces of lighting equipment and know how to use them in manual mode (which is only available on more professional DSLRs).  The word "Photography" means "Painting with Light".  That is the most important aspect of photography.

If possible, chose your photographer before anything else, including the location of your wedding.  They can sometimes be really helpful in suggesting a great place where your images will turn out beautifully.  Having to photograph a wedding where there is no shaded areas or anything to use as a background only makes your images that much harder to make beautiful.  As they say "Location, Location, Location".

Please try to set aside enough time for the photographer to capture all the images you have dreamed about.  Make sure they are involved in all the details of your wedding and let them know what you and your fiance like to do.  Some cool ideas can evolve from your hobbies, etc.

Most photographers, including myself, are more than willing to travel anywhere you need them, whether that's an hour from their studio or to another state or country,  to make sure you have the best for your wedding.

Article Submitted By:
Karen Skelly CPP
Karen Skelly Photography
www.karenskellyphoto.com
Free Wedding
Giveaways + Sweepstakes
Enter sweepstakes & giveaways and enter to win a free honeymoon when you join. New winners are announced every week!